No one has any doubts that the pandemic has required many industries to adapt their businesses to the new reality. Petrol stations that are looking for new touchpoints have also felt the change. As a result, there are several new initiatives and solutions that are making petrol stations enter a new area for themselves, looking for new sources of income, such as:
 
Order your favourite Circle K hot dog with home delivery
Bolt Food (i.e. the new platform of Bolt – known for its transport services) started cooperation with Circle K in mid-June. Through the application for ordering food, customers now have the opportunity to order food and hot meals from 17 Circle K petrol stations located around Warsaw. Developing cooperation with new locations is planned.
 
Reduce food waste with Too Good To Go
Too Good To Go is an application that aims to save good food from being thrown away. You will find offers from restaurants, cafés, shops or bakeries, and recently also the food available at BP stations in the app. The surprise-packages contain products from cafés and petrol station shops of the chain. This service is available only in Krakow at the moment.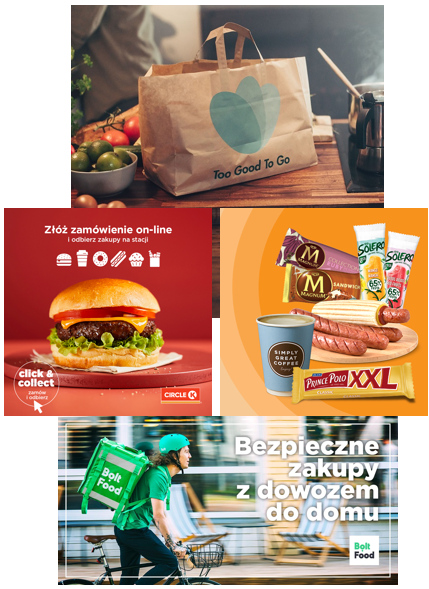 Click&Collect service at Circle K stations
The new service is to respond to the needs of customers who want to keep their purchases safe in the new reality. Through Click&Collect we have the possibility to place an order online and pick it up at any petrol station on the day and time of your choice. The offer includes: meals, coffee and tea, snacks, tobacco products, hygiene products and food items. At the moment the service is available at 20 stations in Warsaw and Wrocław.

Shopping at a petrol station through Uber Eats
The Shell and BP stations have decided to cooperate with Uber Eats. In the application, customers will find food products and other items, with the possibility of home delivery. The pilot program for this moment includes Warsaw and Krakow, with the possibility of extending cooperation to other locations.
Sources:https://www.petrolnet.pl/circle-k-w-polsce-wprowadza-usluge-clickcollect/ https://www.petrolnet.pl/bolt-food-dostarczy-produkty-ze-stacji-circle-k/
https://www.petrolnet.pl/shell-dostarcza-z-uber-eats/
https://www.bp.com/pl_pl/poland/home/centrum_prasowe/informacje_prasowe/press_20200630_toogoodtogo.html