Although we've known about live streaming for a good few years now, it wasn't until the outbreak of the pandemic last year that it became a very important medium for connecting people that we use on a daily basis. Virtually everyone uses a chosen form of live streaming or connection – be it parents with children unable to meet during the pandemic, artists giving online concerts for their fans, gamers for their followers or the entire industry of marketers talking to their partners every day via various communicators.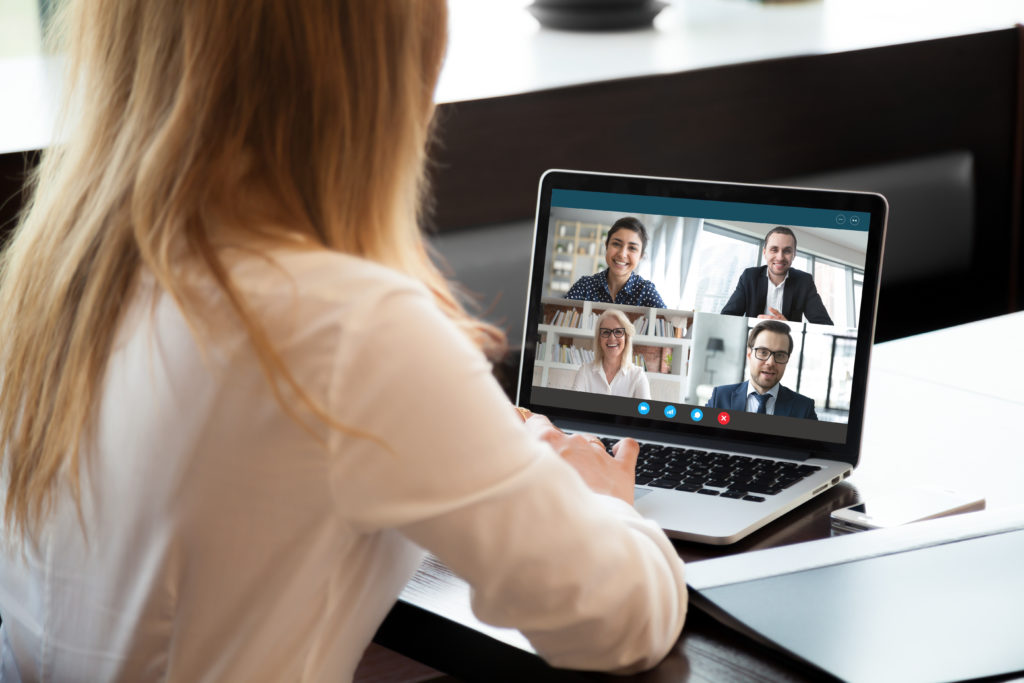 What does live streaming give marketers? Unlimited possibilities – simply define the industry, the need, the goal, and you can choose some of the most suitable formats. Live streaming is the most attractive of the video formats. Tech Round reports that streaming video accounts for almost 2/3 of all internet traffic, and live streaming is being used by more and more industries.
Reporting on all kinds of events – events, concerts, trainings, travel, webinars, live product sales are examples of live streaming usage formats that can be used to promote your brand and increase brand awareness.
The live streaming market is growing at a dizzying pace. On.Live prepared a study that shows that the global live streaming market was worth $30.29 billion in 2016 and is expected to reach up to $70.5 billion by 2021. This dynamic shows how many industries, businesses and people are investing and actively using this solution.
Global View Research, on the other hand, predicts that the global video streaming market could be worth $184.3 billion by 2027.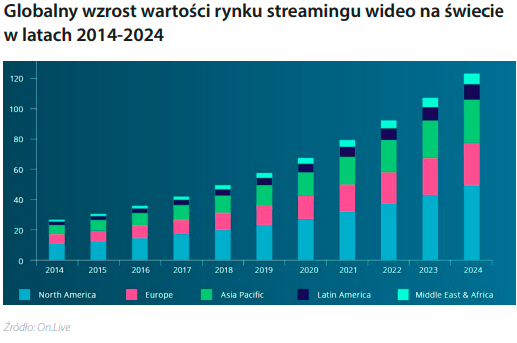 Global increase in the value of the video streaming market in the world from 2014-2024
Tech Round reports some of the most notable trends that are already evident in the global and even the Polish market in terms of live streaming development, but we can expect them to grow more and more.
1. Live streaming is changing communication and consumer behavior online.
Such transmissions can be used not only for internal communication in companies, we can also use them to reach a wider audience. An example of such use of the tool is the presentation of new products – and this, in particular, changes online shopping habits, which so far have been very static – in terms of showing the products themselves. Usually, selling products online involves photos, less often video. Live video is a completely different experience.
The best example here would be the Taobao platform – a Chinese online shopping site owned by the Alibaba Group. Thanks to live streaming, the company recorded a breathtaking $2.85 billion in revenue in 2019. This company has a dedicated e-commerce platform – Taobao Live.
Taobao was also followed by another global giant, this time from the west – Amazon. It launched its live streaming sales platform – Amazon Live. So we can see that the trend of selling clothes via live video is not a frivolous and fun phenomenon, it is a trend that is growing worldwide and will only grow in popularity.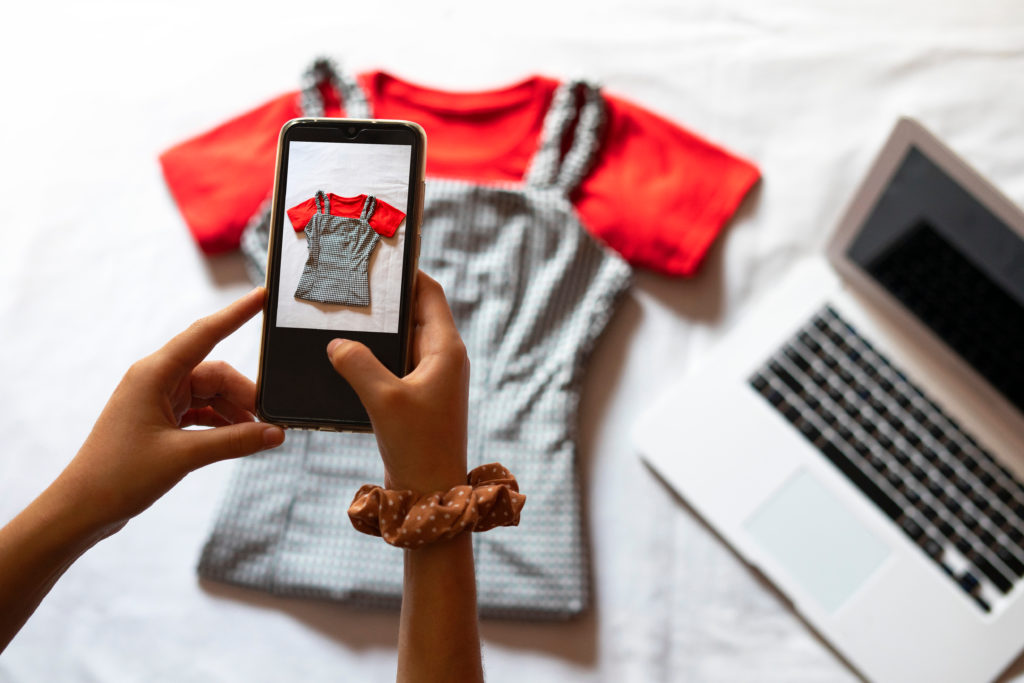 Additionally, we can also see the presence of this phenomenon, not only in the sale of products, but also in the sale of services. Increasingly, online casinos are expanding their operations with live streaming technology, during which the consumer can feel as if they are in a real casino, and not just seeing a gaming table or slot machine screen as before.
2. Intelligent data automation is becoming more and more perfect.
It is worth mentioning that live broadcasts can collect a lot of data, and companies can take advantage of this. When users interact with streaming broadcasts, a lot of data about consumption patterns is created. Companies can thus improve the personalization of their marketing goals, streamline distribution, and improve content indexing. With the development of artificial intelligence, data derived from streaming will be able to go beyond repetitive automation and move towards dynamic intelligence.
3. Language barriers are no longer an issue.
Currently, many platforms provide some subtitle options with their videos, but this is changing. Soon it will be possible to watch live broadcasts with subtitles in virtually any language. Cognitive Speech Services from Microsoft Azure is already developing such a capability, and more and more such tools are sure to appear as time goes on. This will make it much easier to create a single live broadcast that can be played in multiple markets, rather than multiple dedicated videos for each market.
4. Broadcast latency continues to improve.
One of the most common problems associated with live streaming is latency. Today, however, that latency is increasingly negligible, and many companies are working on solutions that enable large-scale live streaming with as little latency as possible. Tools such as SRT, WebRTC and the Low-Latency HTTP Live Streaming extension from Apple are helping to address this issue so that broadcasts can be smooth and actually live. With 5G, we can already see an increase in network bandwidth, so this means higher data transmission and reception speeds and lower power consumption. The transmissions that will take place without any delay will be able to be used in many, very important areas – such as remote surgeries or the development of autonomous means of transport.

Live streaming is therefore a very important area of video development, which will grow rapidly in the coming years. They also bring innovations in marketing, allow to create unique content to be closer to consumers and employees without leaving home.
Source:
https://interaktywnie.com/biznes/newsy/biznes/marketing-przez-wideo-i-streaming-w-internecie-ebook-z-raportem-o-tym-jak-promowac-sie-skutecznie-260385
https://techround.co.uk/business/future-trends-live-streaming-business/

Raport interaktywnie.com: marketing through video and online streaming