The value of the advertising market in Poland in 2021 amounted to PLN 2.2 billion, which means an increase of 2% compared to the same period last year.
Advertisers are moving budgets to the Internet.
The internet increased its market share to 44.2%.
The share of TV and Internet increased from 82.4% in 2019 to 86.9% this year.
TV advertising spending decreased by 1.3% or PLN 11.7 million.
Chart 1. Net value of the advertising market in the years 2013-2020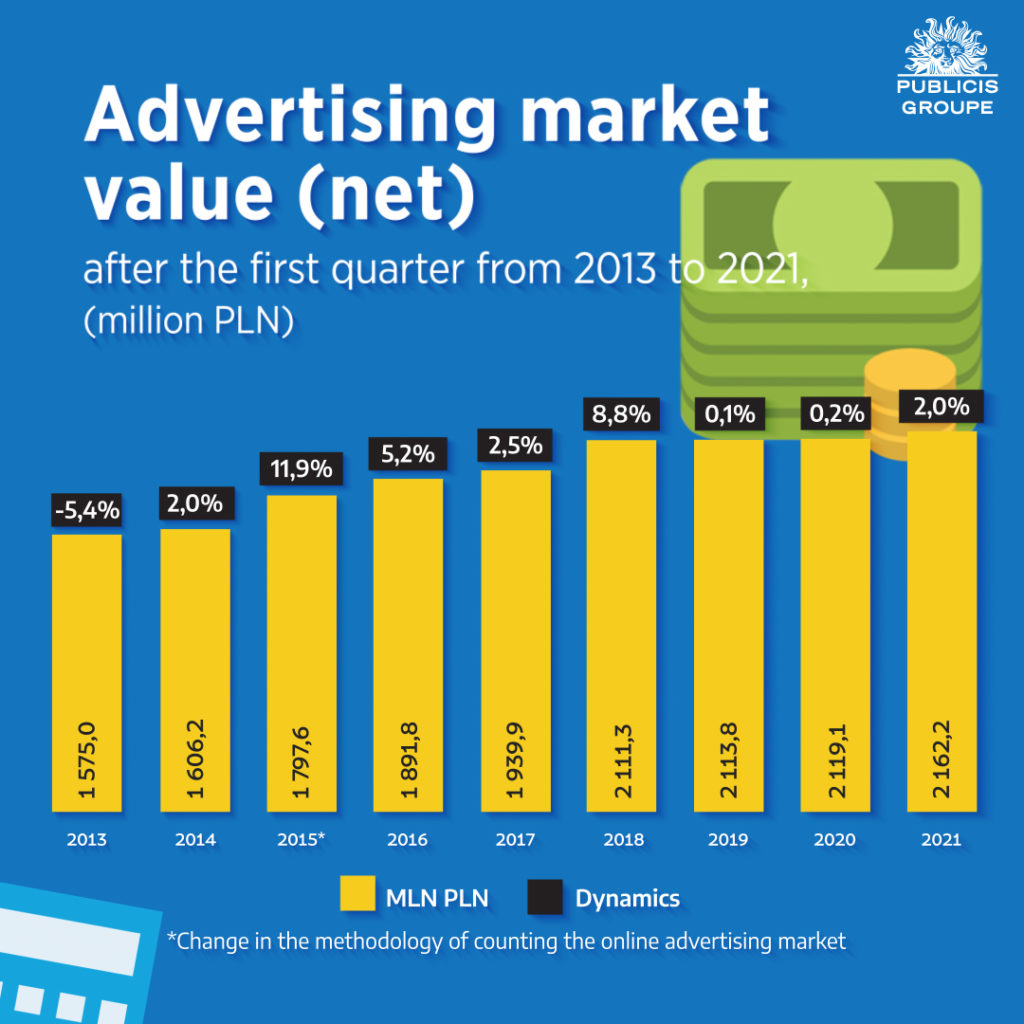 ADVERTISING SECTORS
In Q1 of 2021, the advertising market in Poland decreased in value by 2% compared to the previous year. Eight sectors intensified their advertising investments and eight decreased. Advertising spending in the largest sector, retail, grew the most – by 19.5% or PLN 66.5 million. Significantly higher ad spending was also recorded in the following sectors: other (+21%), telecom (+15%) and household appliances, furniture and decorations (+25.2%). The largest volume decreases were generated by five sectors: pharmaceuticals and drugs; hygiene and personal care; media; finance and travel and tourism, hotels and restaurants. In the pharmaceuticals sector, advertising spending was sharply reduced by USP Zdrowie and Aflofarm. Among cosmetics companies, the largest declines were observed in L'Oreal, Coty and Nesperta.
In the financial sector, advertising expenses were very much limited by loan institutions such as Wonga and Provident. Among banks, the greatest reduction was observed in the case of PEKAO, Alior Bank or BNP Paribas. The media sector is strongly affected by the lack of spending of film distributors such as: Kino Świat, Monolith Films or United International Pictures.
Chart 2. Expenditure of individual advertising sectors, Q1 2021 vs Q1 2010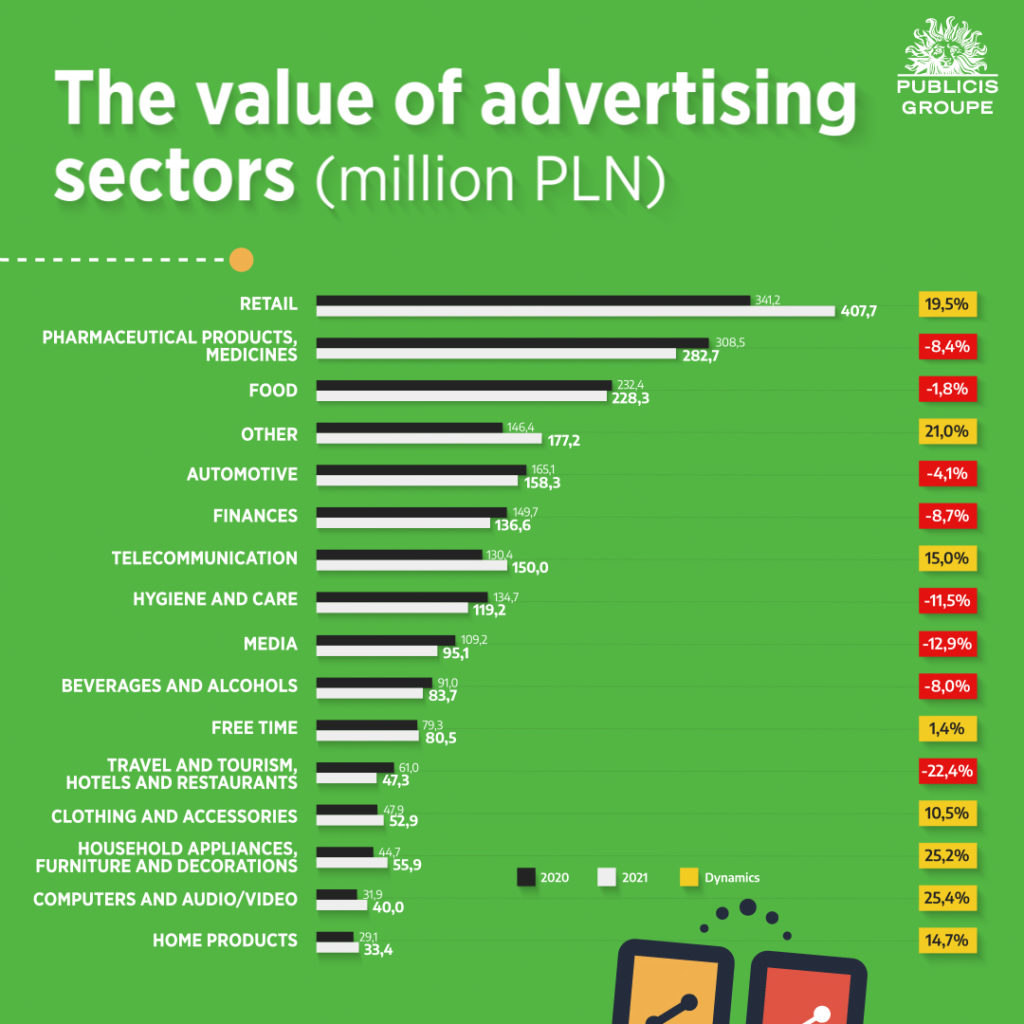 COMMUNICATION CHANNELS
After three months of 2021, all media except for the Internet and radio recorded declines. Online advertising generated a budget increased by 17.5%. Spending in radio increased by 0.5%, while in television it fell by 1.3%. Other media recorded much stronger declines. Newspapers and magazines lost 31.8% and 34.2%, respectively. Outdoor advertising budgets decreased by 35%, while cinemas did not generate any advertising revenues in Q1, as they were closed. Analyzing the volume, online budgets increased by PLN 143 million. The total reduction of expenses in the legacy media was over PLN 100 million. In terms of volume, outdoor lost the most – advertisers still cannot convince themselves to return to outdoor media and are moving their budgets to the Internet.
Chart 3. Changes in advertising value by media class after Q1 in 2020 – 2021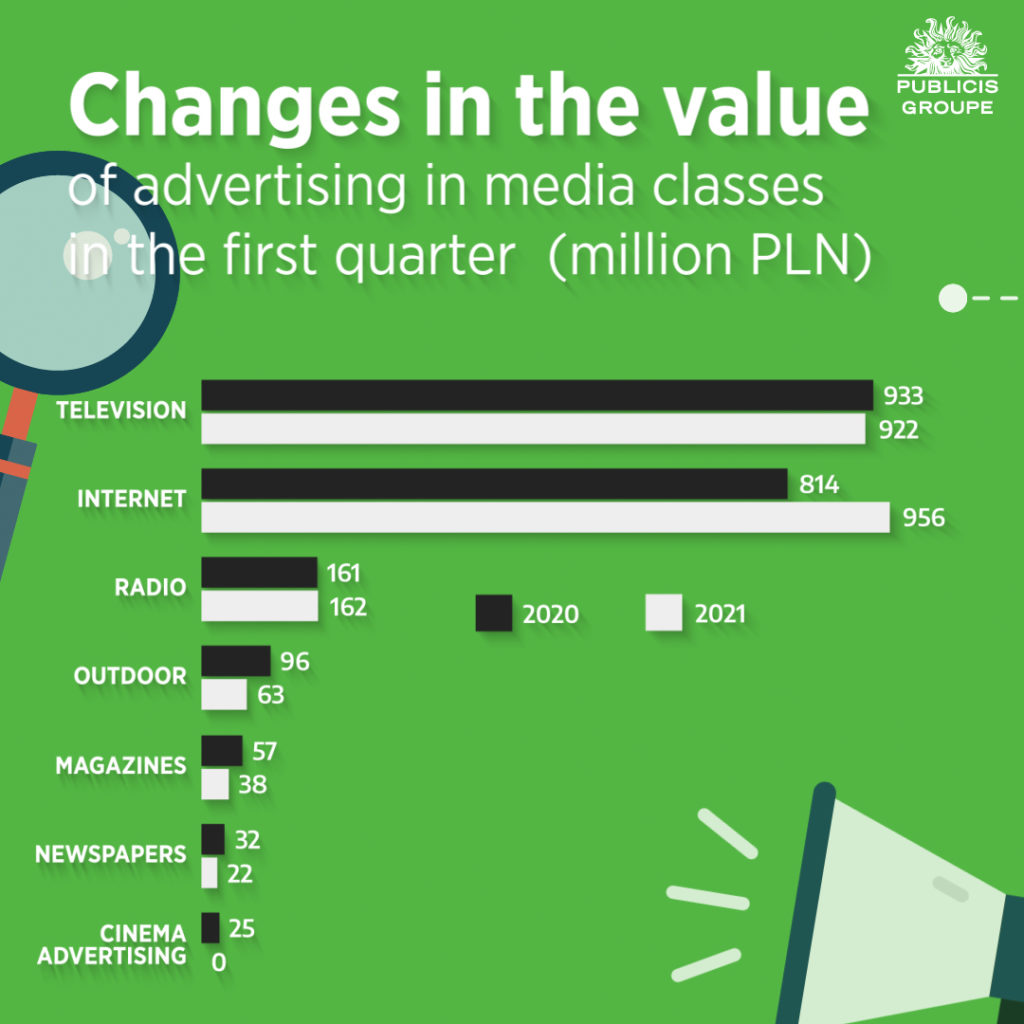 Chart 4. The dynamics of changes in media classes, Q1 2021 vs Q1 2020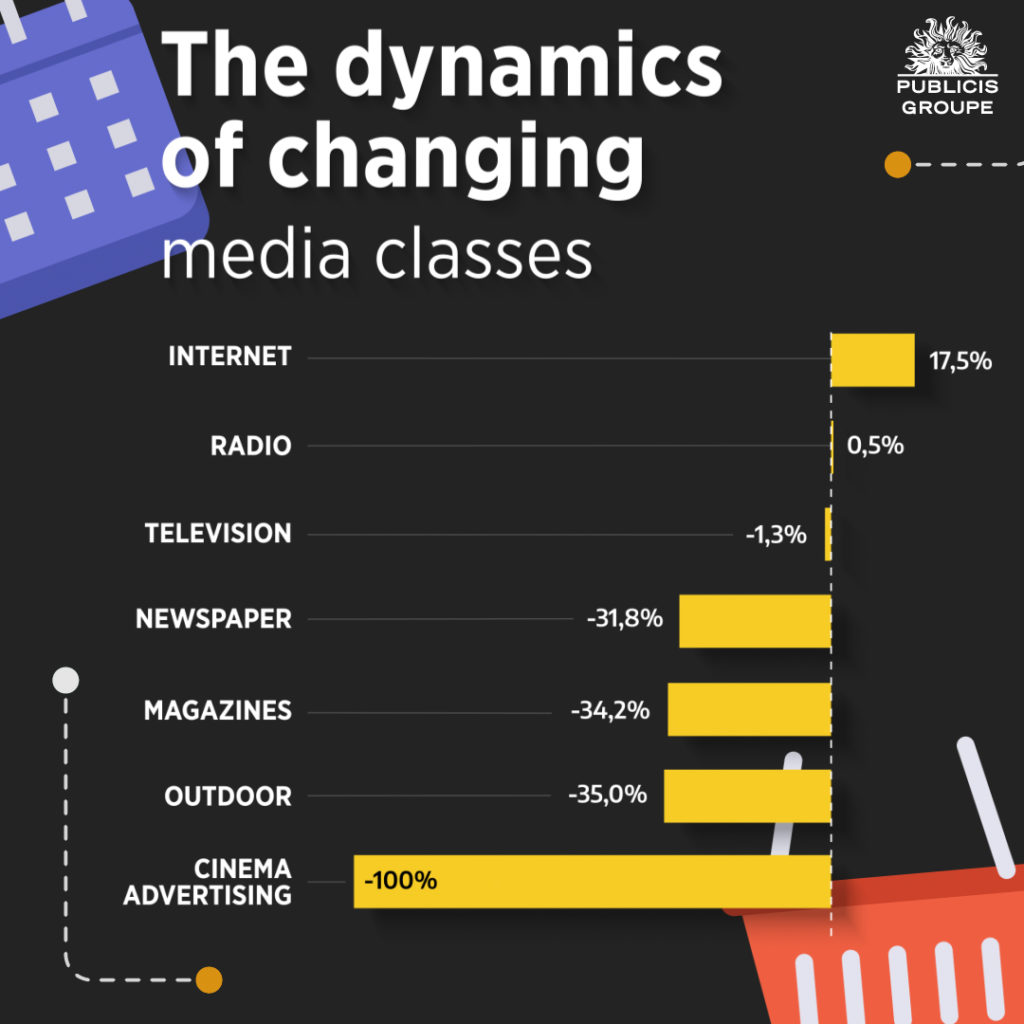 The value of online advertising (not including ads) increased after three months of 2021 by 17.5%, or PLN 142.7 million more than a year ago. Thanks to such a good result, the Internet overtook television and took the first place in the media mix in Poland. All forms of advertising grew, including social media, which was hit hard by the crisis in March and April 2020. According to its financial report, Facebook's advertising revenues in Europe in Q1 of 2021 increased by 52.7% and amounted to USD 6.4 billion, compared with USD 4.2 billion in the same period last year. Google is also reporting similar growth rates. After three months, revenues from YouTube ads grew by 48.7%, while revenues from the Search and other segment increased by 30% to USD 32 billion (globally).
Chart 5. Share of individual advertising categories in digital advertising spending in Q1 2021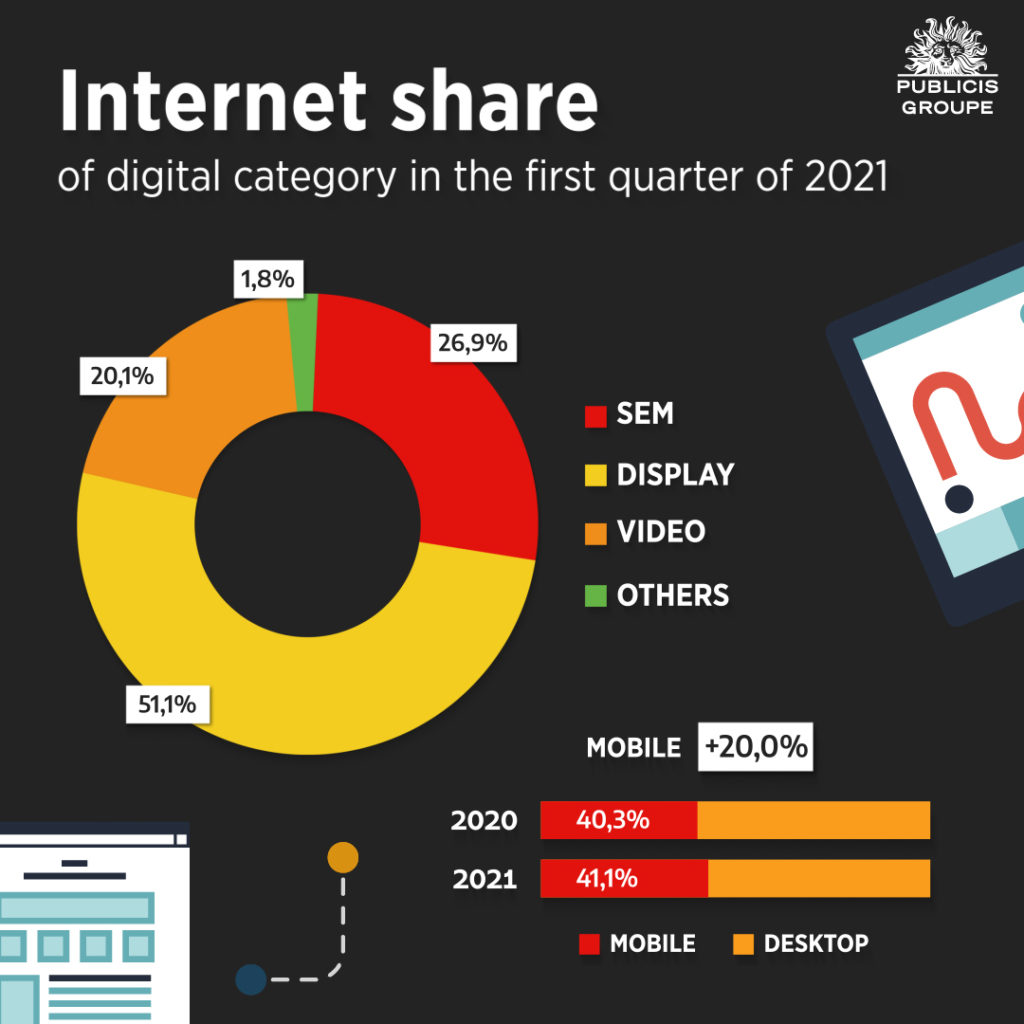 The TV budgets fell in Q1 2021by PLN 11.7 million, or 1.3%. Despite the slight decline, TV advertising is doing very well in the new pandemic reality. After a spending slump in Q2 2020, the market has begun to return to its pre-pandemic good shape. Advertisers have adapted their communication to the situation and, despite the restrictions and the downturn, are not reducing their investments in TV advertising. The fight for customers is particularly fierce in trade. After three months of 2021 this sector spent PLN 51.3 million more than in the previous year. Large increases in budgets were recorded for companies such as Euro RTV AGD, OLX Group and Media Expert.
After three months of 2021, radio budgets amounted to PLN 162.2m, up 0.5% on the same period last year. The beginning of the year was very weak for radio – in January, spending decreased by 16.3%, or PLN 8.9 million. The loss was more than made up for in February and March, when budgets increased by nearly PLN 10 million.
After three months of 2021, revenues of outdoor advertising operators decreased by 35% or PLN 33.8 million. After the market collapse in Q2 2020, advertisers still cannot convince themselves to return to outdoor with their budgets. A slight improvement can be seen in March – the spending decreased only by 21% while in the previous months the investment reduction oscillated around 40%.
In Q1 2021, the size of budgets allocated in newspapers and magazines fell by 31.8% and 34.2%, respectively. The pandemic accelerated the trend of the outflow of advertising budgets from the press to the Internet. Newspapers lost less than magazines thanks to big expenditures of such advertisers as Uniqa Insurance Group, Fiat, Allegro or the Polish Development Fund. The top advertisers in magazines after three months of 2021 were Zimbago, a mail order company, and food supplement manufacturers Asepta and New Nordic.
As of March 12, cinemas stopped generating revenue due to the government's decision to temporarily suspend the operations of cultural institutions. The cinemas operating under the new rules could be reopened on June 6. All the cinema chains decided to open at a later date. The Helios chain opened at the beginning of July, while Multikino and Cinema City cinemas all over Poland did not open until 22 July. The cinemas closed again on November 7, 2020 and could open on February 12, 2021, but the big chains did not reopen at all. This was the right decision, as the government closed the cinemas again on March 20. The major cinema chains did not open until the end of May, meaning that they generated virtually no advertising revenue for five months this year.
Media share in advertising revenue
As a consequence of different dynamics of changes in particular media classes, their market share is changing. After three months only the value of investments in online advertising significantly increased. Therefore, the Internet strongly increased its share in media mix and outpaced TV spending. In the analyzed period, the share of budgets allocated to the Internet amounted to 44.2% (+5.8pp), while the share of TV advertising decreased by 1.4pp from 44% to 42.6%. Other media decreased their share in the media mix. Cinemas and outdoor lost a lot, with 1.2 pp and 1.7 pp respectively.
Chart 6. Share of media classes in the advertising market, Q1 2021 vs. Q1 2020