Looking at the home appliances industry from the perspective of the last 1.5 years, it's safe to say that despite massive social and economic changes, it has emerged unscathed from the lockdown crisis. The timing of the restrictions on movement and trade was a big unknown for marketers. Sales were expected to fall as the Consumer Confidence Index (reported by the Statistics Poland) declined in line with current trends in personal consumption. Global supply chains were shaken, consumers were postponing spending on big appliances or renovations, and inflation was starting to climb – so all signs suggested that stagflation (simultaneous economic stagnation and rising product prices) might be coming. The fear was justified because the household appliances category is not the least expensive, and in a crisis situation household spending in this category may not be a priority.
Fortunately, the black scenario did not materialize this time. According to the latest Business Intelligence report, Zenith forecasts that home-appliance advertising in 12 key markets* will grow ahead of advertising as a whole in 2021, expanding by 12.6% while total advertising grows by 11.5%.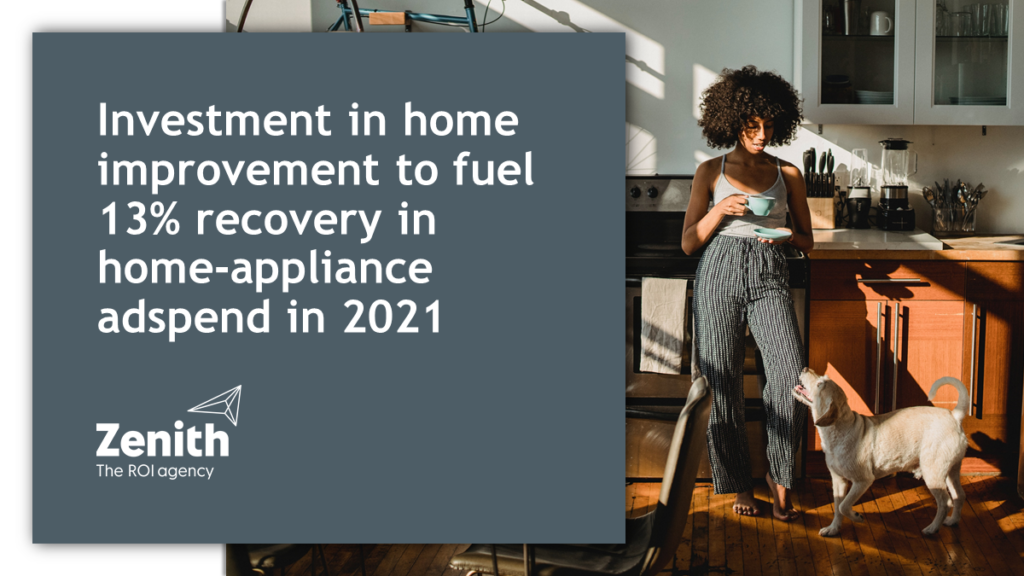 However, enforced remote working and restrictions on travel have created a new consumer need that has had a very positive impact on the boom for household goods and appliances. More time spent in our homes apartments has made us feel the need to take care of our immediate surroundings. The living space also became an office, kindergarten and school. The lack of a proper coffee maker started to bother us, and the time of the lockdown turned out to be favorable for renovations as well. According to our estimates, consumers will continue to devote more of their time and budgets to the home than they did before the pandemic, and forecast 6% annual growth in home appliance adspend in 2022 and 2023.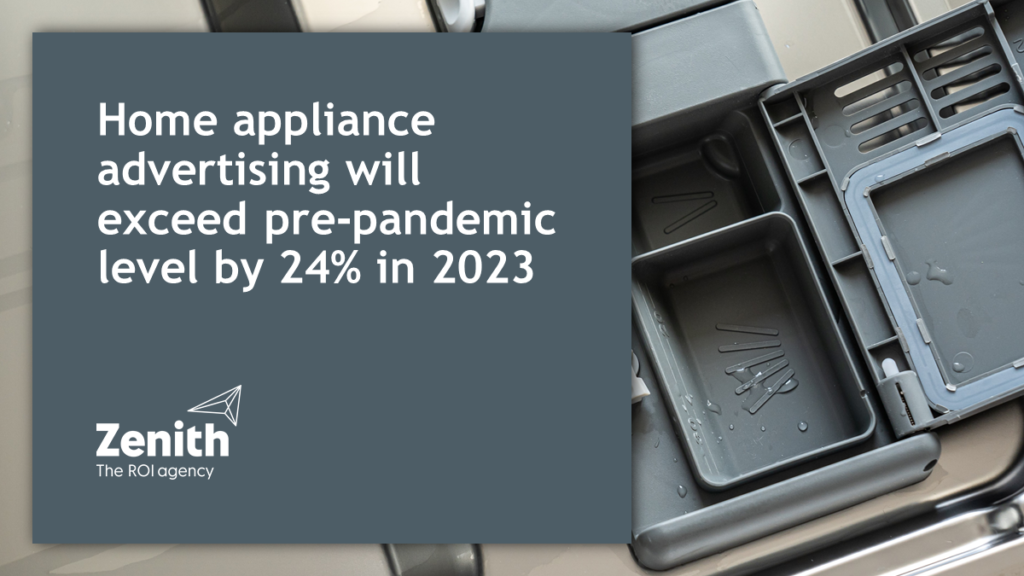 The main change from a communication perspective, which is confirmed by the results of sales modeling, turned out to be a radical shortening of the length of the consumer path. Until now, the so called "displacement effect", i.e. the time interval between the broadcasting of an ad and its effect in the form of incremental sales was between 2 and 2.5 months. This is understandable given that home appliances are a highly engaged category – requiring research, comparison of product quality and prices, and compatibility (e.g. with kitchen décor). During the pandemic, sales peaks occurred in the same month as the ad campaign aired. Some marketers were quick to notice this change and consequently increased media budgets due to the increase in short-term advertising ROI.
Zenith predicts that advertising expenditure by home-appliance brands will rise from US$4.4bn in 2020 to US$5.0bn in 2021, well ahead of the US$4.5bn spent before the pandemic in 2019. By 2023 adspend will reach US$5.6bn. Digital advertising accounted for 55% of home-appliance adspend in 2020, up from 51% in 2019. It is essential both for brand building – mainly using online video, native advertising and social media – and performance, using paid search. Most purchases of large home appliances are distressed: made out of urgent necessity, to replace a broken appliance. With few distinguishing features between physical appliances, brand advertising is essential for creating differentiation and placing the brand at the top of mind when the consumer realises they need to buy. Paid search is then used for conversion during the short window of opportunity when the consumer is researching replacement options. Digital advertising will become even more important to home-appliance brands over the next few years as they continue to embrace ecommerce. Home-appliance brands were already well ahead of the market in adopting ecommerce before 2020, but the pandemic led to a step-change in home-appliance ecommerce. According to Euromonitor International, ecommerce rose from 23% of home-appliance retail sales in 2019 to 32% in 2020, compared to 16% of the market as a whole in 2019, and 21% in 2020. Zenith expects home-appliance brands to continue to invest in ecommerce over the next few years, driving 10% annual average growth in their digital adspend between 2020 and 2023. Digital advertising will rise from 55% to 57% of their ad budgets over this time.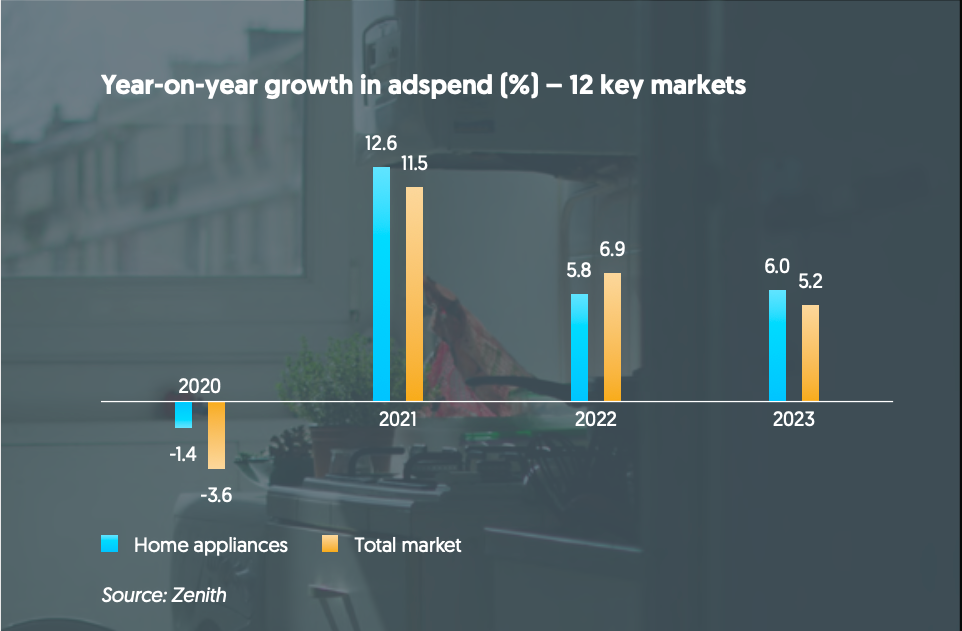 Television is still a vital channel for home-appliance brand-building, supplemented by out-of-home. Home-appliance brands spend substantially more on these media than the average brand: in 2020 they spent 29% of their budgets on television advertising, compared to an average of 24%, and 7% on out-of-home, compared to 4%. Zenith forecasts out-of-home expenditure by home-appliance brands to grow 8% a year between 2020 and 2023. Television, suffering from the continued migration of audiences to digital channels, will lag behind slightly, with growth averaging 6% a year.
Looking for further economic and social drivers for the future, it is worth watching the current real estate price bubble and the unprecedented, historically record-breaking increases in the number of mortgages granted, as finishing a new home is a strong sales trigger in the large and small appliances category.
*The 12 markets included in this report are Australia, Canada, China, France, Germany, India, Italy, Russia, Spain, Switzerland, the UK and the US, which between them account for 74% of total global adspend. The report covers large and small home appliances, including air conditioners, dishwashers, fridges and freezers, heaters, kitchen appliances, ovens, personal care appliances, vacuum cleaners and washing machines.