What is Google Analytics 4?
More than two and a half years ago Google announced a new version of its well-known web analytics tool – Google Analytics. Google Analytics 4 is supposed to be the answer to the continuously changing measurement standards and market needs, which currently include: measurement of user behavior in application and web environments, growing requirements for user privacy, use of machine learning mechanisms and growing demand for access to unsampled data.
The announcement of the new version was supposed to be a prelude to revolutionizing the existing approach represented by Google Analytics Universal and replace it completely, it was just not known when these changes would come into effect.
The end of Google Analytics Universal – what Google announced
On March 16 of this year to be exact, Google announced the date that Google Analytics Universal will be completely shut down. All standard Universal Analytics accounts will stop processing data from July 1, 2023 (for the paid version GA360 from October 1, 2023), which means no new data in the interface. After that date, we will still have access to historical data for about 6 months.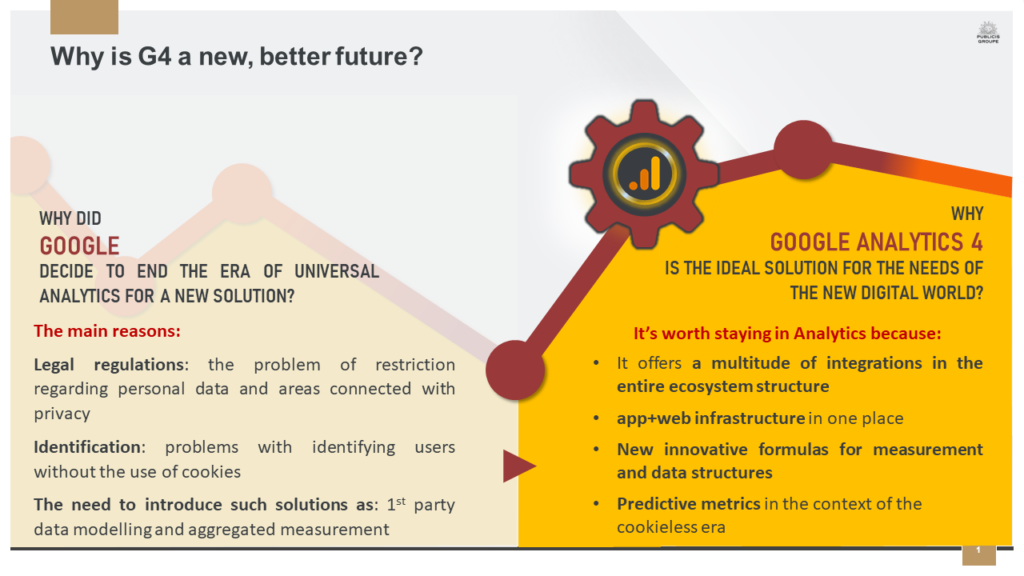 The key benefits we see in the new version
The new approach to app+web measurement
GA4 is designed to track both the website and the app, so that a holistic view from both platforms can be used for reporting. This gives marketers and analysts a complete picture of how their site is performing.
The new GA4 based on AI and is enhanced with Machine Learning that is immune to cookieless
To fill emerging gaps, GA4 will rely more on machine learning to ensure continuous data availability. This includes forecasting: revenue, retention rates, conversion probability, and modeling lost data as a result of increased regulatory requirements and cookieless.
Increased role of integration
Premium features such as integration with BigQuery, access to predictive reporting, no data sampling, deeper integration with Google Ads and GMP (including free integration with DV360 and SA360), previously only available in the paid version, are now free in GA4. This provides a basis for considering Google Analytics 4 as a major marketing tool.
Next steps
What you need to do now is to implement the new version – Google Analytics 4 – as soon as possible in parallel with the old version of Google Analytics Universal.
In the current situation there is no nothing left to think about, you need to create a precise implementation plan and implement it gradually. Only 15 months are left to get used to the new interface and wide possibilities offered by GA4.
How can we help?
We have already supported many of our customers who have started their adventure with GA4.
As a Google partner, we have access to knowledge of the direction the tool and its features are being developed in and can help you put together a more effective implementation plan.
We have experts who are able to gently guide everyone through the migration/implementation process and train them in the use of the tool, and then support with analysis, visualization and activation of data to reap the most benefits and achieve the assumed business goals.
We invite you to contact us.