Nielsen published interesting results of changes in shopping behaviour of Poles in the pre-Easter period. Each of these numbers is an interesting piece of information about how shopping behaviour changes in Poland: First of all – the value of the shopping basket decreased by one-tenth, i.e. … generally everyone lost.
Of course, we buy less (volume of on payment cards transactions confirms this). Still, it is worth remembering the extremely dynamically growing category of grocery shopping via the Internet and also that some have not recorded a decrease in sales *.From the growing category – eggs and sausage are not surprising, after all, they are basic Easter products and no one would give up in the "new times". A very interesting result, however, is the increase in sales of hair dyes. At a time when hairdressers are closed, this is one of the few at-home ways to "get ready for holidays". It is worth noting that Biedronka cleverly noticed this unmet need, offering hair clippers at a reduced price
Categories affected by declines: surge in butter price has been observed for a long time, and this is what led to this result. Interestingly, mayonnaise – an ingredient in the Easter must-have vegetable salad – has also seen a drop in sales. Maybe we bought it earlier? Or just perhaps Easter breakfasts were less impressive, without guests? Available data indicate that car traffic was significantly lower than a year ago ***. However, the very interesting is the fact of such a drastic reduction in the sale of Easter bunnies. It is probably an impulse product, and the restrictions in stores resulted in lower demand. However, usually, the Easter bunny is given by the grandparents and uncles, who stayed at home, obeying the authorities' recommendations.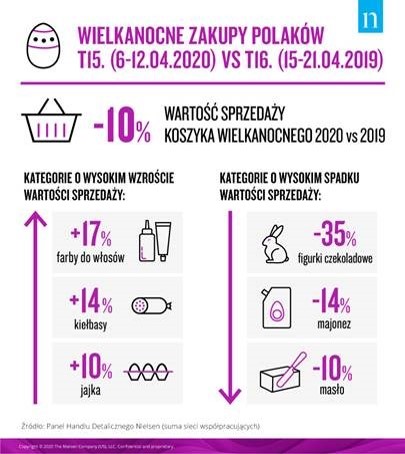 Sources:
*https://businessinsider.com.pl/finanse/handel/koronawirus-wplywa-na-rynek-online-sklepy-notuja-wieksze-obroty/30g4gsx
** https://party.pl/newsy/niedroga-maszynka-do-strzyzenia-wlosow-w-biedronce-od-kiedy-bedzie-dostepna-126591-r1/
*** https://lovekrakow.pl/aktualnosci/w-wielkanoc-zostalismy-w-domach_35321.html