In July we quoted the results of cinema attendance after the lifting of the restrictions. A few months ago, unfortunately, the forecasts were not very optimistic. Let's recall, according to the latest information, in June 2020 the cinemas were visited by 92 thousand viewers and an inflow of PLN 1.48 million was recorded. The scale of the decrease is most visible when we compare this number with the result of June 2019 – then the revenues amounted to PLN 50 million. July closed with the result of over half a million viewers. What is the current situation?
 
According to Box Office data, the last weekend – in terms of attendance – recorded the best result since the lockdown. During the weekend between 18 and 20 September, cinemas in Poland were visited by almost 300 thousand people. The current cinema premiers, which prompted viewers to visit, were not without significance for this result. Undoubtedly, it is the cinema's repertoire that will be the main motivating factor for viewers.
 
The latest survey conducted for BIG InfoMonitor also speaks about trends in this area. The collected data indicate that 47% of the respondents gave up going to the theatre and cinema. 35% currently visit the cinema and theatre less often than before the lockdown period.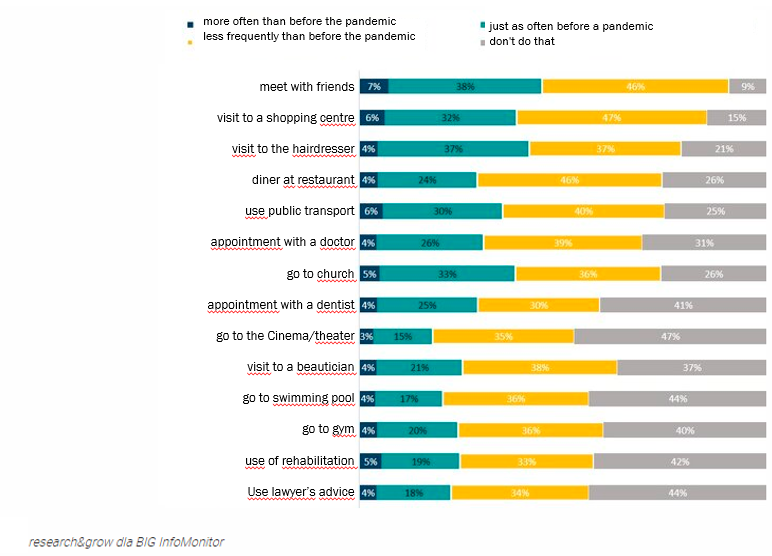 In this situation VOD platforms can benefit even more. The opportunity is to organize premiers on popular streaming services, which will enable viewers to access film news from their own couch. Taking the sanitary and hygienic considerations into account, it may be a more preferred option. The current consumer moods about shopping should also be taken into account. Recent KPMG research shows that over 50% of us refrain from making purchases that are not necessary. Let's remember that a visit to a multiplex often involves shopping in a shopping mall, and there are also additional costs in the form of snacks and drinks. If we give up on this too, family watching can be limited to the couch.
Source:
https://www.wirtualnemedia.pl/artykul/widzowie-wracaja-do-kin-frekwencja-najwyzsza-od-lockdownu-hitami-petla-vegi-i-sprawa-tomka-komendy
https://media.bik.pl/informacje-prasowe/572023/w-pandemii-omijamy-kina-oraz-centra-handlowe-i-idziemy-do-znajomych
https://home.kpmg/pl/pl/home/insights/2020/09/raport-nowa-rzeczywistosc-konsument-w-dobie-covid-19-jak-zmienily-sie-zwyczaje-zakupowe-polakow-w-czasie-koronawirusa.html