The role of social media in the consumer's path to purchase is becoming increasingly important. The pandemic that has been prevailing for over a year has certainly played a big role in this. It caused users to spend more and more time in social media than in other channels.
According to GWI in its "Social Media Trends in 2021" report, even though traditional sources such as TV ads (36%) and word-of-mouth (32%) are still more popular in brand discovery than ads in SM (27%), it is this channel that has become the second most important place to search for products right after classic search engines (42% of respondents search for products in SM).
Even if consumers still discover brands through classic sources, it is important to note that for an increasing number of people SM has become the basis of the purchasing process.
Of course, the use of SM on one's shopping path is highly influenced by the age of consumers. According to a GWI study, Gen Z individuals and Millennials make up as much as 2/3 of all users using SM to find products. This is not revealing, however, given that this is the group that spends the most time in SM. Looking at this phenomenon from a global angle, we can see that ads in SM have become an increasingly more significant way to discover a brand than ads on other websites. From the data presented by GWI, we can see that globally, as many as 28% of internet users say that ads on social media help them discover new products.
Since SM is playing an increasingly important role in the purchase path, marketers should pay more attention to how their advertising looks on this channel.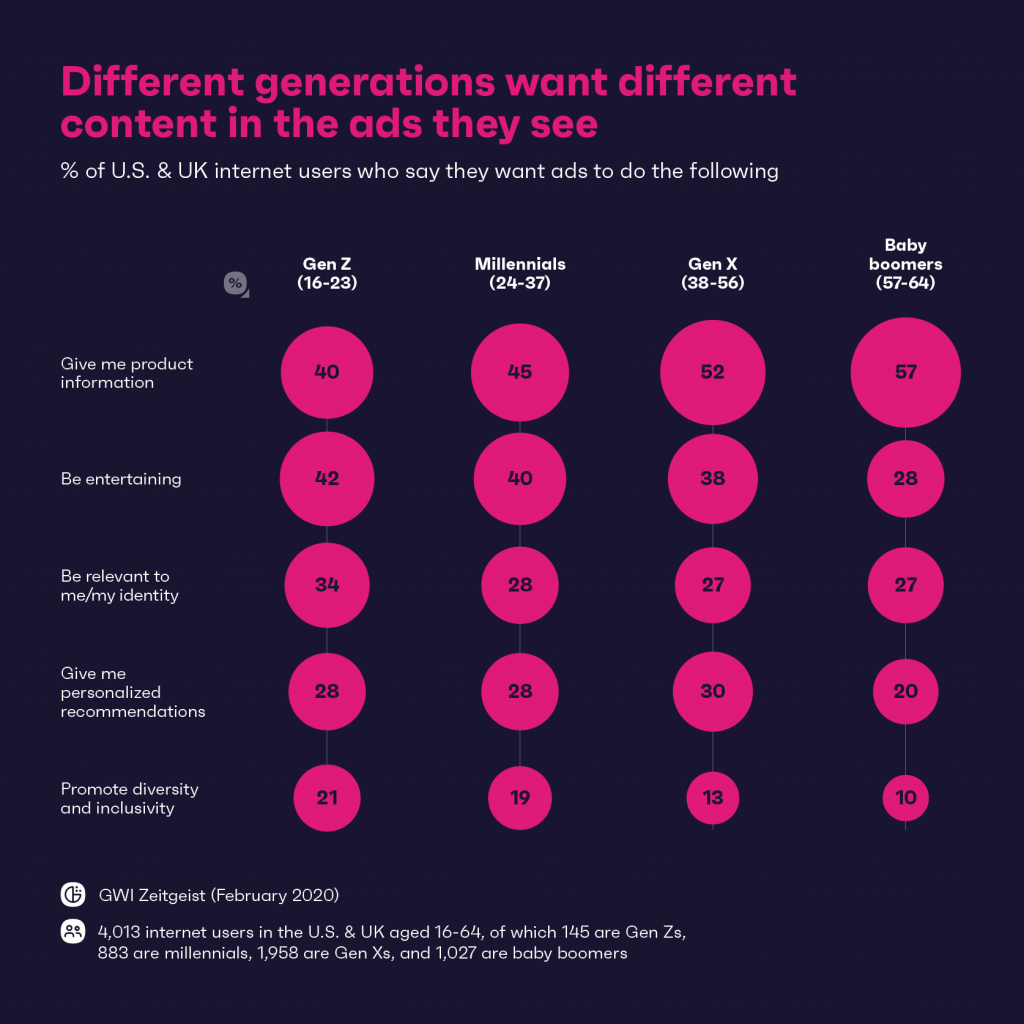 SM is a place where users encounter a lot of content and messages, which they often try to block or simply ignore through ad blockers. That is why advertising in SM has to engage the user through its creative, which should be relevant to them and personalized to their needs. However, in order to do this effectively, it is first necessary to understand how expectations towards SM advertising differ depending on the age of users.
GWI surveyed consumers in the US and UK and found that a significant proportion of younger consumers want SM ads to be more entertaining, more relevant to their identity, more supportive of diversity and inclusivity, and more aware of climate or social issues. In contrast, when it comes to older consumers, they prefer more practical product information in advertising (57% Baby Boomers vs 40% Gen Z).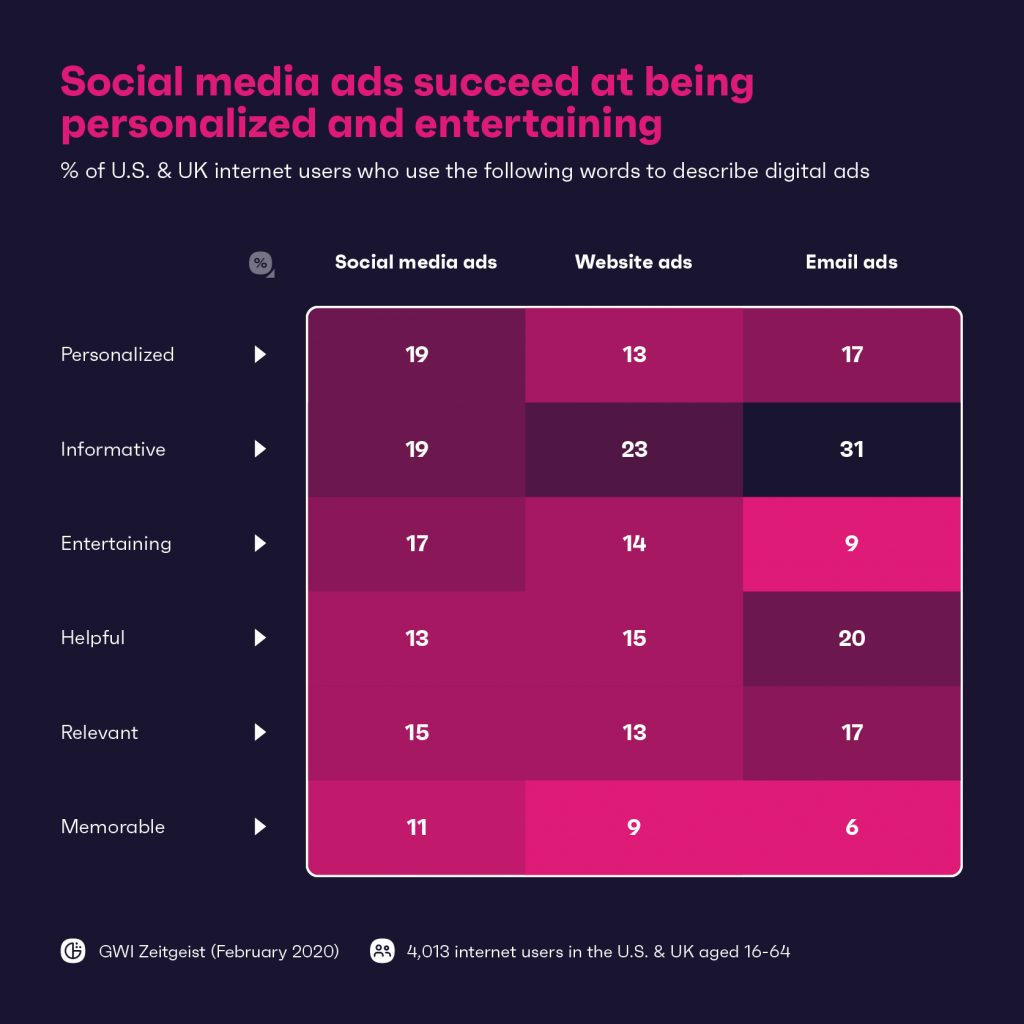 Interestingly for Gen X, it turns out that this is the group that, compared to the others, is most inclined to ads that provide them with personalized product recommendations. This is an important observation when we consider that ads in SM are perceived to be more personalized, entertaining and memorable compared to other digital ads. As we can also see, while ads in SM work well with a younger group of consumers, for older generations these types of ads are less relevant because they provide less practical information about the product.
Drawing conclusions from the above observations, it should be noted that the creation of ads in social media should be thoughtful and tailored to the needs of a given group.
This is crucial, as ads deemed irrelevant and intrusive by users can negatively impact the image of the entire brand. That's why digital user experience should involve more emphasis on making the ad more specific in terms of creative rather than just appropriate targeting. After all, marketers should not only be concerned with what kind of user will see the ad and where, but what role it will play in the user experience of SM. It's important to consider whether it will become as engaging as the consumed content, or instead just interfere with the user's time spent on social media.
Source:
The GlobalWebIndex report "Social Media Trends in 2021"