2020 is a period of huge challenges on the market, which also affected the food category.
In the latest Zenith Business Intelligence – FMCG Food and Drink report, we tried to capture the nature of these changes in selected markets (India, China, Russia, UK, Australia, Spain, Italy, Canada, Switzerland, Germany, France, USA) to identify global trends, but also to compare experiences from different countries. The increased demand for food and the growth of online sales are the main changes – we have observed them in Poland, now let's look at the numbers from key European and global markets.
FORCED LIFESTYLE CHANGE – WE EAT AT HOME
COVID-19 has affected our habits, lifestyle, the way we shop, where we eat, the time we spend at home, the reduction of physical activity – all these factors affect food trends, but also shopping trends, in different ways. We go shopping less often and consume more at home. However, while total consumer spending has declined, affecting many categories, the situation and challenge in the food category has been different, on the one hand increasing demand as a result of the shift in consumption from catering to the home (although the scale of ordering food has increased, this has not compensated for the decline in consumption at catering outlets), but on the other hand shopping habits have been disrupted, and in particular it was necessary to meet the demand for online delivery, which the food category was insufficiently prepared for. The challenge ahead of us in 2021 is to stop the growth (from 7.2% in 2020 to 1.2% in 2021) – a return to pre-covid dynamics is expected in 2022.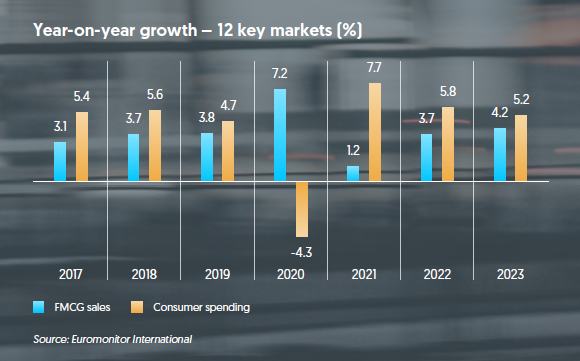 FORCED LIFESTYLE CHANGE – GROWTH IN ONLINE SALES
Spending more time at home, going out less often and avoiding crowds – these characteristics of a society in the age of the pandemic are conducive to the growth of online sales, including in the area of food. Food has been a small participant in the increases generated by the e-commerce channel, and the year 2020, as a result of restrictions and concerns about coronavirus, saw e-commerce grow from 3.1% to 4.3% in the sales structure of packaged foods, and from 1.7% to 2.4% in beverages. These levels are still small when compared to the overall market but a significant step has been made due to the forced change in lifestyle.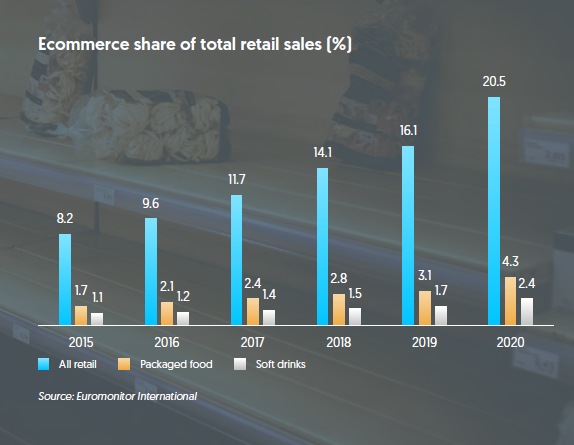 While we can expect online sales to stabilize and perhaps even decline after the pandemic as some people return to traditional grocery shopping , COVID-19 has blazed a trail and half of shoppers say they will continue to shop for groceries online with the same or even higher frequency. This probably means the further development of this sales channel in the following years and therefore online is the channel in which FMCG spending will grow the most in the coming years (by an average of 2.7% annually).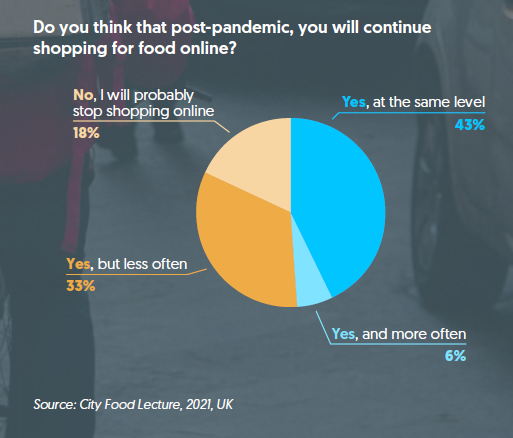 Analogous trends are observed in Poland. The frequency of grocery shopping has decreased in 2020 – there is definitely less daily shopping, replaced by weekly shopping, which means less impulse buying and more planned shopping, which additionally favors online grocery sales. And in fact, the declarative data for Poland shows a threefold increase in the group of people who grocery shop online in 2020 compared to 2019, and while pandemic-related increases are seen in all categories, it is in food that it is the largest.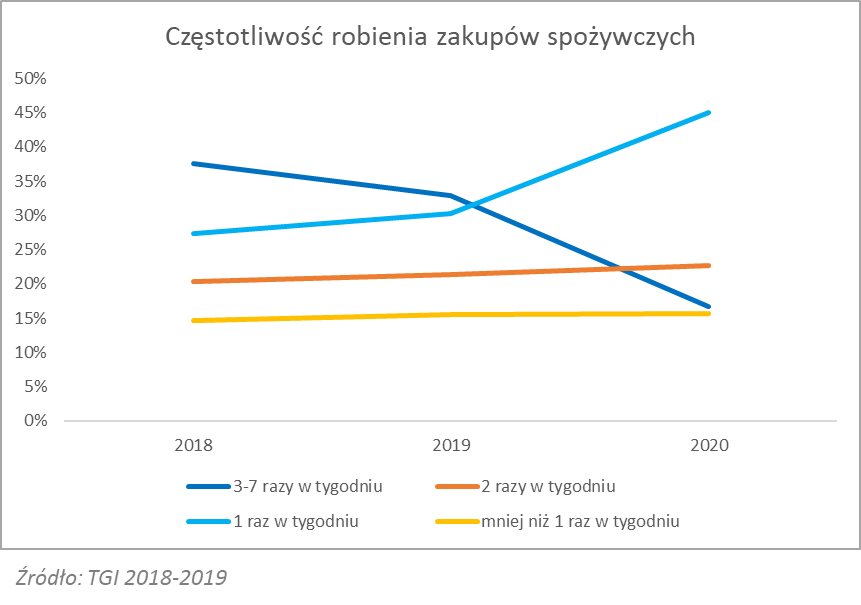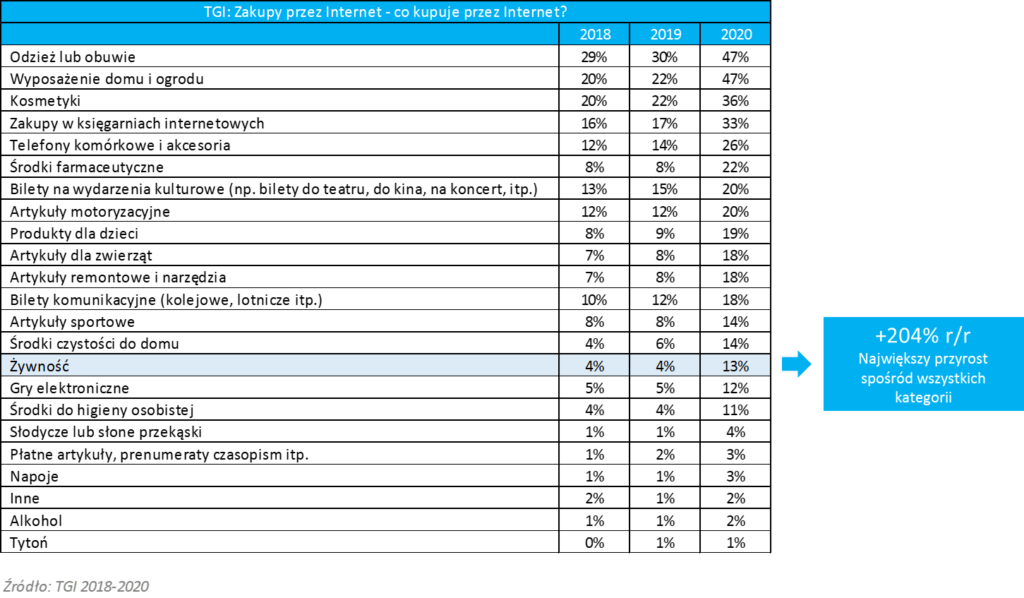 ARE OUR MEDIA SPLITS OPTIMAL?
Since the growth of e-commerce in the food category is not only today's reality, but also we can expect further (although not as dynamic) growths in the coming years, it is certainly important for players active in this category to rethink their media splits and the role of digital in them. Due to their previously small share of online sales, many food brands operate fairly conservative splits, relying heavily on TV advertising. And although in Poland television is still the strongest medium and relatively cheap compared to, say, Western European markets, the pandemic and the changes it has brought with it are a good time to review our current approach to working with media agencies, particularly given the outflow of youth to online content or streaming platforms and the resulting growing difficulty in building solid reach in younger parts of our target groups. Building reach by using video on the Internet, creating content for consumers, optimising the use of social media, engaging gamers, direct promotion of sales on the Internet in one's own store or e.g. on Allegro, using research tools to measure the effects of multimedia campaigns and individual communication channels – these are some of the tools we should think about, obviously optimising the approach by adjusting it to the brand's situation and the needs of its consumers.
CHINA A SOURCE OF INSPIRATION
In the area of e-grocery we are still at the beginning of the road and that is why it is worth looking for inspiration on the markets that are far more developed in this respect and we do not mean the US or UK but China. We can confidently say that China can be a model for us, because on the Chinese market – according to the Zenith Business Intelligence report – FMCG Food and Drink – FMCG brands spent 71% of their advertising budgets in 2020 on online channels, while on average on the other 11 analyzed markets it was 30%. When we take a deeper look at online ad spending, the strong focus on video advertising and regular ad presence on e-commerce platforms are particularly noteworthy. On average, Chinese FMCG brands spend 35% of their total budgets on online video advertising, and 13% on activities on e-commerce platforms. Therefore, we encourage you to observe the Chinese market and the brands active there in the food and beverage category.