For the owners of catering, the date of October 24 is significant. That was the day that the new restrictions came into force, according to which restaurants can only operate on a take-away basis. The regulation is valid until further notice and its assumptions are connected with losses of profits for restaurateurs who cannot fully conduct their business.
During the first gastrolockdown, the WSPIERAMGASTRO [ISupportGastro] hashtag was born. Consumers wanted to show their support and ordered take-out and delivery meals from their favorite restaurants. We also had to deal with the emergence of new trends. Firstly, catering outlets introduced DIY dishes, selling sets of single ingredients, from which you can "assemble" the finished dish at home. For example, as part of the order, we received ready-made pasta and a portion of sauce, the so-called cocktail mixers – after adding our preferred type of alcohol we could create a drink. Another new trend that was created is the inclusion of the "deli" section in the offer. This slogan is followed by the sale of delicatessen products, such as portioned cheeses, sausages, pesto jars, own jams and other packed products. Another trend is the so-called dark kitchens, i.e. kitchens that do not sell in the stationary format but only in the take-away one. Dark Kitchens are designed to offer consumers a variety of dishes and shortened delivery times. For restaurateurs, on the other hand, the benefits include lower maintenance costs and a lack of waiter service (which will also reduce expenses). The main cost here would be renting space, catering equipment and marketing. Experts estimate that the market of the so called multi-chef shops will be worth over USD 400 million, and its growth in Europe can be estimated at 85%.
The value of the Restaurant-to-Consumer Delivery market is also growing. Revenues in this segment for 2020 are estimated at USD 376 million and this number will increase. The number of users will also grow.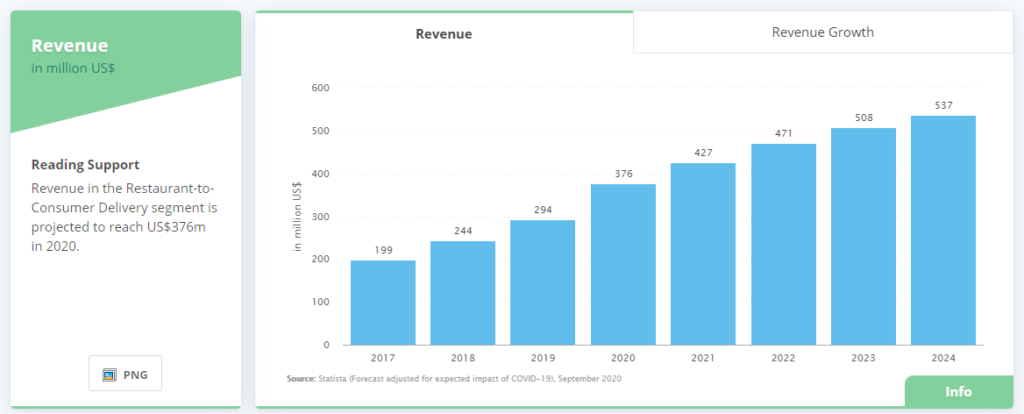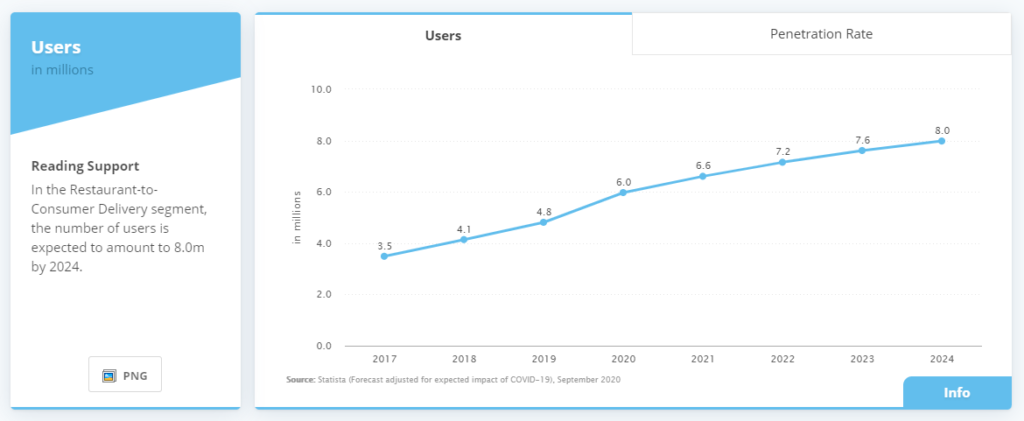 How does the industry itself react to the lockdown? The demands of restaurateurs include exemptions from social security contributions, a uniform and fixed VAT rate for food products and catering services and the introduction of an anti-crisis shield.

A new entity on the food delivery market has also been established Knajp.pl (formerly: wspieramgastro.pl), i.e. a restaurateurs' cooperative where no commission on orders is collected. Artur Jarczyński, the owner of such restaurants as U Szwejka, Otto Pompieri or Der Elefant, has also launched a portal for ordering food online.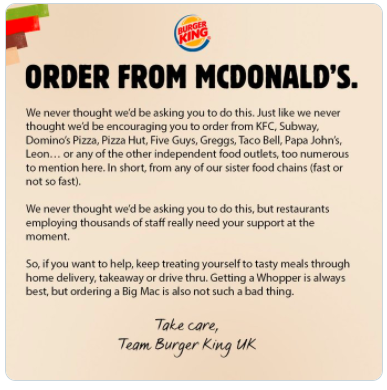 Recently, we also had a communication from Burger King UK, in which the chain encouraged to order meals from McDonald's, Subway, KFC, Pizza Hut etc. restaurants. The Polish branch of Burger King also published a similar announcement, and was followed by smaller, local restaurants encouraging people to support each other and order food from other restaurants. The next step was taken by the Pasibus chain, initiating the #HotGastroChallenge campaign, which entails placing an order in a local restaurant and nominating further food outlets to participate in the challenge. The campaign started on November 4.
Source:
https://gastrowiedza.pl/wiadomosci-gastronomiczne/dark-kitchen-nowy-sposob-na-prowadzenie-gastronomii-w-czasie-pandemii
https://www.statista.com/outlook/375/146/restaurant-to-consumer-delivery/poland
https://gastrowiedza.pl/wiadomosci-gastronomiczne/pracownicy-gastronomii-w-skrajnie-dramatycznej-sytuacji
https://www.horecatrends.pl/delivery/117/delidelivery_pl_znany_restaurator_uruchamia_portal_do_zamawiania_posilkow,5727.html
https://www.horecanet.pl/pasibus-zacheca-do-wpierania-lokalnych-restauracji-poprzez-hotgastrochallenge
https://www.facebook.com/thecoolcatbar/posts/1734152073411266
https://www.facebook.com/ciaotuttipizza/posts/3435428409839640