The excitement has slowly subsided after the Effie 2020 awards – the most important annual awards in marketing, communication and, since at least last year, business development models. This time it was a bit different than before:
A new group of nominations for React & Sustain, tailored to the first lockdown, joined the list of categories – activities not only designed for growth, but also for defending market position in unexpected circumstances.
Restrictions on reporting have appeared in the industry media as a result of decisions made by global marketing networks.
The jury deliberated in a hybrid way – that is why many backstage conversations could not be held and the networking was significantly affected.
Finally, the gala itself – this time without the spotlights, the banquet, the suits, the concert that everyone remembers a year ago and without the marble interiors of the National Theater, but fast, intense with bronze awards flashing like something seen on the TikTok feed, watched from the comfort of one's home and finally with a glass of wine.
And what also appeared in front of our eyes when the pixel dust of the transmission from the National Theater settled?
The great absent and disappearing points
The main reflection after this year's edition can most likely be called a new category: Effie had to react to the new conditions and has entered a little bit of a sustaining phase. Not only in terms of online gala.
In 2019 the jury awarded 94 nominations, in 2020 it was 87 (an 8% decrease). In 2019, 56 prizes were awarded, almost the same number this year (54). However, you can see differences in the colors of the statuettes, which result from the scoring allocated to the awarded campaigns. 6 gold statues last year vs. 5 this year, 31 silver ones last year, and now only 20 (!), last year 19 bronzes, including as many as 29. It can be concluded that the jury in 2020 was more severe. Maybe it was an effect of the hybridness of the deliberations, or it was due to the absence of many "big players" from recent years. Among the agencies, Grey or Ogilvy (a year ago, 2nd and 6th place in the agency's score respectively) was vainly sought after, 2012 – last year's Grand Prix winner was not present either. Apart from Wavemaker, who maintained last year's high score, all players on the podium of creative and media agencies also received much less points. To be in the TOP3 of advertised agencies a year ago you had to accumulate at least 32 points, this year – 21 (that's how many Publicis received, bravo!), and the title of the Agency of the Year was decided… by one point. An even stronger reduction of points can be seen on the side of media agencies. A year ago, MediaCom received 40 points in the MediaCom ranking, this year Spark Foundry was third with 21 points (which of course deserves a big round of applause as well!).
Worse campaigns? Stricter jury? Fewer entries? The differences in the scores are also the result of changes in the counting of points for leaders and co-applicants (for the first time a co-application guaranteed only half the number of points for the prize)? In general, however, agencies simply received fewer statuettes this year. Last year DDB won 5 awards and 31 points, which did not even allow them to qualify for the TOP3, this year with 5 awards and 24 points won this race. Is this the effect of global restrictions in the entries to the competition? Will this trend continue next year? Does Effie have to "slim down" down, because in the times of foreseeable pandemic crisis the budgets for competitions will decrease? What will the decisions of the global leaders be? Time will tell.
Obvious fanfare…
Already after the announcement of the nominations, the prevailing opinion in the industry talks was that if the jury awards the Grand Prix this year (it does not have to do so – it was not awarded in 2017 and 2018), it will be awarded to the long-term Żabka Platform.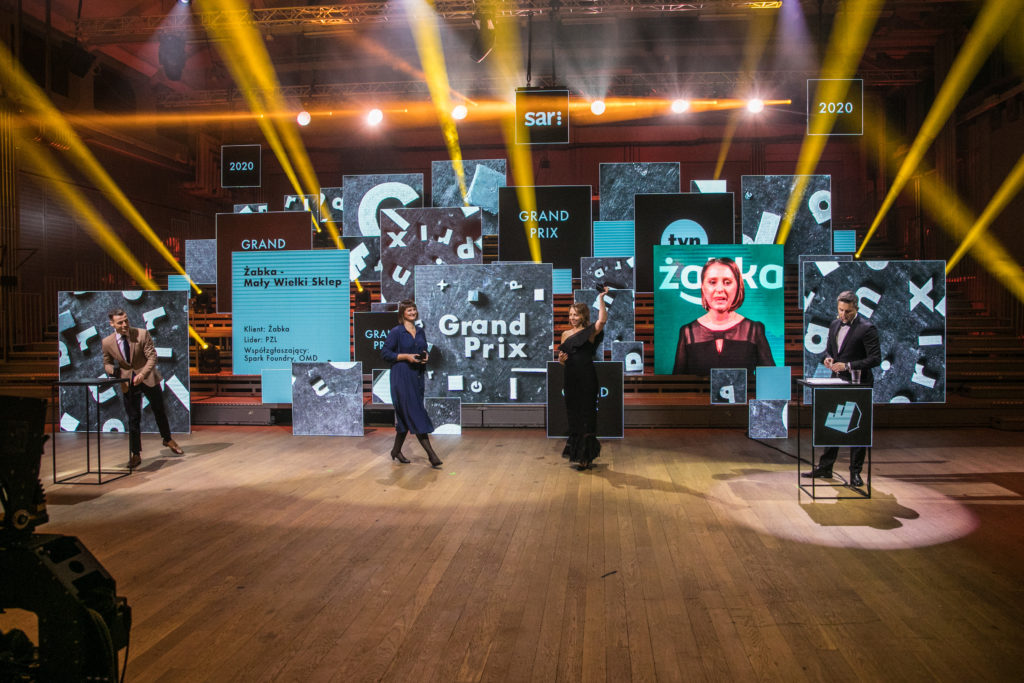 The brand has enjoyed a huge success in recent years, which was significantly influenced by consistent and coherent communication. During last year's gala Maciej Marasek from 2012 called for building long-term relations between clients and agencies. This year's Grand Prix shows that such cooperation brings deserved results. A lot has already been said about the platform itself, and as a strategist from a creative agency I pay attention to its "old-school" nature – after all, these are videos with funny sketches in the store! And yet, this "old-school" is apparent – the positioning of the "mały wielki sklep" [little big store] allows you to do much more than just joke about those doing their shopping there. The set of Grand Prix awarded entities (creative agency and two media agencies, including our group Spark Foundry, bravo!) is all the more interesting. – maybe this is a result of budget decisions, or maybe proof that large leading agencies are still the most important for communication effects.
This year's Golden Statuettes are a review of the hottest marketing trends of recent years (and perhaps that's why they could have been foreseen).
This is the Publicis Group news – would like to point out that Spark Foundry and Publicis have stood on the podium of the most effective agencies. This is particularly pleasing in the context of maintaining, as a performance Group in this competition, the form of healthy inter-agency competition – because a year ago Starcom became the Media Agency of the Year, and Saatchi took 3rd place among creative agencies. Apart from the Żabka campaign, Spark was responsible for the famous "Chłopi 2050" campaign for Storytel (2x silver) and received a bronze award for the campaign for Semilac in the new "React & Sustain" category. Publicis once again proved its unquestionable dominance in the food category by winning silver awards for campaigns for Animex, Maspex and Nestle and additionally a bronze for Renault's "365 dni testów" [365 days of testing].
…and less obvious aspects
As every year, many jury decisions remain controversial. Why did the content campaigns discussed and awarded in other competitions – "A co gdyby" OLX, "Chłopi 2050" Storytel and "Stand-up w sypialni IKEA" have to settle for silver and bronze prizes? What was missing? Perhaps it is still very difficult to demonstrate the impact of the content on business and marketing results? As usual, in the Long Term and Retail category, a lot of nominations could only turn into 3 statuettes (these are the rules of the contest), so it's a pity in terms of Toyota's very consistently built position in the hybrid segment, IKEA loyalty activities or democratization of the "Bio" offer in Carrefour. As usual, also in the "Medicines and food supplements" category, the statuettes were awarded in not very prestigious colors, as if we did not have interesting campaigns in this category in Poland (and after all, this year Nurofen "On the side of moms" campaign demonstrated a very fresh approach to the leading communication strategy). Why didn't the phenomenal Żubr campaign about saving endangered species even receive a bronze statuette? And Edzia Górniak's learning to drive for Skoda? Or new positioning and platform of Pekao S.A. bank? These are excellent, brilliant campaigns, which are such a shame. Well, what can we do – it is what it is. New and thinner.
It is also worth paying attention to what… you can't see. There are categories in which no nomination was granted at all: insurance and investments (is the pandemic proving too difficult for these services? However, Aviva was nominated in "React and sustain"), B2B and Tech Driven – a category in which it is very difficult to do something that will have a measurable effect on the brand. There is no denying that I was also expecting at least a nomination for some telecommunication brand among service providers – but I did not live to see it. Is it possible that this market has stabilized in such a way that there is little communication that can be done on it?
Recipe for the award
At the end of the day, it is worth considering what the Effie jury awards nowadays. A few years ago the matter was simple – the effects were rewarded (hence the significant presence of adaptation campaigns). For several years now, the presence of a strong, loud Big Idea seems to be much more important for the award – without it there is no chance to count on a prize in a prestigious color. For at least two years (especially thanks to the Marketing & Business Solutions category) Effie has also been evolving towards rewarding creativity to achieve effects in broadly defined business. This year's Grand Prix seems to confirm it – Żabka not only communicates very well, it is also an excellent, constantly developing business model, encapsulated with further services. Similarly, McDonald's, ING or IKEA (top 3 advertisers this year) – these are not companies from which every brief is similar to the previous one. These are companies that do something more, are constantly developing, looking for new business solutions, exploring new channels and offers. So the simplest recipe on Effie can be included in the old saying: the kind of brief, the kind of effects.
Marek Rosłan
Strategy Group Head
Saatchi & Saatchi