INNOVATION
This time, a solution that has just emerged and is available on a limited scale, but is so interesting that I decided to share it. "Running Stories" is an application developed by BBH Singapore that combines data with creativity, running with an audio story. The app uses geo data to structure the narrative and adapt it to where the runner is at the moment. The runner can choose the story he wants to participate in – e.g. criminal, espionage, about the runaway bride – and will be guided by it during the run as if he were in the middle of it. "Imaging Spotify, Netflix and Silicon Valley had a baby" – this is probably a good summary.
For now, the application only uses geo data and is being tested in Singapore, but its developers have plans to include other types of data such as weather, heart rate, roll out in other cities and make it open-source so that local Running Stories can be created. Below you can see a video about the project and a report by Nick Marsh, a BBC journalist in Singapore, who has already tried the application.
DIGITAL WORLD
Twitter has long (perhaps forever) faced the challenge of increasing the number of new users joining the platform. People feel overwhelmed by the sheer volume of tweets, don't know who to follow, how to find valuable content. I know from experience that you need to spend a lot of time to build a good timeline. So Twitter decided to reach for a solution that many already know well – stories. They're called Fleets in their version, but they work pretty much the same as stories on all other platforms. Colleagues from Digitas US, Allie Wassum, Rebecca Bailey, Chelsea Hamilton and Baylor Tyrie, wrote a bit about how Fleets can be used by brands.
Jokes about where we'll see stories soon are circulating on the internet. Google decided to comment on it on its fanpage. Copy says "One like on this post and we won't add Stories to Google Docs".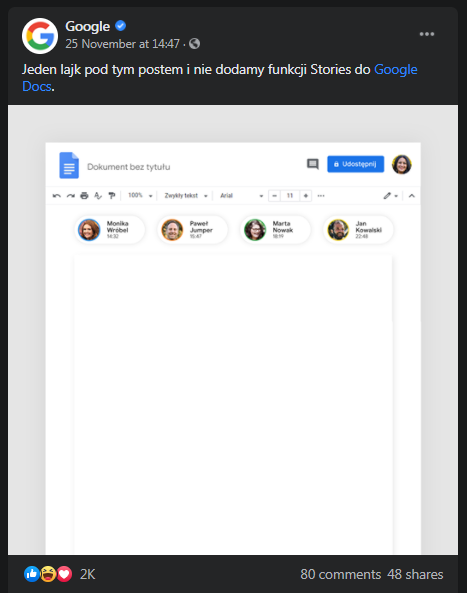 Copying from others seems to be endless in Silicon Valley. Snapchat, from which everyone copied the Stories format, decided to copy TikTok, which Facebook had already copied by introducing Reels on Instagram, and launched Spotlight, which is its version of the never-ending list of full-screen videos that anyone on the platform can make. It also has a plan to encourage users to create and spread a new format – it will pay $ 1 million daily for the most popular Spotlight snaps.

Facebook bought Kustomer, a startup that created a dashboard that allows businesses to manage conversations from multiple sources. This is probably a solution that is supposed to enable WhatsApp monetization. There are no ads in the messenger (and perhaps they will never be there in the form they are available on Messenger), but Facebook wants to use the WhatsApp scale (2 billion users worldwide) to create a solution for communication between business and consumers. We don't know yet what FB idea has for WA, but Shira Ovide from the New York Times proposes to watch what is going on here because it may have a big impact on the market.


There's a good chance you know who Benedict Evans is. Just in case – Evans has been analyzing the technology, digital media and mobile market for 20 years. Facebook recently invited him to talk a bit about how the digitalisation we have seen in recent years and which has accelerated this year has influenced the market – how the advertising market has changed, how the way consumers interact with brands is changing, will covid change the way consumer discover brands, or will the rapid growth of e-commerce stay with us forever, how the adoption of new digital tools changes the world. Here is the FB video, it lasts 45 minutes.

Video games have their time during a pandemic. Closed at home, without the possibility of spending time with friends outside, in pubs, clubs, on trips, with children who cannot meet their friends at school, many people spend more time playing games. Until now, the narrative has rather discredited video games as a waste of time and money, but it turns out that they can have a positive effect on mental health. So let's not only have more understanding for ourselves (if we are players), for our friends and children, but also let's consider whether our brands can somehow find themselves in this perspective.
Video games can improve mental health. Let's stop seeing them as a guilty pleasure | Games | The Guardian
Many still regard video games as a waste of time or downright sinister. But the real story is very different, says Guardian video games editor Keza MacDonald
Speaking of games – this is an interesting presentation of the development of the gaming market, the most important events, increasing value and new platforms emerging.