How the retail industry responded to changing consumer needs in the year of the pandemic
The year 2020 was quite a challenge for marketers. The reduction of budgets for communication, discontinued productions and campaigns and the constant need to follow not only the development of the pandemic, but also top-down orders, which may have a negative impact on our business overnight… Undoubtedly, this year required a lot of flexibility and quick response to changes, no matter what category we specialize in.
How did the number one category manage in terms of media spending and the players who create it, who communicate virtually continuously during 52 weeks of the year, with an intensity not comparable to other industries?
Did the retail category, because it this the one in question, remain passive and reactive like the great sauropods at the end of the Mesozoic, or did it courageously and quickly face new challenges in this pandemic year?
Below I chronologically present the 5 trends that affected the retail industry in this "strange" for all of us year and examples of how the category responded to these consumer needs.
Trend 1: Ordinary shopping has now become a luxury
Already at the end of 2019, consumer concerns about household finances and the "displacement" of their wallets intensified. But only the spring lockdown caused a real crisis. The loss of jobs and sources of income by many Poles intensified changes in food prices, which were felt to the detriment of more than 2/3 of respondents (trade news 2020).
Consumers – on the one hand, they felt empathy with small stores and family businesses, causing a temporary increase in shopping in the smallest outlets, but very quickly began to think about their melting budget and this empathy turned into a cool calculation "where to buy cheaper".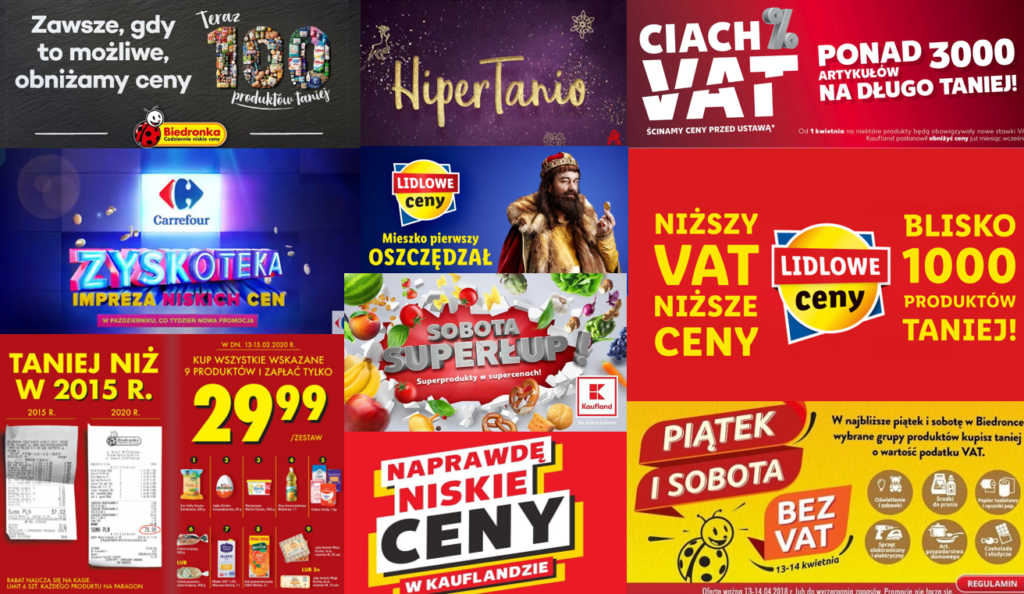 We did not have to wait long for the reaction of big-box stores. Large chains reacted quickly, creating new advertising formats and offers that adapted to people's needs. Our TVs, Internet and radio were flooded with an unprecedented wave of promotional ads, the task of which was only one thing – to convince the consumer that they will buy for less with us. Lidl prices, freezing prices cheaper than cheap, and the range of the products that you buy at the cheapest prices have become the dominant trend of communication in this category. In addition, aggressive colors and slogans make the existing commercials of the retail industry look like a "lover's serenade" – now it's time for a decided fight for offers, not the seduction of consumers. The percentage of image ads compared to hard-sell promotions has significantly decreased year on year (Arena Media 2020).
Trend 2: Everything has become more expensive, but I don't want to save on food for the family
Consumers, looking at the purchase receipts with horror, quite quickly drew conclusions and put them into practice. The importance of sales increased in the decision-making process of choosing a store, and the consumers themselves in qualitative research emphasize sharpening their shopping instinct in the context of cool offers and deals in stores.
The price of "my" butter or milk or sausage has become something we follow, remember and, what is important, we compare in the circulars. In times of recession, the most important thing is that we reach for less expensive equivalents of our favourite products only as a last resort, and every day we just look for them at a more attractive price.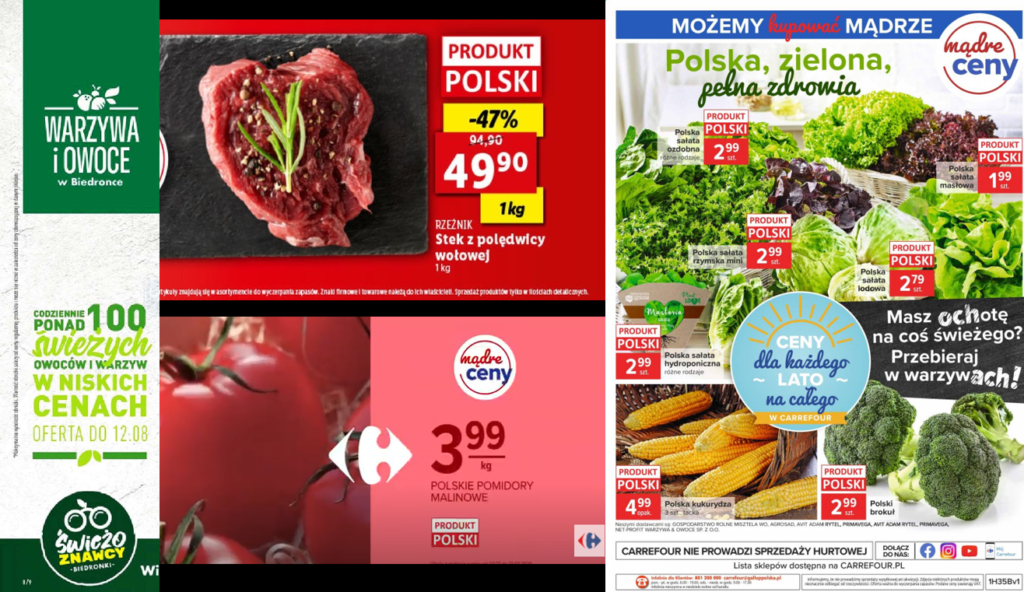 And here too, the retail category reacted immediately by introducing quality food products to the "low price" range, whose prices were reduced by means of promotional mechanisms.
In addition, the entire category focused on the prices of vegetables and fruits and other fresh products, which we buy regularly and often. Some of the players showed low prices for "hunters". – Some of them also emphasized their healthy properties and local origin. Especially since as much as 71% of consumers declare the desire to "eat healtly" and not to save on food, because "you are what you eat" (GfK 2020).

Trend 3: Everything has turned around – cooking is done daily, and shopping only on occasion
Even though more than 60% of consumers do not declare large grocery stores as a danger in the context of COVID (Deloitte 2020), the frequency of store visits has dropped dramatically. From January to June this year, the Polish household made an average of 165 visits to stores. For comparison, in the same period of 2019, there were as many as 187 visits (GfK 2020).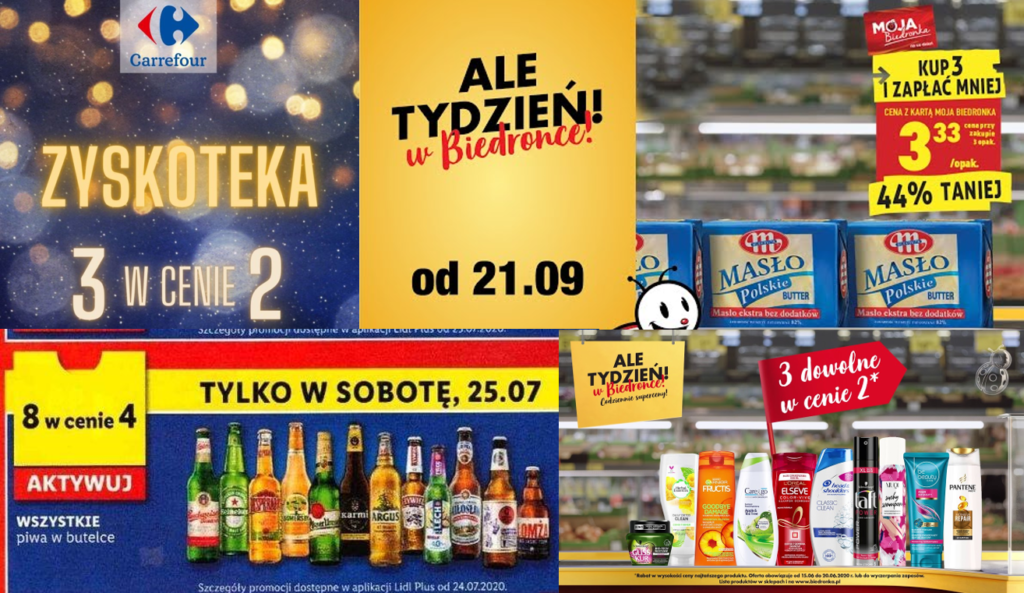 Also here, retail had a concrete and immediate response. First of all, the "merchandising" mechanisms – that is, encouraging the consumer to buy more products at once. A clever solution used by all leading players.
On the other hand, it ensures the safety of purchases in communication, but it also encourages the consumer to use alternative ways of shopping, e.g. order on the website and pick up ready purchases in the store, without moving around between shelves. This is also an interesting alternative to online grocery shopping, which was super popular at the beginning of the pandemic, and then, unfortunately, excessive orders and extended delivery times.
Trend 4: New restrictions – new obstacles. How should I deal with this?
Further restrictions for the large-scale trade introduced at a rapid pace and restrictions to minimize the spread of the virus really socked it to the stores. They generated the need for quick solutions to make the visit to the store as easy as possible. When the number of people in the store was reduced, Carrefour immediately introduced a new feature in its application to check the number of people present in our favorite "Carf" to avoid having to wait in a long queue.
The re-introduced hours for seniors have triggered a strong and negative response on the Internet. Both people to whom these hours are dedicated and younger consumers, annoyed at the stores being closed for them, protested. This situation forced retailers to react quickly and we did not have to wait long for a response.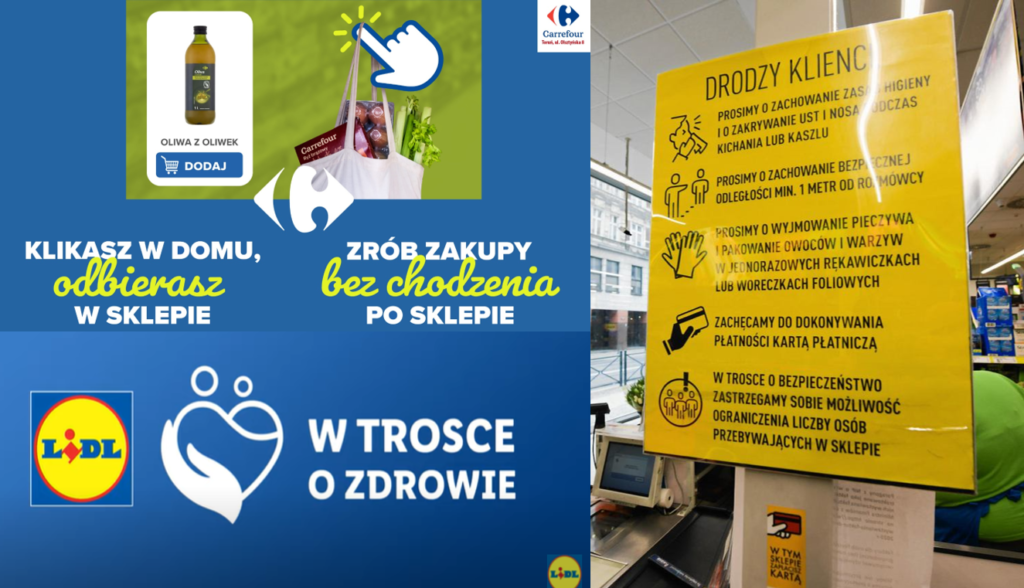 There were both attractive discounts for seniors, encouraging them to shop at certain hours, as well as extended store opening hours "so that everyone can make it" and the creative solution of Żabka – i.e. hours for young peopleJ with special discounts on hot dogs or Coca-Cola.
Trend 5: The best thing to do is to let it all be over!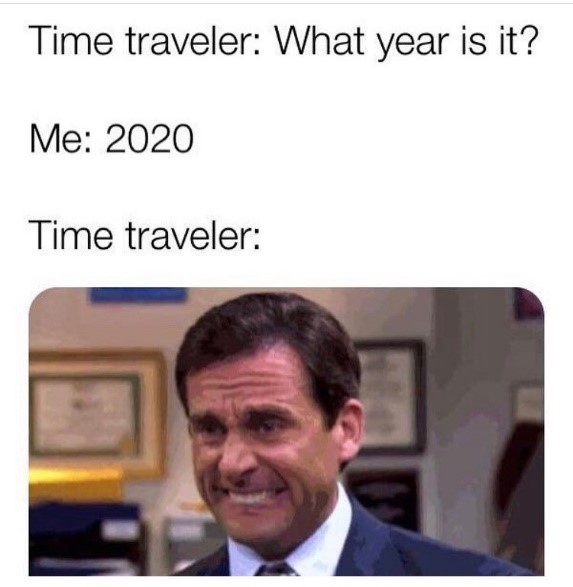 The year 2020 did not spoil us – anxiety, being locked indoors, caring about work and finances clearly did not impact us well. We are willing to "drift away" with our thoughts to the memories of the better times, when the masks did not impede us from recognizing the neighbor from across the street. Or we lock ourselves in our homes, creating our safe haven there for our loved ones and waiting together until the "it" is over.
This relatively new reality for the consumer and his need to "rest" from worries is also an element that has not escaped our expensive stores. Starting with masks in advertisements, showing new ways of interpersonal contacts, e.g. chats with friends on teams or inspirations of home life, which Lidl encourages people to visit its stores with.
Another way is to provide the consumer with a delightful way to escape from COVID reality is – the festive mood of the approaching Christmas season. It has been present on social media unusually early, because it was already present at the beginning of November, thanks to the Influencers decorating Christmas trees or sharing recipes, among others. No wonder that we have been able to purchase food for the holidays as well as gifts for a long time now. The stores themselves also encourage us to do this shopping earlier, to avoid the crowd in the aisles and by the shelves on the weekends before Christmas.
Summary
By means of the above examples I have tried to show how high the level of flexibility and sense of change in consumer behaviour governs the market and brand communication in the retail category.
Stores that aren't keeping up with the rapid changes, be it in consumer moods or top-down restrictions – will unfortunately, experience this pain in their revenue. Those that keep up with the consumer's needs can enjoy the recipient's loyalty, but only for a while. Because the struggle on the retail market lasts all year round, generating new campaigns and new offers every week. In this category you cannot rest on your laurels, because in a moment our promotion or campaign may turn out to be out of date, i.e. less attractive in the face of what the competition has already started to do.
Therefore, I would like to encourage you to regularly look down on the retail market and the changes taking place in it. It is a great "litmus paper" of changes and trends also for other industries and categories.