The popularization of Data Driven Marketing not only helps to optimize communication channels, but also awakens an appetite for data to cover all possible elements of the marketing-mix. Let's just imagine a compendium of knowledge that will answer the eternal question of every CMO: what should I do to spend every penny from the marketing budget in the most efficient way and how should I do this? Especially in the financially demanding channel (both in terms of production and even more so in terms of media), which is television. Michał Pyc, Business & Communication Director, Spark Foundry and Marek Rosłan, Strategy Group Head, Saatchi & Saatchi about creativity based on data.
Unfortunately, the market has not yet found a recipe that would guarantee 100% effective communication on TV. It seems that advertising research (both pre- and post-test) has been in operation for years: we verify the potential of copies, their impact on sales and building brand attributes, and econometric models help us to choose the right channels. However, this data is fragmentary, it concerns but a fragment of our work, embedded in specific market realities, at a specific time. It does not build a broader picture, which would help us to find the "golden rule" of the influence of creative elements on the effects of its emission.
One cannot forget about the still repentant discourse that creativity is rather a feature and skill from the mythical world of "art and dazzle" that it is not given data but unhindered imagination that underlies the strength, power and effectiveness of good advertising messages. Some people continue to believe that creation is worked on as in the famous "Med Men" – over a glass of whiskey, preferably during a half-day lunch.
Nevertheless, fortune favors the brave. Especially when you have a great tool at your disposal: the econometric models created for many years at Data Science Publicis Groupe dedicated to the efficiency of marketing activities with a special focus on the efficiency of various advertising copies (ROI). Until now, each model has only brought knowledge to the brand for which it was made. What if we glanced at all of them and looked for some regularities? What an exciting idea! We had to try.
In the first step we described all modeled copies (more than 2000 records in five categories!) according to a dozen or so criteria defined by us (from the main message to using well-known songs). Then we conducted a meta-analysis on the entire knowledge base built in this way, looking for answers to questions:
– How does the use of creative templates (Goldenberg, Mazursky and Solomon, 1999) affect the effectiveness of TV copies?
– What kind of creative tools and treatments really work?
– How do the above variables look depending on the product category in which they are observed?
Below we present the most important results for 2 categories: "finances" (including insurance) and "pharmaceuticals" (drugs and dietary supplements). The data comes from a meta-analysis of 568 copies of 21 brands.
TALKING ABOUT BENEFITS IS A MUST
Communication strategies focused exclusively on image building in the short term have the lowest ROI. Offer announcements are much more effective in the short term, but the highest average ROI was observed for advertisements that presented an offer in the environment of benefits that follow it (both emotional and functional). This confirmed Theodor Levitt's old rule "People don't buy quarter-inch drills. They buy quarter-inch holes".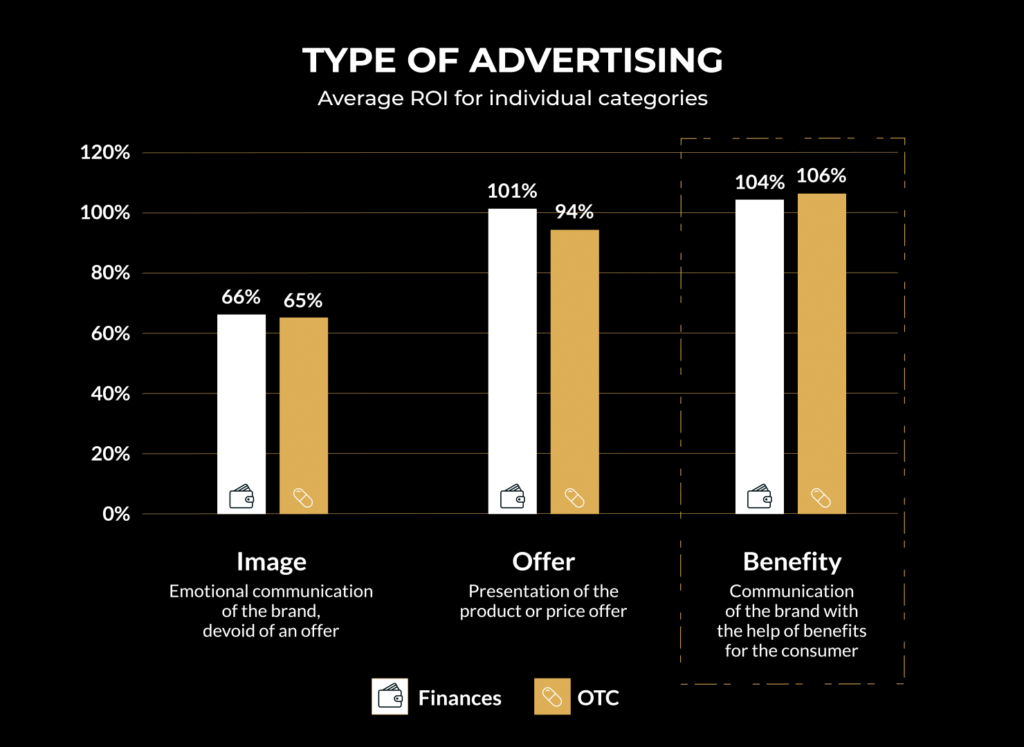 TELL ABOUT THE PROBLEMS AND SOLVE THEM
In both categories, the dramatization of the problem resonates most strongly in Poles. This does not contradict the previous result – this symbolic "quarter-inch hole" should, however, be the answer to the clearly shown problem of the consumer.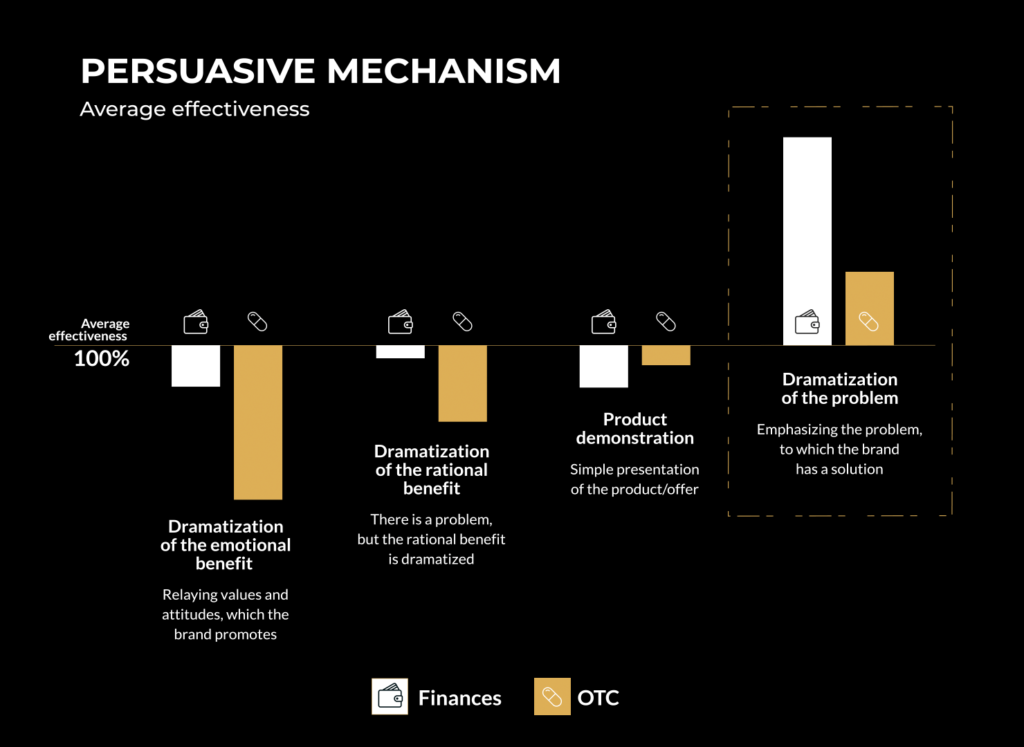 BUILD THE PLOT OF OUR TIMES
The vignette format, which we see more and more often in campaigns, works even "better" than a traditional feature film. Vignettes are short films – a way of consuming content, to which we are accustomed by social media (several seconds, concise, essential video formats) may suggest that the plot presented in the form of short scenes is more and more suitable for consumers.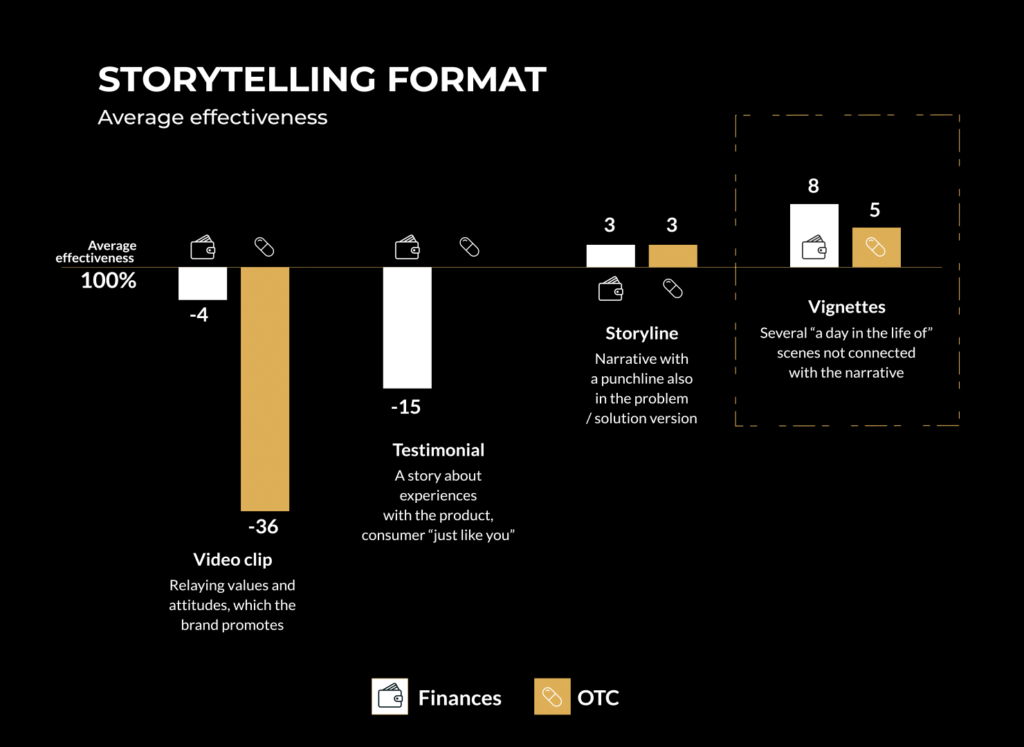 DON'T STIR EMOTION BUT LAUGHTER
And best of all, explain cleverly how it works. Analyzing various types of creative amplifiers, we discovered that stirring emotions in terms of "finances" and "pharmaceuticals" is generally less effective than making consumers smile. In the "finance" category it is also particularly worth looking for a clever way to show the effectiveness of the offer. After all, financial products/services are often difficult for consumers to evaluate and understand. It is worth facilitating this by looking for simple allegories and metaphors.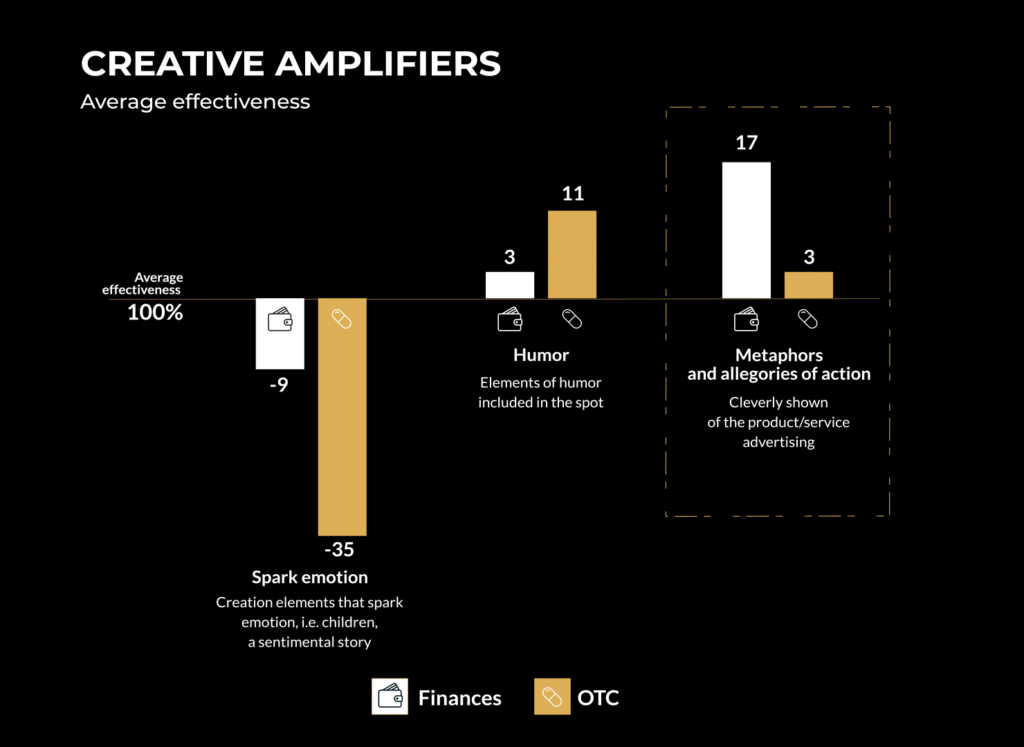 As you can see, we managed to find wider regularities. Schemes and regularities govern not only the choice of communication channels, but also the communication itself.
Someone might ask "why do I need a creative agency? However, we have to remember that just knowing that advertising is supposed to be "funny vignettes about the benefits of the product" does not provide a ready communication just yet – please try to come up with a joke now. Creative agencies should not be weary of their cut of the pie. More and more often, however, "artistic" competences will have to be complemented by analytical competences, often developed by specialists from media agencies. Data does not kill creativity. Creativity can use data to generate even more effective messages, like on steroids.
The only pity here is that a glass of whisky in our work has to be replaced with an Excel sheet. Well – something for something.
Would you like to learn more? Write to: Michal.Pyc@sparkfoundryww.com or marek.roslan@saatchiis.com