A subsequent study confirms that over 68% of Poles are proponents of vaccination, while 32% have doubts about it, making them reluctant to get vaccinated. According to another edition of the HX Study, prepared by the Starcom media house and Data Science Publicis Groupe, these two different attitudes are the result of several, not always obvious, factors.
We are currently facing the danger of another autumn wave of illnesses. We lack the willingness to vaccinate to reach a level of herd immunity as a society. We asked Poles about their concerns and motivations to better understand how a persuasive campaign promoting a vaccination program should be structured. Let's take a look at what could motivate Poles to vaccinate en masse and thus save us from further lockdowns.
Can pure demographics explain the decision to vaccinate? It turns out that not necessarily. There is a correlation between the education level and attitude toward vaccination, but it is not sufficient to explain the phenomenon completely. Post-secondary and higher education is declared by 50% of supporters and 40% of skeptics respectively, so we have knowledge-oriented people on both sides. We also see an overrepresentation of vaccination supporters living in large cities with populations over 500,000. This may be due to several issues. First, population density. In large cities, it is more difficult to avoid crowding, and the use of public transportation forces people to stay together in confined spaces. We have less opportunity to keep our distance, and thus are potentially more likely to risk coming into contact with the virus. So since the risk is higher, the desire to vaccinate increases as well. Second, there are more vaccination points, and thus the whole process seems logistically simpler. Third, there are more advertising media in cities to remind people of the ongoing registration process, so city dwellers are more exposed to the public campaign promoting vaccination.
Let us also remember that the two factors mentioned above are interconnected, that is, statistically, residents of large cities are also better educated.
Instead, we see a correlation between age and willingness to vaccinate. The older the person, the more supporters of vaccination. The greatest over-representation of vaccination supporters we see in groups over 45 years of age, and the younger the Poles, the more doubts they express. We have two hypotheses here. The first one is the severity of the disease, younger people are less afraid because even if they get sick they will get over it mildly, so the motivation to vaccinate decreases. The second is the availability of the vaccine. Paradoxically, its universality in Poland contributed to the decrease of interest. Representatives of older age groups were still struggling to enroll and the vaccine itself was a rare and precious good. We all remember the cases, which bulwarked public opinion, when someone recognizable got vaccinated out of turn. Today, many vaccination centers are closing due to the lack of interested parties.
Since demographics alone do not explain attitudes toward Covid-19 vaccination, let's look at the other aspects behind our attitudes.
The decision to vaccinate is motivated primarily by one's own health and safety. Concern for others, even loved ones, although indicated frequently, is ranked much lower. And this despite the fact that for over a year, the official narrative related to the restrictions emphasized concern for others and not necessarily for oneself. As you can see, the power of selfishness as the main motivator of human actions has been underestimated. And it is this aspect – benefits to one self – that a good vaccination campaign should focus on.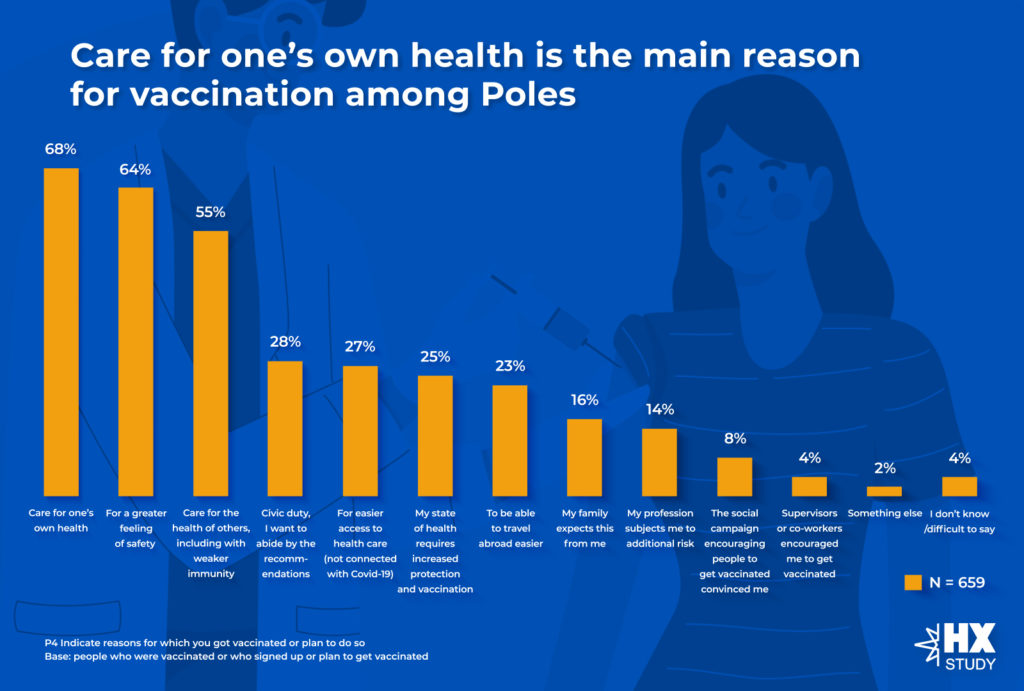 What's more, vaccination advocates are people who, more often than skeptics, have clearly changed their daily lives as a result of the pandemic – and it's not just about negative changes, but also about shopping online or working remotely. In short, they have experienced the pandemic first-hand and, perhaps for this reason as well, are more open to vaccination.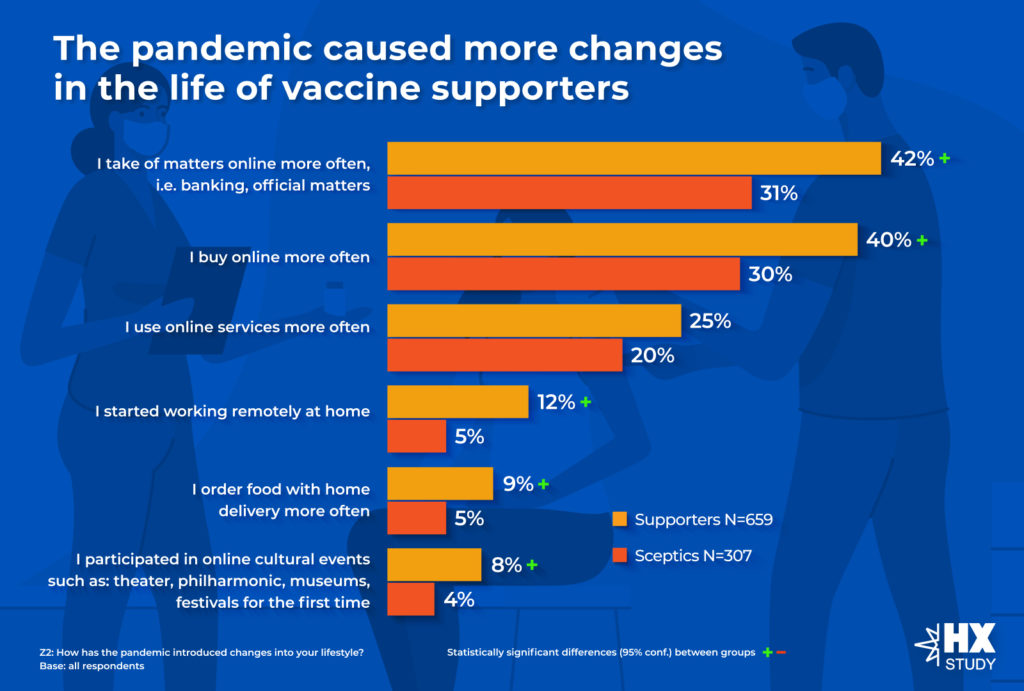 Since an important determinant of attitudes toward vaccination is selfish concern for oneself as well as the magnitude of the life changes that occurred during the pandemic, it is not surprising that vaccination supporters and skeptics are also differentiated by the issue of personal experience with COVID-19. Those who have observed sick people in their surroundings, including fatalities, are among the vaccination supporters. In the vaccine skeptic group, more people report not knowing anyone who has been sick. On the other hand, it is in the skeptics group that there are more people who recovered and who may feel temporarily immune. The fusion of these factors may therefore undermine the sense of personal threat that is a key determinant of the decision to vaccinate.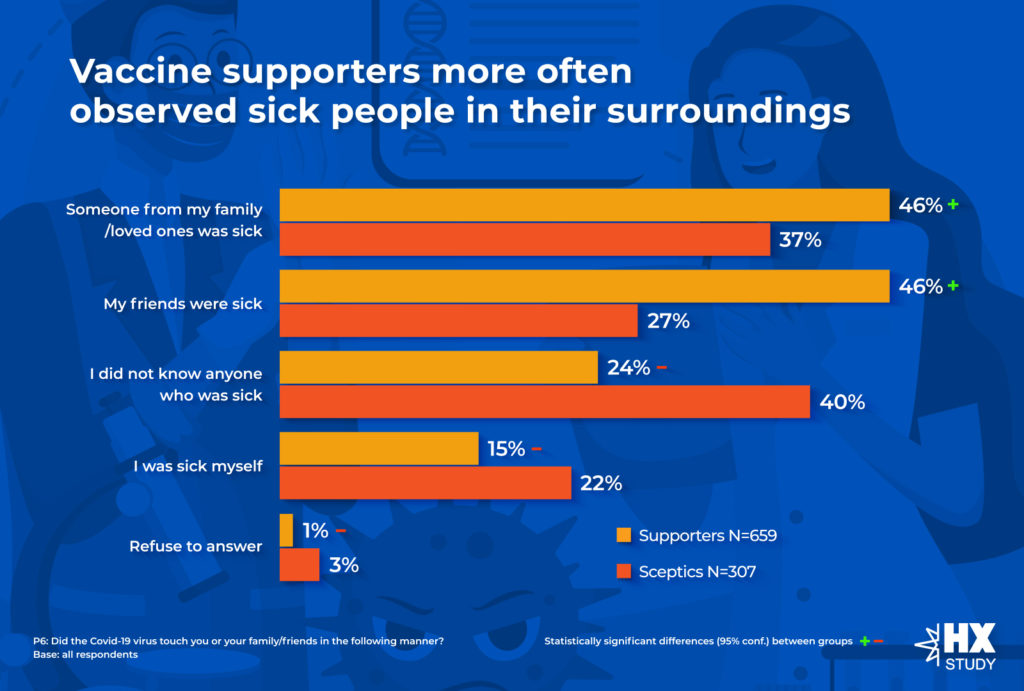 Note also that the groups being compared are distinct from each other, but both have their concerns and certainly, are not monoliths. On both sides we can find people who are afraid of post-vaccination reactions or have doubts about a number of restrictions and their sense. Among the skeptics there are, of course, more, but it can be seen that both groups are not at all homogeneous. For some people, fears are neutralized by concern for themselves, experience with the disease, or the fact that vaccination is nothing new for them, because they vaccinate seasonally for the flu. And for some people it is something incomprehensible – none of their acquaintances were sick, or if they were sick, they only had a mild case. And they have never been vaccinated for the flu. The difference in the perception of vaccine effectiveness and the impact of population vaccination at the end of the pandemic is also interesting. Skeptics question both. The lack of enthusiasm for vaccination is not surprising.
Let's also note the need for freedom of choice. Forced vaccination would not meet with widespread public acceptance – and that even among its supporters.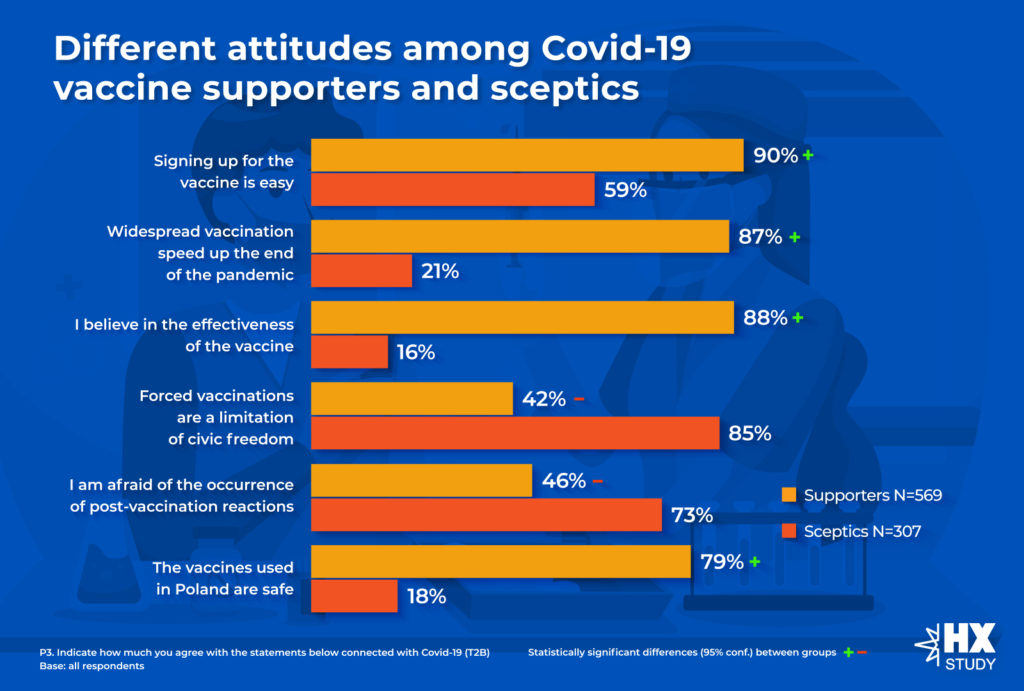 Attitudes toward vaccination translate into perceptions of limitations caused by pandemic situations. We see a clear correlation between the decision "to vaccinate or not" and respect for restrictions, such as wearing masks and avoiding crowds. Note, however, that despite the differences, we seem to be a very disciplined society, at least declaratively.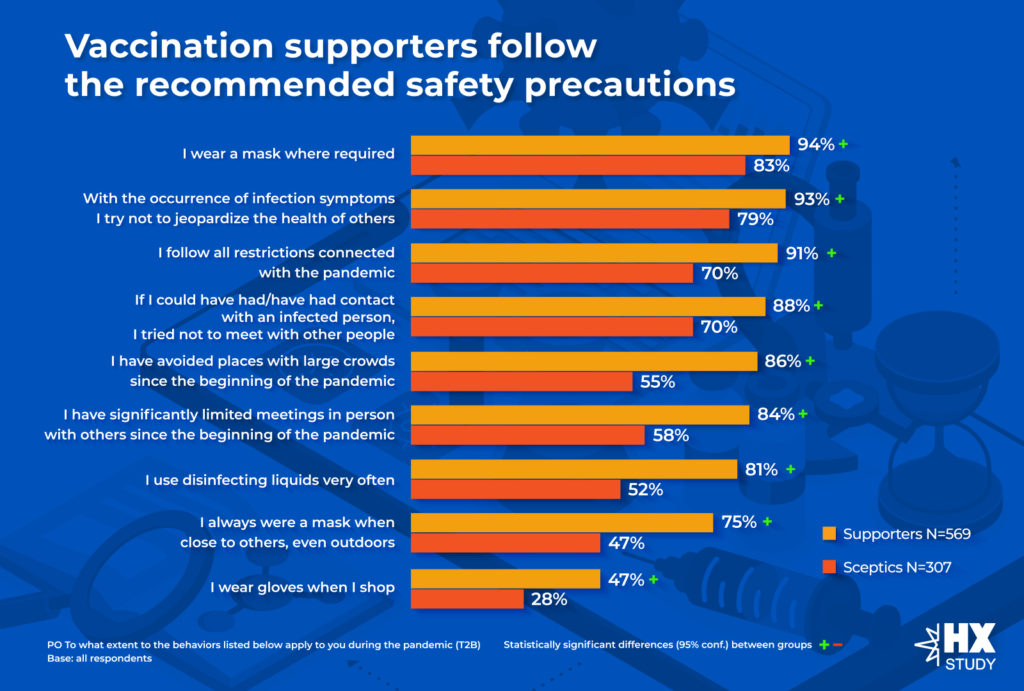 The differences in the two groups can also be seen in how Poles took on the subsequent lockdowns and restrictions. Those who are not vaccinated and do not plan to do so, accepted decisions to close more industries, schools or kindergartens with much less understanding. However, it is worth noting that such preventive measures as quarantine or social distance are massively accepted among them as well.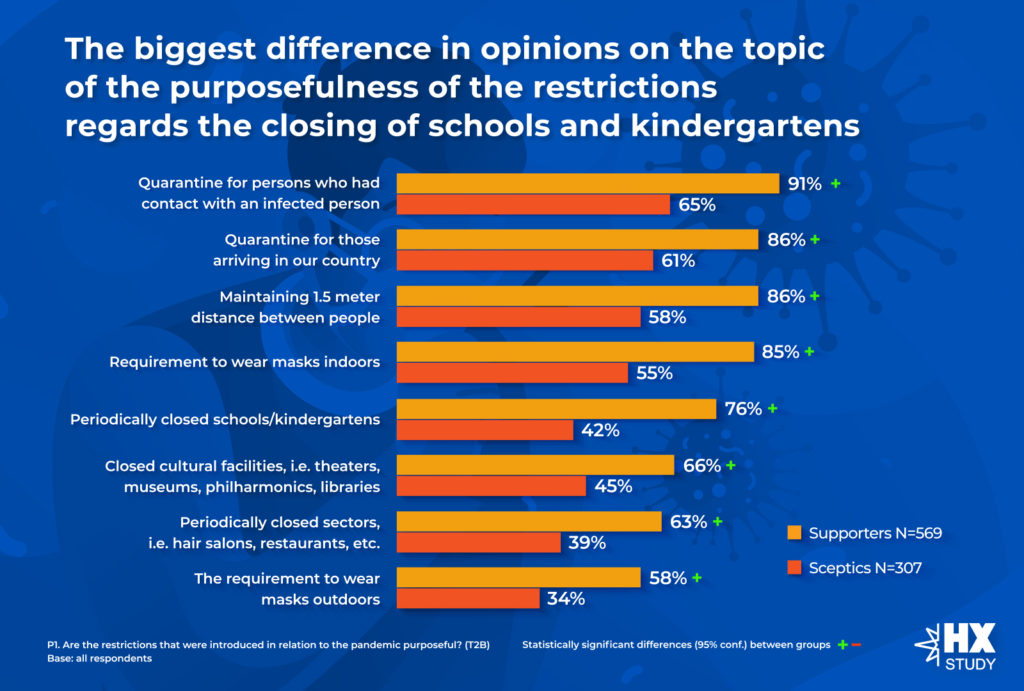 In the public discourse, there are increasing suggestions that vaccinated persons will enjoy additional privileges. We were therefore interested in the question of whether the introduction of special privileges for vaccinated persons or restrictions for non-vaccinated persons would meet with the approval of Poles. There is a strong polarization of opinion. Those who have been vaccinated are more likely to indicate that such measures are justified, while skeptics disagree with the different treatment in the public space. However, when we move to concrete proposals that could divide Poles in the public space into better (vaccinated) and worse (unvaccinated), then we can already expect strong resistance.
Specific solutions introduced by some countries and regulating access to, for example, hairdressing services, cultural events, etc., would be met with moderate enthusiasm in Poland. The supporters are more in favor of such solutions, but the level of support reaches a maximum of 40%. It can be expected that the introduction of such regulations would not convince the anti-vaxxers anyway, but it would cause opposition to inequality and restriction of freedom. The first attempts of such actions, such as the special queue for the vaccinated to the swimming pools in Poznan Thermal Baths, show that the issue is a controversial one and causes spontaneous reactions.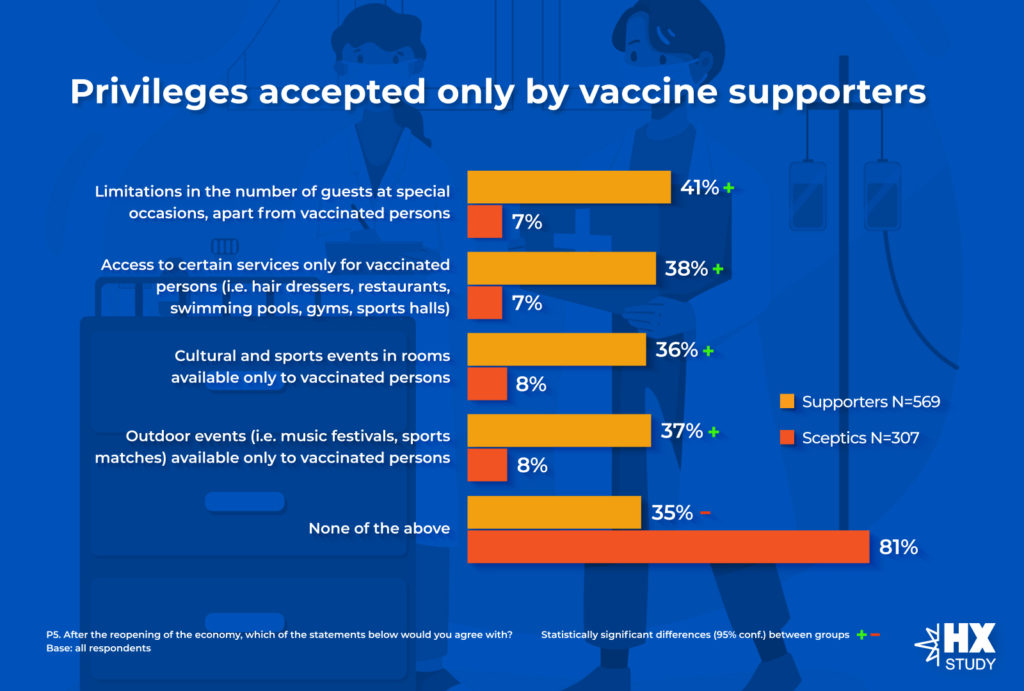 People with doubts about vaccines declare more concerns about potential health risks. The question of the coherence of their views and behavior is therefore interesting. If we have concerns about vaccine ingredients and their potential harm to health, do we choose food products with equal concern? We decided to ask the respondents about it.
Poles in their declarations are conscious consumers. They read labels and try to choose healthy food. If the declared percentages of indications were translated into a store shelf, then ¾ of stores would be occupied by healthy, certified and unprocessed food. The levels of indications therefore show a rather wishful view of oneself as a consumer. However, is the group skeptical of vaccination also more cautious in choosing what will be on their plate? Naturalness and health-consciousness, often present in the skeptics' narrative, might suggest so. It turns out, however, that the opposite is true. A higher percentage of pro-health and pro-environmental behaviors can be found among supporters of vaccination. The rational reasoning behind vaccination refusal does not translate into rational consumer choices.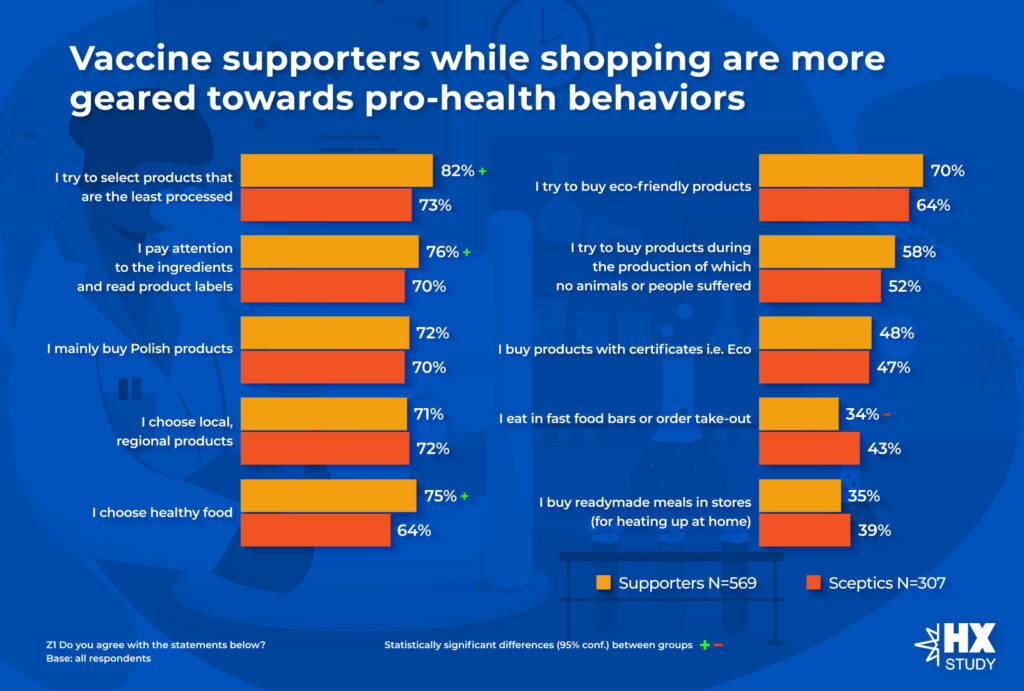 So what could motivate unconvinced Poles to visit vaccination centers?

Drawing conclusions from the HX Study, the strongest motivator is self-care. It would make much less sense to appeal to collective responsibility or civic duty. We are most important to ourselves, so only personal benefits can encourage us. However, let us be careful when taking on the role of social campaign authors, because privileges only for the vaccinated will not meet with enthusiasm. And let's not think about a concert or other 'incentive' event just for the vaccinated, because a wave of heckling will probably overshadow the originally noble idea. Apparently we have a culturally very deep-rooted aversion to segregation. We'll see what effect the National Vaccine Program Lottery, which has just been launched, will have. Perhaps the principle of the carrot instead of the stick will increase interest in vaccinations. We will find out soon enough. A clue would also be to emphasize in the campaign that those who get vaccinated do not acquire permanent immunity. Our research shows that this group is more likely to drop out of vaccination, probably because of an apparent sense of security.
The campaign should also be relevant to younger people, under 45, as we see most opponents in these brackets. I think that a continuation of the campaign based on cooperation with appropriately selected ambassadors could have a good effect. So far, the selection of celebrities seems to be very sensible, it consists of representatives of different generations. Nevertheless, most people noticed Cezary Pazura (29%), and Maciek Musiał, dedicated to younger Poles, was noticed by only 7%. The results show, therefore, that young Poles should now be treated with more attentiveness. I strongly believe that young skeptics would be attracted by a charismatic celebrity like Robert Lewandowski, telling them about what 'you, personally' will gain by getting vaccinated.
We still have two months to take action, so that the most pessimistic scenario does not come true, in which crowds will appear at vaccination points only in the autumn, when the main motivator will already only be fear.
The article was created in cooperation with Alicja Kundzicz, Research Manager Data Science and Piotr Zaborski, Junior Research Specialist Data Science.