How can one present the latest clothing collection in the times of lockdown and limited possibilities of organizing fashion shows in an original manner? Balenciaga decided to make an unusual move by releasing her own game "Afterworld: The Age of Tomorrow" available from a web browser.
The game as a new interactive form promoting the clothing collection 
The Spanish fashion house, Balenciaga, presented its latest clothing collection with the premiere of Afterworld: The Age of Tomorrow, which is presented as an "allegorical adventure" in 2031.  The choice of such a scenery is not coincidental, Balenciaga's collection itself is a stylistic image of the year 2031. In the production, the player visits various districts of Balenciaga's store, while gegtting to more avatars and discovering the latest collection of autumn-winter 2021 clothing collection.  The game is available in a web browser at the following address: videogame.balenciaga.com.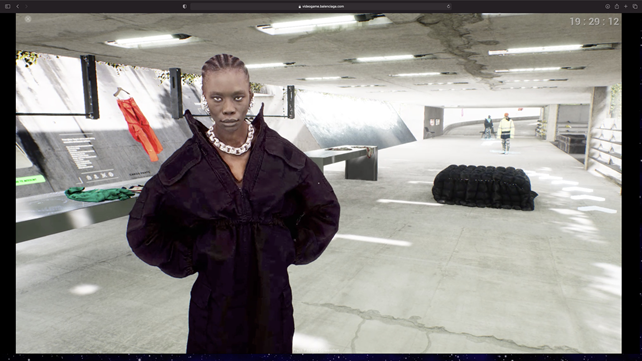 Product placement in games
The interpenetration of the game world, with the everyday one, is becoming more and more frequent, and usually involves the placement of selected products, their premiere in the virtual world. One example is the game Death Stranding, created by well-known game developer Hideo Kojim. The appearance of the Monster Energy drink in the form of product placement caused an avalanche of criticism among players. From the business point of view, however, this translated into a significant increase in the stock market quotes for the beverage producer Monster Beverage Corporation itself.
The fashion world in 2020, like other industries, was forced to use the new technology for marketing and promotional purposes due to the ongoing pandemic.  The organization of classic fashion shows is very difficult, hence many brands are focused on using live-streaming, creating experiences using AR technology (Augmented Reality).

Balenciaga game = greater range, greater involvement
In the case of fashion brands, the idea of the Balenciaga luxury fashion house is much better than traditional product placement.  The production of your own game comes, of course, at a much higher cost, but it is also a great way of engaging the audience, while reaching a huge population of players around the world.   According to Statista, by 2023 the number of players worldwide will exceed 3 billion and the market alone will reach over USD 200 billion.  For comparison, the video game market was valued at USD159.3 billion in 2020.
Is the marketing cost of a video game really a good idea?
In the case of Balenciaga's brand, just look at the number of times the video game Afterworld:  The Age of Tomorrow itself is displayed. Within 2 days from the date the video was added to the Balenciaga channel on YouTube it was shown more than 759 thousand times, becoming one of the most popular videos in the history of the brand on this platform.  Additionally, the game itself has become a subject of discussion on social networking sites and websites.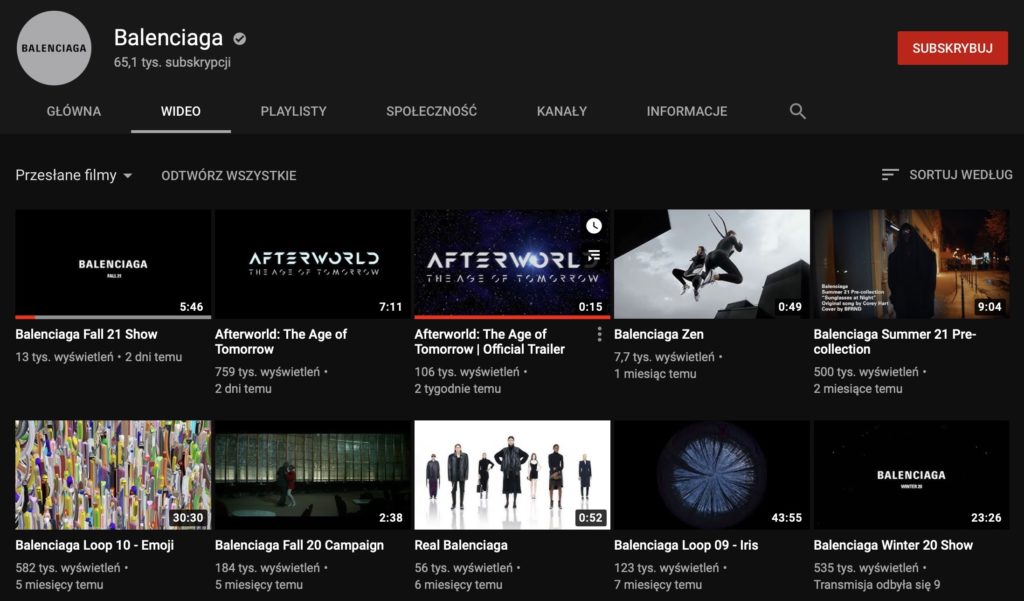 Source: Balenciaga