Employees have learned the taste and possibilities of working from home. They got used to it, they arranged their day according to their own rules. Why should they sit in the office now? Integration has become a major challenge for employers in industries that have switched to a remote working model during the pandemic. They must now develop new approaches to internal communication, reaching out to distributed teams, responding to individual employee needs.
According to the Labour Force Survey, 1.6 million people worked remotely in Q4 2020, accounting for 9.7 percent of all employees. Can we now talk about a return to the 'office normalcy' known before the pandemic? Absolutely not. After more than a year, many of these people have become accustomed to working from home and appreciate its benefits. ClickMeeting's February 2021 report shows that 54% of respondents want to continue using the virtual work model after the restrictions are lifted. The most important advantage according to employees is time saving, mainly due to the lack of commuting – as indicated by 72% of respondents. The convenience of working from home (in the sense of organizing the place according to one's needs) was appreciated by 63%, and almost half (48%) indicated higher efficiency in fulfilling their duties.
Looking at the latest Inquiry Market Research report (publication: September 2021) we can see that 63% of employees would like to keep the possibility of remote work. It seems that the closer we get to the zero hour, i.e. real returns, the higher percentage of people declare their willingness to stay, at least partially, out of the office. It is worth noting that there are industries that do not see the point of returning to the office, because they feel good in the current mode of work. An extreme example is IT, where 93% of professionals rely on a flexible model and cannot imagine working in a full stationary mode. According to the DataArt & Minds&Roses study, as many as 64% of the surveyed IT employees would start looking for a new employer if the current one wanted to force them to return to the office. (CLICK).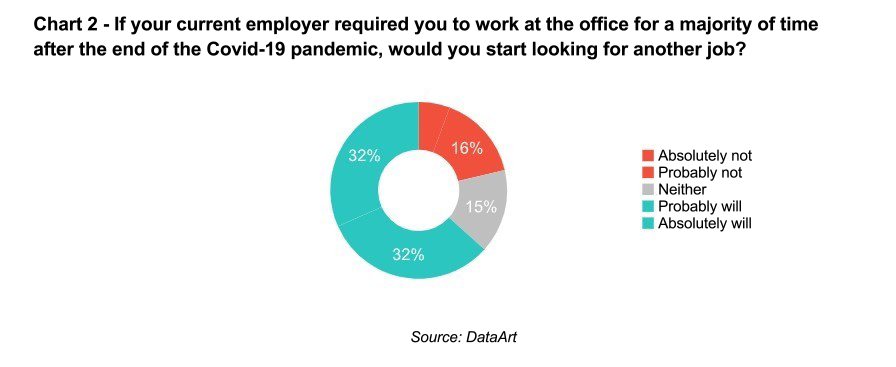 That's how it looks from the employees' side, and do employers see it similarly? The percentages agree. During the pandemic 58% of employees according to a report by Antal & Corees Poland (CLICK) longed for their own place and desk in an attractive office space and at the same time 56% of employers planned to keep their current spaces. However, declarations of employers fluctuate in different industries. You can see industries such as energy or transportation planning to increase office space after the pandemic, and industries such as law firms or automotive companies that are betting on a full return to the office. At the opposite end of the spectrum is marketing (including advertising, PR), which has placed a strong bet on reducing office space and being very flexible in its approach to the workplace.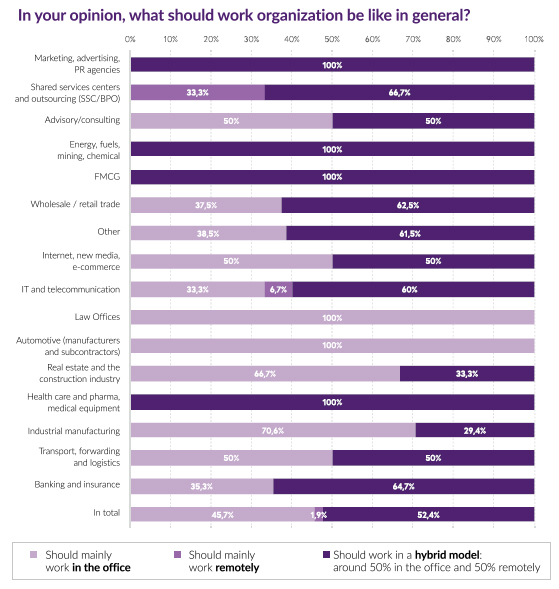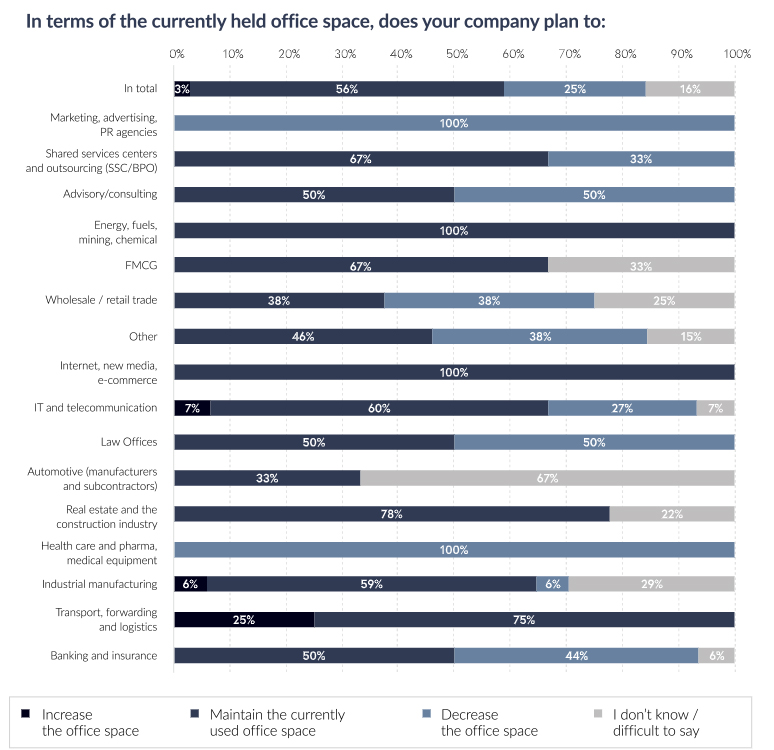 Which way is better? It seems that changes in the work model are not something that revolutionizes the market in terms of efficiency. From the Antal report mentioned above, we know that efficiency is comparable across models. As many as 92% of employers positively assess the effectiveness of remote work. In second place is working only in the office indicated by 87% of the respondents. The least effective is hybrid work – but still 82% of employees consider it as an effective model. This means that the choice of approach is not a matter of future productivity, but of the vision or culture of the organization. The best model should be derived from how it listens to its employees and understands their specific expectations. One thing is clear – the employee now has a choice, and an employer who wants to see their employees more often in person than on a monitor screen can encourage attendance, but they can't mandate it. Employers who care about job satisfaction must adapt to the new expectations and habits of their employees. However, it is important to understand that they also have their own expectations of what shape their company is in and how it wants to implement the idea of working together.
The key issue, therefore, is to find the right tone of internal communication that reconciles the needs of the employee and the rationale of the employer. It is worth going back to the already mentioned research and see if there are any tensions felt by both sides, which, if worked through together, could become a basis for creating inclusive communication.
We already know that efficiency is not the argument to focus on. However, completing tasks at home comes at the cost of stretching working hours. 56% of respondents feel that they work longer hours remotely and complain about the lack of separation between work and private time.
The second important topic is the 'virtuality' of contacts and their tasking. According to the survey, 32% of employees report a major lack of interpersonal relationships. The report's February 2021 data shows a 10% increase compared to October 2020. On the employer side, 35% have a negative view of the integration between employees when working remotely. The problem also extends to new employees just being introduced to the company, with 29% of employers rating the onboarding experience as bad or very bad.
So we know that when encouraging people to return to the office, it's worth recalling the fact that a well-tailored and prepared office space allows them to effectively fulfill their duties. Of course, if an employee knows they're returning to the same – only dustier – desk they left in 2020, that won't be a credible message. The same will happen when the number of desks has been reduced and the morning battle for the quietest spot in a crowded open-space will be a daily occurrence. However, we assume that employers have had enough time to adjust their spaces so that they can invite people to an office that will provide comfort for collaborative work and allow us to find a quiet place to gather our thoughts. They also prepared the right technologies to allow for seamless seat reservations or hybrid meetings. And finally, they have provided spaces that will encourage you to build valuable relationships with your colleagues. This is key, because the other message is that being in the office allows us to (re)build the relationships we need for both work and responds to our deep social needs, like gossip.
In short, if an employer wants to see its employees in the office and thinks it's ready to welcome them, it should bet on a human-centered narrative that shows (and reminds those working from home) that working in the office has many advantages and benefits to enjoy. Good communication will trigger… FOMO. It's fun at home, but I want to come because there are people there, interesting interactions. I want to come because cool things are happening there. I wants to come because it's fun and effective to work there. This is a completely new and very interesting challenge for departments dealing with internal communication. It also requires great commitment on the part of the administration, which is responsible for the look and organization of the office. The changes we are observing also place new demands on companies managing and renting space, as well as on investors wondering how the office of the future should look. We are working in interesting times.
To sum up. An employer who wants to take care of the 'spirit' of working together must take a conscious approach to back-to-office communication. It should respect the arguments of those who prefer to work from home and encourage them to come in through the language of benefits. Employees who see the value of working from the office are sure to rebuild a sense of community quickly, while retaining a certain sense of freedom that remote working provides. A company that knows how to encourage inclusion will quickly overtake one that only expects it.
Sources:
ANTAL I COREES POLSKA Report, Work Models and Employee Effectiveness and Satisfaction
https://antal.pl/wiedza/artykul/ograniczenie-przestrzeni-biurowej-pracodawcy-mowia-nie
ClickMeeting Report, How do We Assess Remote Work After a Year of the Pandemic? April 2021
https://blog.clickmeeting.com/pl/raport-praca-zdalna
Report Inquiry Market Research
https://www.rp.pl/rynek-pracy/art18880751-polacy-polubili-prace-zdalna-nie-chca-wracac-do-biur
Report on IT employees
https://geek.justjoin.it/przymusowy-powrot-do-biura-z-home-office-w-branzy-it-64-proc-wrociloby-z-wypowiedzeniem