TikTok was supposed to be a temporary fad, a toy for children and a seasonal trend. However, the popularity of the app is steadily growing. In 2019, it was the fourth most downloaded app in the world. The global situation in the past 12 months – the pandemic and lockdown – made TikTok rise to first place among the most popular apps, conquering more and more markets. It is actively used by nearly one billion users. In 2021, the company opened its office in Poland.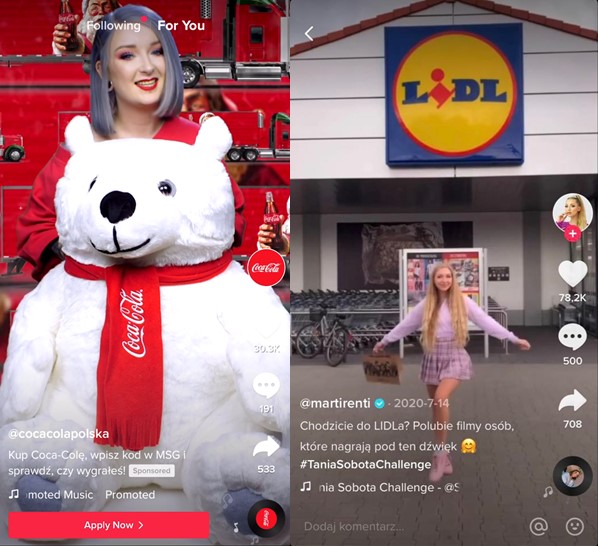 More and more brands are using TikTok influencers in their campaigns. Lidl, Allegro, Coca-Cola and mBank can boast Interesting case studies. However, many marketers still think that TikTok is an application for children. Are they right?
According to the data, there are currently more than 5 million active users of TikTok in Poland, and the average time spent daily watching video is 73 minutes. The application itself is opened on average 12 times a day. Every minute spent there is potential contact with a brand.
The average age of users is increasing. Reports from 2019 indicated a significant dominance of young people – only 10% of people over 19 used the app. Current data already speaks about even 60-70%. Increments in specific age groups also prove that increasingly older people are interested in TikTok. Compared to January 2020, in October 2020 there were almost twice as many active people over the age of 45. So people with real purchasing power are using the app.
In early 2021, TikTok opened an office in Poland. This will allow for even more efficient use of the app's business options. At the beginning TikTok focused on education – in February there was a series of webinars and TikTok Talks, where specialists talked about advertising opportunities, trends, values and their experiences. The second phase of promotion, TikTok for Business, was totally outside the box. A contest for the marketing industry was organized, with three prizes worth PLN 60 thousand (including PLN 50 thousand for media support of the campaign in the platform) to be won. The task was to record a video in the framework of TikTok content – and this is the easiest way to understand how the application works.
TikTok will certainly not stop in its development. The application has all the tools to implement creative campaigns in it. Global brands have already convinced themselves to act in this medium. The trend is also noticeable in Poland, and the marketing industry has no doubt: brands will increasingly use the possibilities of the application.
Sources:
Mediapanel, 01-10.2020
https://antyweb.pl/tiktok-w-polsce-biuro-w-warszawie/
https://brief.pl/tiktok-dzieli-sie-wiedza-w-ramach-tiktok-talks/
https://www.appannie.com/en/go/state-of-mobile-2020/
https://marketingprzykawie.pl/espresso/tiktok-for-business-startuje-konkursem-dla-branzy-marketingowej/