The value of the advertising market in Poland in the first half of 2021 amounted to PLN 4.8 billion, an increase of 20.5%.
Market returns to pre-pandemic levels
Growth relative to 2019 was 1.7%
Internet and TV with a similar market share
The share of TV and Internet increased from 81.5% in 2019 to 86.4% this year.
The value of TV advertising expenditure increased by 21.4%, or PLN 366.5 million
The value of online spending increased by 23.9%, or by PLN 403.7 million
Offline media also grew: radio 20.2%, outdoor 19.1%
Chart 1. Net value of the advertising market in the years 2012-2021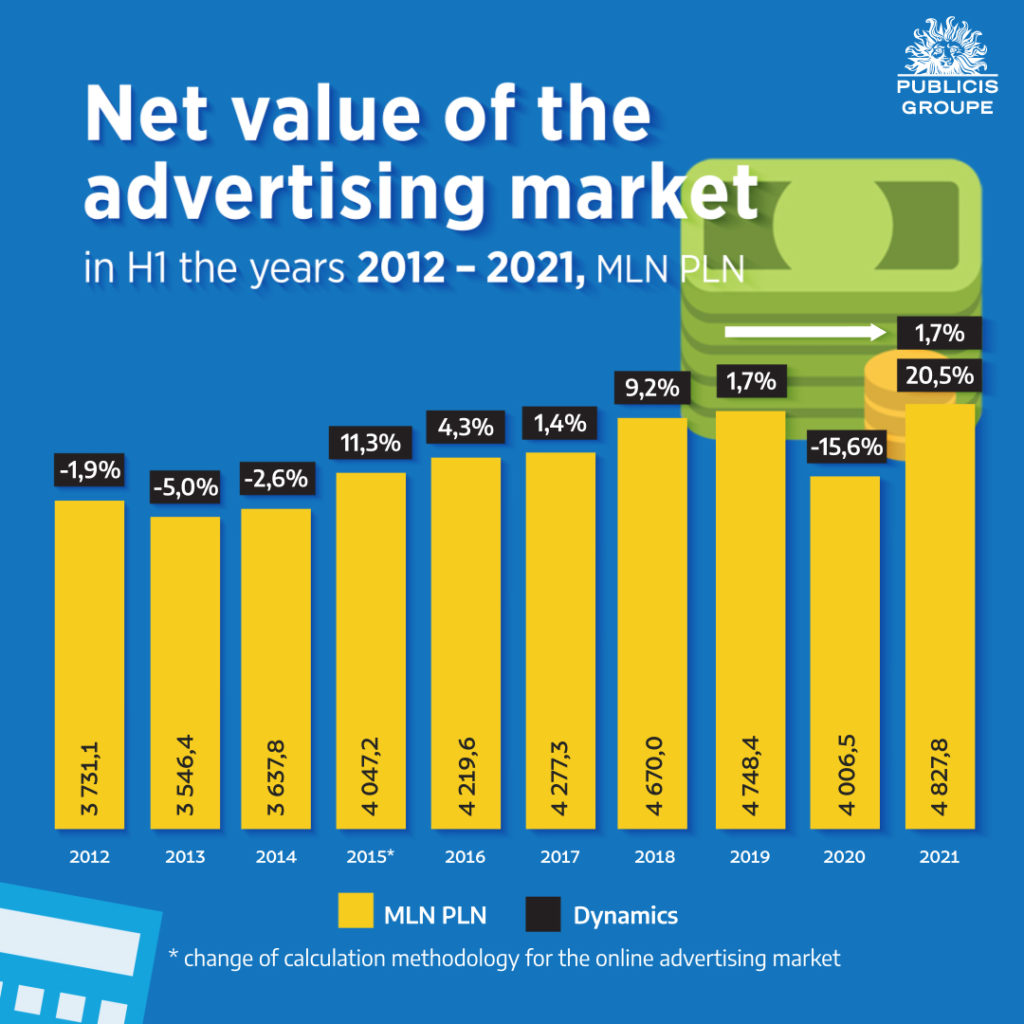 ADVERTISING SECTORS
In Q1 of 2021, the advertising market in Poland increased in value by 20.5% compared to the previous year and by 1.7% compared to 2019. This marks a return of the advertising budgets to pre-pandemic levels. Almost all sectors increased their advertising spending, except for pharmaceuticals (-1.6%) and media (-1.6%).
The highest growth of spending was generated by the retail sector. The level of expenditure of this sector in H1 exceeded last year's result by 36.7%, and by nearly 30% the level of budgets in H1 2019. Lidl, Euronet, as well as EuroRTVAGD retail chains were among the largest advertisers from this sector.
Another growth leader was the food sector, which increased spending by 22.8% compared to H1 2020, however, this is 4% less than in the same period of 2019. On the other hand, the pharmaceutical products and medicines sector recorded a decline in ad spending (down 1.6%). Budgets were reduced by advertisers such as Aflofarm, USP and Polpharma.
Chart 2. Advertising sector spending, H1 2021 vs H1 2020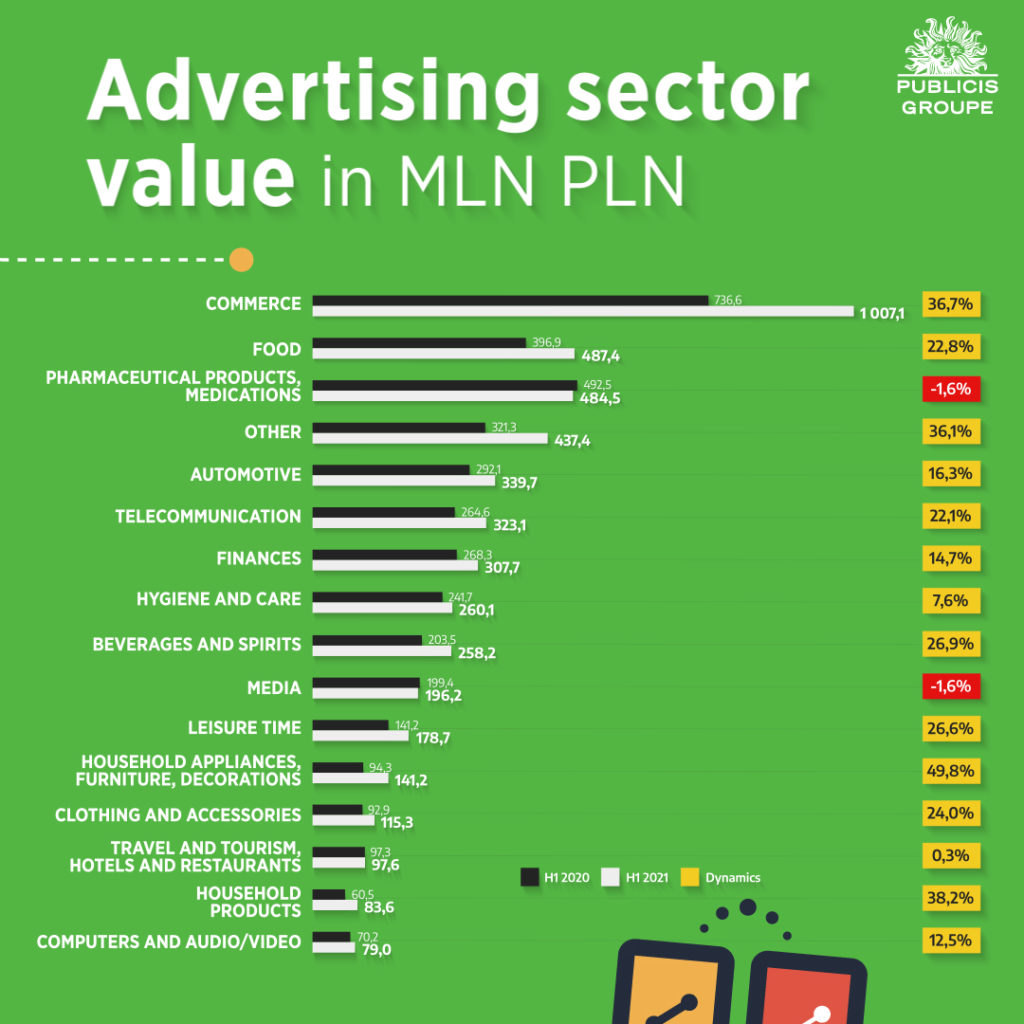 COMMUNICATION CHANNELS
In H1 2021, double-digit increases were recorded for Internet, television, radio and outdoor. Online ad spending grew the fastest – by nearly 24%. Advertising spending declined in newspapers and cinemas. Cinemas could open as late as at the end of May, but most multiplex chains postponed their opening until June.
As a result, cinema revenues decreased by -70.7%.
Analyzing the volume, the Internet budgets increased by PLN 403.7 million and TV budgets by PLN 366.5 million. In radio, the increase amounted to nearly PLN 60 million, and in outdoor – PLN 26.7 million. The total reduction of expenses in the legacy media was PLN 34.5 million.
Chart 3. Changes in advertising value in media after the first half of the year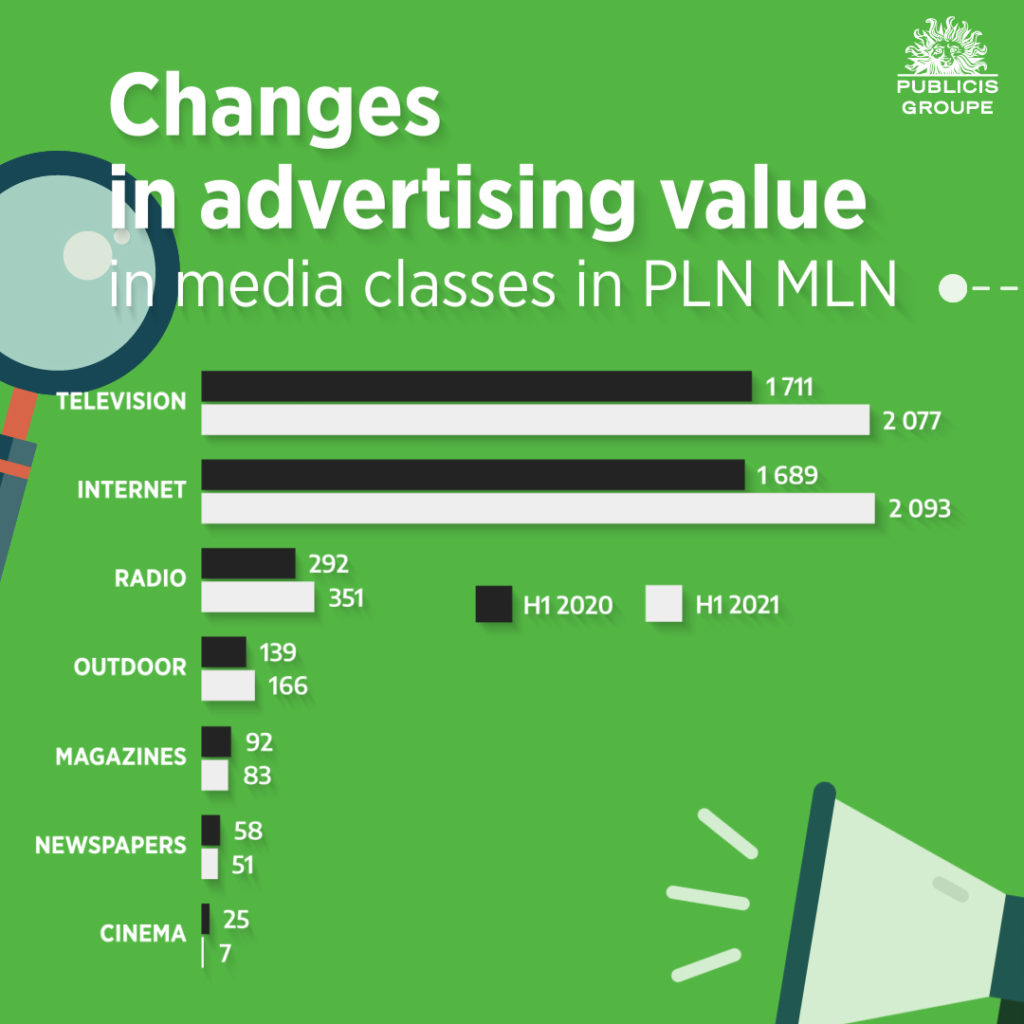 Chart 4. The dynamics of changes in media classes, H1 2021 vs H1 2020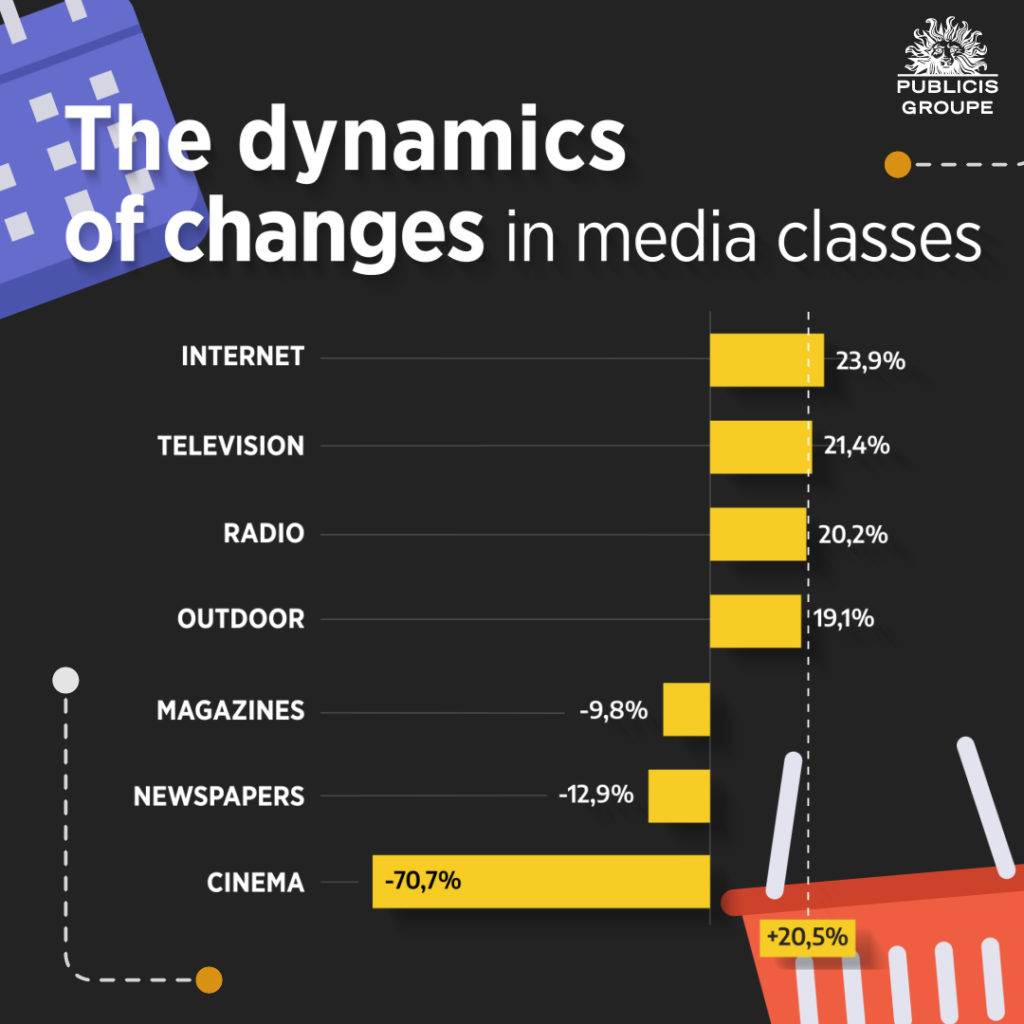 The value of online advertising (not including ads) increased by 23.9% in the first half of 2021, i.e. Internet budgets grew by PLN 403.7 million. Thanks to such a good result, the Internet overtook television and took the first place in the media mix on the Polish market. All forms of advertising grew, with display and video growing fastest, and search engine advertising growing slightly slower. Facebook exceeded analysts' expectations for growth dynamics and in its financial report recorded growth at the global level by 56% in Q2 2021, and in Europe even by 63.3%. Revenues were USD 28.6 billion globally and USD 7.2 billion in Europe, respectively. Google's revenue is growing just as fast. In its Q2 financial report, Alphabet said advertising revenue grew 68.9% to USD 50.4 billion. SEM revenue was up 68.1% at USD 35.8 billion, while YouTube revenue was up USD 7 billion (up 83.7%).
Chart 5. Share of individual advertising categories in digital advertising spending in Q1 2021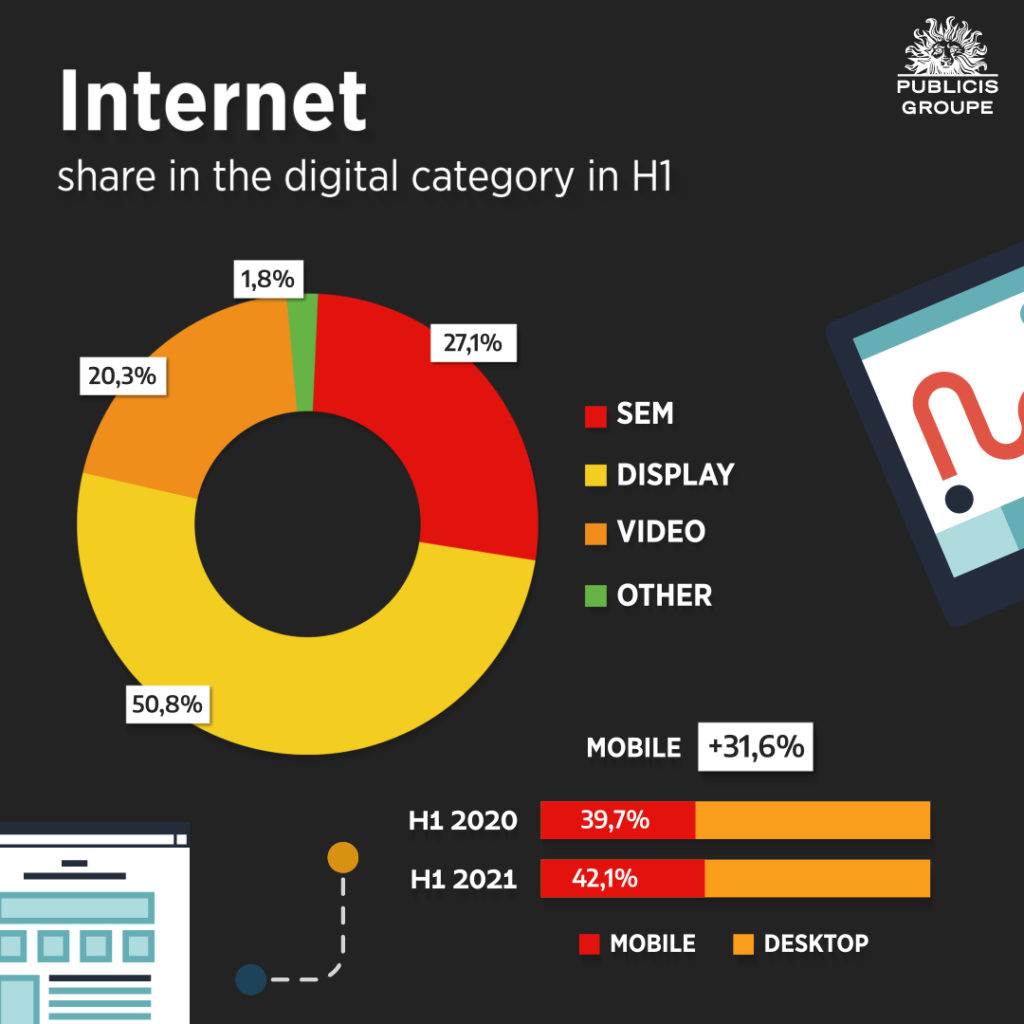 The value of TV budgets increased after six months of 2020 by PLN 366.5 million or 21.4%, thus approaching the pre-pandemic level. The growth engine of the TV advertising market is unrivaled by the retail sector, whose investments increased by as much as PLN 130 million (growth rate (53.4%). Campaigns of such retail chains as Lidl, Euronet, Mediaexpert and Biedronka contributed to the growth.
After six months of 2021, the value of radio budgets increased by 20.2% compared with the first half of 2020 and amounted to PLN 350.6 million. In Q2, spending on radio accelerated strongly and the medium managed not only to recover from last year's losses but also to exceed the level of spending in the corresponding quarter before the pandemic.
After six months of 2021, investments in outdoor advertising increased by 19.1% or PLN 26.7 million, and in Q2 of 2021 alone, the growth rate of outdoor expenditures exceeded 140%. However, despite this, the medium has not recovered from the beginning of the pandemic.
In H1 2021, the size of budgets allocated in newspapers and magazines decreased by 13.0% and 9.8%, respectively. Spending in the commercial sector decreased in magazines by PLN 3.8 million (dynamics -22%) and by PLN 5.7 million in dailies (dynamics -37.1%) yoy. The largest advertisers in daily newspapers were SKI Team, Fiat Chrysler Automobiles and the Allegro Group. In magazines, the top advertisers were Zimbago, a mail order company, and food supplement manufacturers Asepta and New Nordic.
As of March 12, 2020, cinemas stopped generating revenue due to the government's decision to temporarily suspend the operations of cultural institutions. The cinemas operating under the new rules could be reopened on June 6. All the cinema chains decided to open at a later date. The Helios chain opened at the beginning of July, while Multikino and Cinema City cinemas all over Poland did not open until 22 July. The cinemas closed again on November 7, 2020 and could open on February 12, 2021, however soon after the government once again decided on the suspension of their operation. Cinema City and Multikino opened on May 28, while Helios cinemas opened a few days earlier. Thus, in the first half of the year, cinema advertising revenues decreased by 70%.
Media share in advertising revenue
As a consequence of different dynamics of changes in particular media classes, their market share is changing. In the first half of the year, the shares of television and the Internet are similar, with the Internet having a slight advantage. In Q2 alone, however, spending on the Internet was lower than spending on television. On a six-month basis, the Internet's share increased from 42.2% to 43.4%, while TV's share increased from 42.7% to 43.0%. Both these media increased their share in the media mix at the expense of printed media and cinema. Spending on radio advertising remained at last year's level of 7.3%, while outdoor decreased by just 0.1pp from 3.5% in 2020 to 3.4% today.
Chart 6. Share of media classes in the advertising market, Q1 2021 vs. Q1 2020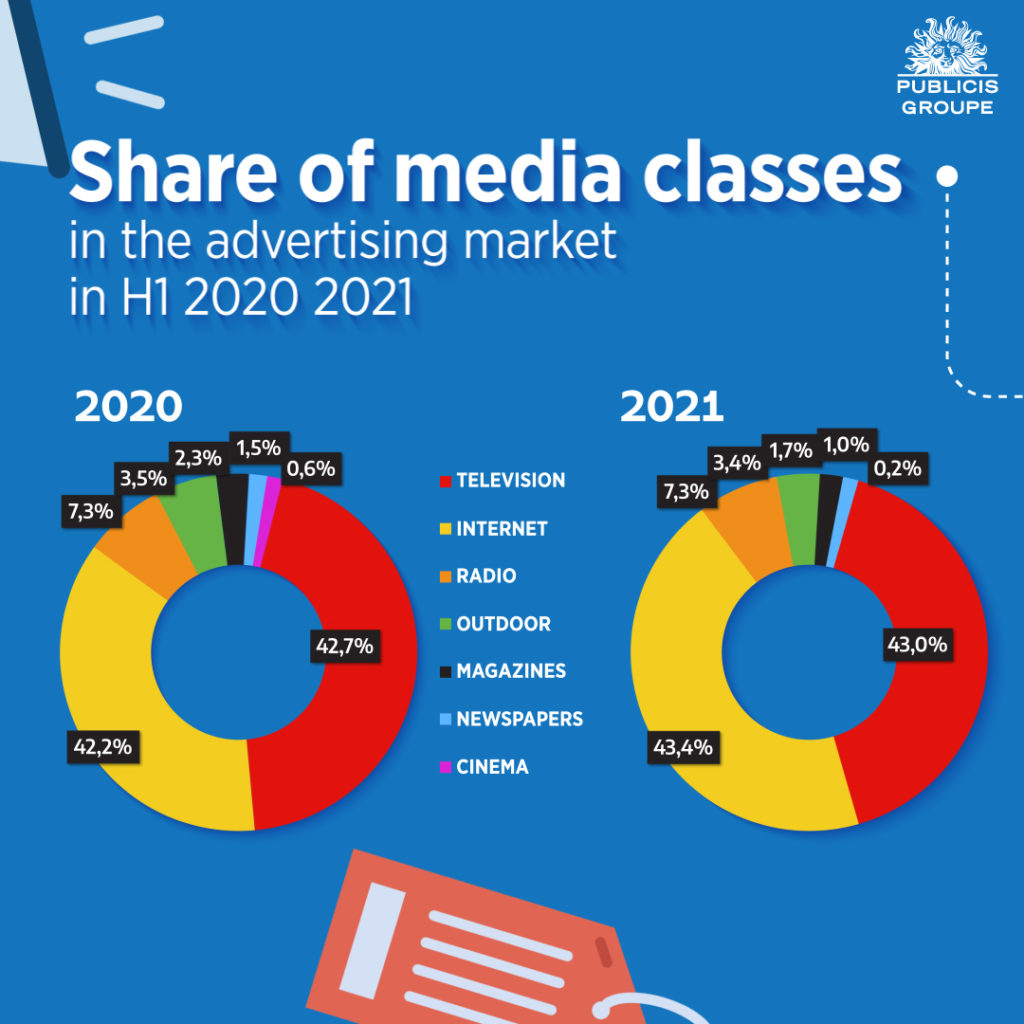 Comment by Iwona Jaśkiewicz-Kundera, Chief Investment Officer Publicis Groupe
The value of the advertising market in Poland after the first half of 2021 amounted to PLN 4.8 billion, up 20.5% year-on-year and 1.7% year-on-year in 2019. In Q2 2021, advertisers spent 41.9% more than in 2020. With such high dynamics, we are confident that the advertising market will recover from the pandemic in the coming quarters.
After six months of 2021, all media except printed media and cinema recorded growth. Online advertising generated revenue that was 23.9% higher than in 2020. TV grew slightly slower, by 21.4%, and radio, by 20.2%. It was radio and Internet that managed to surpass the pre-crisis revenue level. Outdoor was another growing medium, with a 19.1% increase in budgets in the first half of the year. Magazines lost 9.8% of revenues, dailies 12.9%. Cinemas remained closed almost until the end of May, in their case we are talking about the revenue decline exceeding 70%.
Referring to individual sectors, we observe that almost all of them increased their advertising spending. Only the pharmaceutical and media industries decreased their advertising investments. Advertising spending increased dramatically in two key sectors from the point of view of the advertising market: retail (+36.7%) and food (+22.8%).
The outlook for the second half of the year is equally promising, although a fourth wave of the pandemic is likely ahead. In view of the insufficient scale of vaccination among the population, we can expect further restrictions in public life in the autumn. At this point, however, it is difficult to predict how severe they will be for the economy. Certainly individual industries, consumers and the advertising market have managed to adjust to the new reality. This allows to forecast that advertising spending in Poland will grow by 13% throughout the year. This would mean making up for the losses of 2020 and a slight acceleration towards 2019. In the coming months, we will observe increases in all media, with the exception of dailies and magazines.
We are facing changes in the TV advertising market. In the autumn we are facing not only new lineups. Polsat Media has decided to change its method of accounting for campaigns based on an expanded Nielsen Audience Measurement study, which will cover GRPs generated by out-of-home viewing (OOH) in addition to traditional TV advertising. We are concerned that this decision will distort the currency in which the TV advertising market in Poland has been settled for years and thus affect the net market picture presented in this report.