Photo: Nicolo Campo, Shutterstock
Last week, Cristiano Ronaldo became the first person in the world to surpass 500 million social media followers. While he has strong competition in the race for the title of best soccer player, he has no equal in terms of marketing value.
The Portuguese player is undoubtedly one of the most outstanding athletes of the 21st century. In January he turned 36, and yet he remains at the top of his game, competing with younger players, both on the field and in numerous prestigious polls. The Juventus player idolizes record-breaking – he has scored over 750 goals in his entire career, and every game without another score still makes him angry. He is writing history not only in terms of sports statistics, but also on a marketing and financial level.
Last week, the world saw the news that the popular CR7 is the first person in the world to boast 500 million followers on his official social media channels. This huge number consists of 262 million followers on Instagram, 148 million on Facebook, 91 million on Twitter and 1.7 million on Youtube (the latter channel has been inactive for 4 years). With his massive reach and global recognition, he is ideal influencer material. Cristiano Ronaldo's attractiveness for brands is also enhanced by his approach to work. He is a role model in terms of his attitude towards training. He imposes training regimes on himself – often going beyond the club's guidelines – and he is extremely strict about them, stressing at every step that he reached the top thanks to hard, systematic work.
Additionally, he takes special care of his appearance, which only increases his value as a "living carrier" displaying the logos of advertising partners. The only scratch on this image may be a not fully explained moral scandal from years ago, which is recalled from time to time by the media. On the occasion of the last refresh of this topic in 2019, Electronic Arts – the manufacturer of the game FIFA 19 – removed the figure of Ronaldo from the cover of its product, in order not to be associated with the soccer player, who then had to defend his good name in court.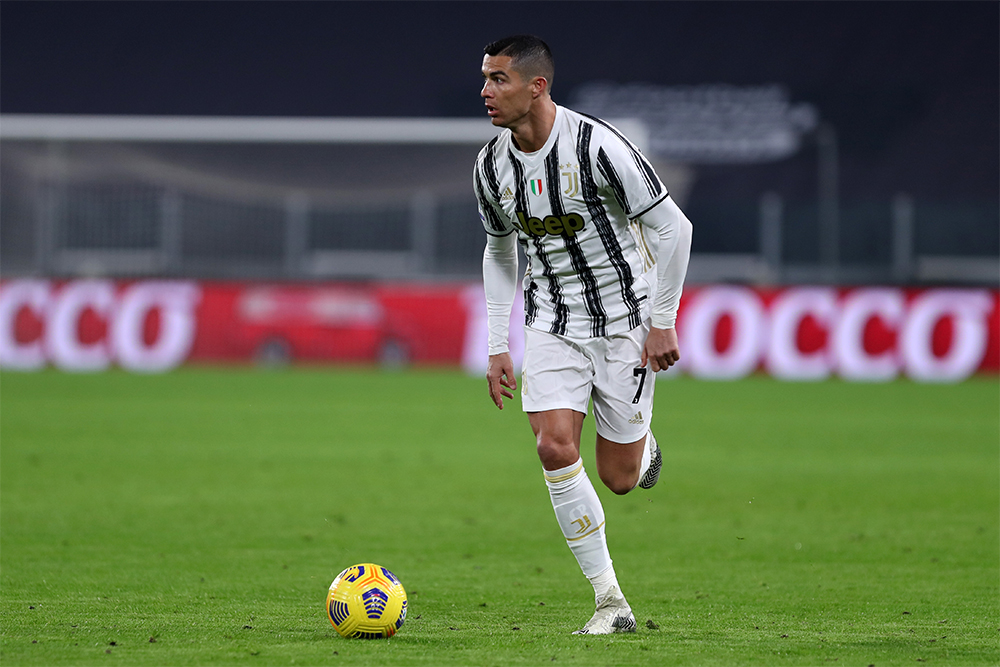 All of CR7's marketing virtues are being fully exploited by the clubs in which he plays. Suffice it to say that Juventus spent a record EUR 117 million on his transfer in 2018, and it must be remembered that he was 33 years old at the time. Many top players ending their careers at that age. At the time, Italy's top football club was fresh after a rebranding, changing its traditional crest to a corporate logo that would bring it closer to being a global business brand and make it more attractive to the younger generation. Acquiring a Portuguese player, recognizable in every latitude, fit perfectly into this strategy. The effects have probably exceeded the wildest expectations of the owners of the current Italian champions. Before the arrival of CR7, the club was observed by 8 million Instagram users. Now in his third year in Turin, Juventus has 47 million followers.
The transfer also brought tangible financial benefits – the stock market valuation of the club only in the first year with Ronaldo on board increased by 78% or EUR 686 million. Add to that the millions of dollars earned from the sale of jerseys and merchandise bearing Ronaldo's name, and it is clear that this risky move has paid off, and the influencer magic has worked in this case as well. Just how much influence the Madeira-born star has on the financial health of the entire club can be seen in the fact that the company's stock price reacted very sharply every time the soccer player faced the aforementioned accusations or was infected with COVID-19.
Financially, he is also a record-breaker – he is the first soccer player in history whose cumulative earnings have exceeded USD 1 billion. At present, the remuneration resulting from the practice of a particular sport by the most popular athletes is only a part of their income. In the case of the biggest stars, income from advertising contracts, image rights sales or promotion of their partners' products in social media often exceeds their basic salary. Cristiano Ronaldo is second only to Leo Messi in terms of the size of his club contract. The contract with Juventus annually brings EUR 31 million to his account, while – according to the HopperHQ portal – in 2018 he earned as much as EUR 43 million for publishing paid posts on Instagram. On top of that, there are agreements with the biggest brands in the world – including the most lucrative one – with Nike. One of the biggest sportswear manufacturers has been using Ronaldo's image since 2004, and in 2016 signed him another 10-year contract worth EUR 162 million, according to press reports.
CR7 is not only a world-class athlete, but also a global brand – and we can take that term completely literally.
The Portuguese player has registered his nickname CR7 as a trademark under which he sells his own line of perfume, clothing, men's underwear and shoes. According to estimates, this activity accounts for about 25% of his annual revenue.
It is difficult to count all sporting, financial and marketing records of the Portuguese player, and yet he still has not said his last word. He claims that he would like to play at the highest level even until the age of 40, but at the same time he emphasizes that he will hang up his boots on a peg if he realizes that he is not able to give 100% of himself any longer.
Of course, the end of his career will not mean his disappearance from the advertising market. It is to be expected that even when we will not see him on the soccer fields, influencer CR7 will not let himself be forgotten for a long time.
Sources:
https://www.businessinsider.com/cristiano-ronaldo-makes-more-money-from-instagram-than-juventus-2019-10?IR=T
https://www.sportbible.com/football/football-news-legends-take-a-bow-cristiano-ronaldo-is-the-first-person-to-have-500-million-followers-20210212
https://www.wirtualnemedia.pl/artykul/cristiano-ronaldo-juventus-turyn-wartosc-reklamowa
https://www.wirtualnemedia.pl/artykul/cristiano-ronaldo-zarobil-miliard-dolarow-pierwszy-pilkarz-na-swiecie-na-czym-zarabia
https://www.bloomberg.com/news/articles/2019-09-07/cristiano-ronaldo-gets-162-million-euros-from-nike-deal-spiegel