CRM applications remain the largest and fastest growing enterprise software category today, according to Gartner predictions.  The main player in this market is Salesforce; it dominates the global CRM market with a nearly 20% market share.  Adobe, Microsoft and Oracle are far behind, trying to maintain their position, while SAP has been losing market share.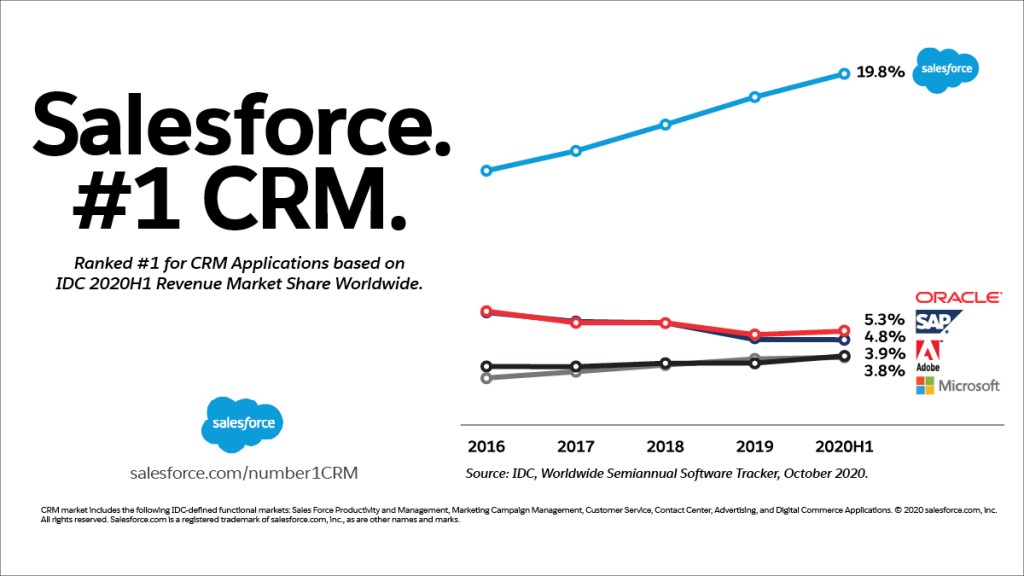 Is there still enough room here for another player which Google could undoubtedly be?
It seems that for the last 3-4 years Google has been more focused on building the infrastructure needed to develop a "cloud platform" than on its core revenue generating applications, namely search and AdWords. Google also emphasizes that it no longer wants to build a search engine. The company is focusing on artificial intelligence. It already has support for big data and predictive analytics. Sharing contacts in Gmail is not enough.
What does Google already have? The most popular search engine, largest ad network, largest streaming system, most popular browser, advanced email service, geolocation and maps, video conferencing (chrome box), collaboration software, its own cloud-based operating system, its own mobile devices, global cloud infrastructure. It still lacks the capabilities offered by modern CRM.
Google, as we know, has big ambitions for the development of its cloud services. In 2019, the company announced that it plans to beat its rivals by the end of 2023. One wonders how the company plans to accomplish this. Will it be done through acquisition? Looking at the gap between Google and its competitors in this segment, this seems to be the only solution.
If so, the question becomes who could be a potential target for such an action? Salesforce?
Such reports have been surfacing for some time now. Currently, both companies are "arming themselves" by making acquisitions in the cloud solutions market. Two recently announced acquisitions – Looker by Google and Tableau by Salesforce, seem to be strategic moves by both companies to remain competitive in the BI tools segment.
In the case of Looker, expect it to augment Google's product portfolio with a great BI tool that will likely replace Google Data Studio and be integrated with other tools already offered by Google.
The diagram below shows where Google places Looker in its "Smart Analytics Platform" ecosystem, which provides ways to process, analyze and visualize data.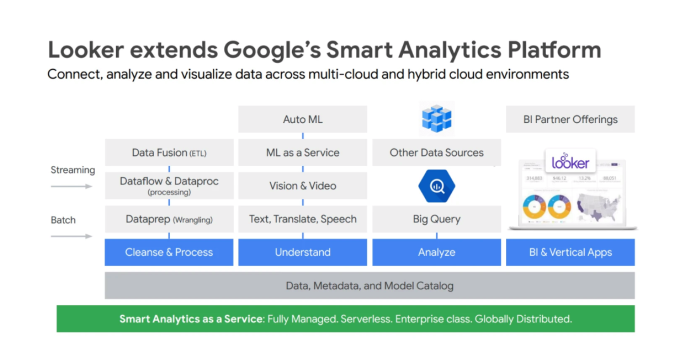 From a business management perspective, the acquisition should bring synergies, as Looker and Google share more than 350 customers, such as BuzzFeed, Yahoo and Hearst.
Salesforce, too, is not lagging behind. With its continued expansion of Big Data analytics, it wants to go beyond CRM with its business. The 2019 purchase of Tableau, one of the leaders in the BI industry, seems to be another step in that direction.
The most likely scenario is that Tableau will be fully integrated into the Salesforce CRM platform at the software level, but will remain as an external application at the organizational level due to its high brand recognition and numerous users.
By acquiring Salesforce, Google can benefit immensely from cutting-edge SaaS and CRM solutions and the latest version of machine learning and artificial intelligence. Salesforce also stands to gain from such an acquisition, the company would receive massive funding to support its research and further accelerated product development.
Will this actually happen?
Here's what we know so far:
In 2019, Google Cloud announced a five-year goal to become the No. 2 cloud behind AWS
Google is now the fourth player in the market behind Microsoft, AWS and Alibaba
Analysts at RBC Capital Markets predict that Google will need to make acquisitions in the market to reach this goal
As RBC predicts, acquiring Salesforce would allow Google to "immediately jump" into second place in the cloud services market, just behind Amazon
RBC trusts that Google can acquire Salesforce and reach its goal by 2023
Internally, Google also needs a CRM that connects to their technology environment. Salesforce fits this quite well.  What is the cost of using a product like Salesforce? What is the cost of building a system like Salesforce?  How long does it take? This is a classic decision – buy or build it yourself – and let's not forget that Google has the financial resources to make this kind of deal.
Right now it's just speculation and projections, but such a move would bring fundamental changes to the entire industry. Google and Salesforce are already long-time partners and have developed a good and profitable relationship. If a possible acquisition occurs, Google will not only meet its goals and objectives, but also increase the strength and position of both companies in their respective market segments.
Market Share Analysis: Customer Experience and Relationship Management Software, Worldwide, 2019 (gartner.com)
Worldwide Semiannual Software Tracker (idc.com)
Gartner Says Worldwide IaaS Public Cloud Services Market Grew 37.3% in 2019
Should Google Acquire Salesforce? — DLH Salesforce Consulting Services (sfdcdlh.com)
Google will buy Salesforce, spin out Google Cloud, analyst predicts (businessinsider.com)
Google closes $2.6B Looker acquisition | TechCrunch
Salesforce to acquire Tableau for $15.7 billion; will compete with Google, Microsoft, IT News, ET CIO (indiatimes.com)
New Salesforce And Google Partnership Shakes Up The Cloud Race (forbes.com)
Why Google Might Acquire Salesforce – Construction CRM Software & Services on Salesforce | CRM Evangelist
Salesforce: Strong Cloud Ecosystem With Red Flags All Over It (NYSE:CRM) | Seeking Alpha
Will Google Acquire Salesforce? – Skate Sports (skate-land.net)