Not too long ago, you could come across articles on many websites and social media predicting the end of the CMO role as we know it. Most of the authors described how with the explosive growth of available technologies and data on the market, people in CTO/CIO positions will take over CMO duties, marginalizing their role in the organization.
Have these predictions come true? Not likely, but this risk still hangs in the air for those CMOs who are not flexible enough to adapt to the changing market requirements and expectations placed on them by the organization.
CMO as the Chief Experience Officer
Today, the modern CMO is expected to be responsible for building a positive brand experience across all consumer touch points. The CMO himself is often called (à propos adapting to changes) CXO (Chief Experience Officer), thus emphasizing the role that communication plays in building consumer experience.
Creating strategies for acquisition, retention, personas, analyzing consumer paths, their optimization and communication planning are just some of the tasks of today's CMO. But can you effectively build a positive brand experience without knowing what MarTech tools your organization has at its disposal, what data it has and how to make the best use of it?
MarTech creates customer experience
What tools we use significantly affects what knowledge we have about the consumer and translates into what experiences our organization will ultimately be able to offer the consumer, e.g:

does the organization have a CDP in place to segment its consumers?
are analytical tools configured to appropriately measure, analyze, draw conclusions and adapt our strategy to what results from our actions?
Will the CRM system allow us to automate communication in order to use this tool effectively?
Will the brand website allow for further personalization of content when a user is redirected to it from an advertisement?
Will our ad tech solutions allow us to send thousands of personalized messages to users?
These types of questions can be multiplied endlessly, in the work of today's marketer, technology plays a very important role and if we want to conduct thoughtful and effective communication, we need to understand it better.
"The CMO should know what the technology offers and how to translate its chosen functionalities into a positive brand experience."
Without this knowledge, it will be difficult for the CMO to build communications that meet the expectations of today's consumers and bring business growth to the organization.
The purpose of this text is not for every CMO to start specializing in CRM technologies available in the market, but to encourage them to gain knowledge about the technology used in the organization, which will definitely increase the value of the CMO in the organization. According to research, this is the knowledge that is particularly lacking in marketing departments.
The gaps in this knowledge are recognized by C-Level
In a survey conducted by the CMO Council, most leaders indicate that technology competencies are the ones that are lacking in marketing departments today. CEOs believe that because marketing departments lack them, they are unable to effectively implement changes in their organizations to improve their operations, which ultimately translates into not responding accurately to consumer needs.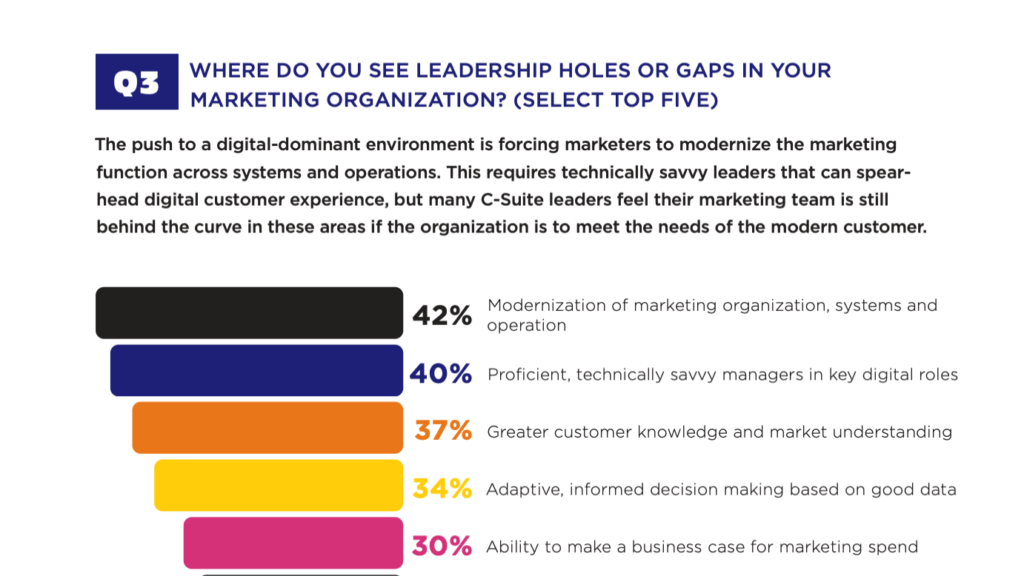 MarTech tools can be accessed by individual departments within an organization, i.e. IT, e-Commerce or media. Of course, if a CMO needs data, access, reports or tools, they will get it from their colleagues, but it is rare to see a marketing department own their tools or oversee (with understanding) available tools in other departments. While it may seem counterintuitive, it is these tools and the proper configuration of them that can significantly improve the effectiveness of marketing's efforts and the position of the CMO himself within the organization.
CMO as a great integrator
This state of affairs probably raises a lot of concerns … it's another element the CMO needs to be concerned about, but it also opens up a lot of opportunities. The CMO, as the person who oversees the experience offered by the brand, has a mandate to take a leadership role in the creation of the MarTech stack (to avoid a situation where it is the IT department that chooses the marketing automation tools). It is the CMO who should set the direction and provide strategic insight into what tools and how they are used in the organization.
Companies often have the aforementioned departments that are quicker to adopt technology. Technology in their case is a key element without which they are unable to function. However, it is often the case that the chosen tools only realize the KPIs of one department and are not used in the activities of the other teams in the organization, thus not offering a fully tailored experience to the user.
The CMO in this case could strategically orchestrate all processes and tools in the organization to make communication 100% effective.
CMO, CXO, CDO, CIO, CTO…
Unfortunately, today's CMO must be knowledgeable in every area. Technology, data, experience – their importance in today's marketing will continue to grow, so it's worth stepping outside your comfort zone and expanding your knowledge of them to be able to fully meet the demands of today's market.
One of the ways to do that can be Data Maturity Model (DMM) which allows you to conduct an analysis of the current state of your organization and the challenges you face. Based on this information, we will be able to develop recommendations for a future action plan that will allow the business to successfully overcome advanced digital transformation processes and the CMO to gain and use the knowledge gained in this project.
Goals that can be set before a DMM class project are very flexible in turn in 90% of cases they coincide with CMO goals:
Is our current knowledge, data and technology and human/talent management solutions optimal, relevant to our business objectives?
How, with data, technology and human resources, could we increase organizational agility and accelerate value creation?
What key partnerships do we need to enter into to increase the competitiveness of our business?
How can we optimize data collection, storage and processing?
Do we have the right people, systems and resources to ensure effective democratization of access to data within the organization?
etc.
The way in which the above questions are answered is very simple in its assumptions and complex in its implementation, as it has the nature of a modular consulting project and requires expertise in many areas, which as an agency we have. DMM is carried out directly with high and middle level decision makers on the client side and is based primarily on 4 key business areas which are:
data
platforms
processes
human resources
As I mentioned above, the result of the project is a report on the current digital maturity of the company and a description of recommended future actions and recommended business initiatives. It is also worth mentioning that in addition to recommending directions of development and specific initiatives, in subsequent stages we help our clients in their implementation and transformation of the organization.
Material created in cooperation with:
Krzysztof Majkowski, Business Integration Manager Data Science, (krzysztof.majkowski@publicisgroupe.com)
Aleksei Proborshch, Product Development Manager Data Science, (aleksei.proborshch@publicisgroupe.com)
Source: C-Suite Scorecard, CMO Council https://cmocouncil.org/thought-leadership/reports/c-suite-scorecard