Gaming is a constantly growing area of marketing in terms of popularity, in which brands are investing more and more. Why? The numbers speak for themselves – currently, as much as 92% of Generation Z and Millennials are players. It's no wonder that marketers, in order to reach a group of young recipients, are coming up with engaging solutions within this area.
Thus, one might suppose that with the increased number of advertising activities in gaming, the negative attitude of players towards ads will increase. Is this surely a good assumption?
We will check it out by looking at some of the facts that have been established by GWI on the basis of research conducted in July tof his year on players from the US and the UK:

as it turns out, no matter what type of player we're dealing with, everyone has proven to be more likely to react to an ad than to avoid it,
the creators (i.e. those who stream and share their game online) most often reacted to the advertisement – as much as 39% of them declared their willingness to buy products of the advertised brand,
the attitude of the players (i.e. those who play free or digital games) showed that the gaming experience is the most important for them – 32% declared that they buy products from the advertised brands least often,
over the last month, as many as 52% of players have used an adblocker – however, as they declare, they use it mainly for practical reasons (e.g. 25% of creators and spectators use an adblocker to prevent their data from being used),
players are primarily oriented towards experiencing the game – as much as 41% are more likely to use adblocker to prevent ads from taking up too much screen space,
as many as 74% of all respondents in the last month played games on a smartphone and this popularity did not come from nowhere – as many as 42% of them stated that the most important aspect of mobile games is that such games have the lowest number of ads,
at the same time, as many as 63% of respondents stated that the cost of mobile games is an important factor for them, which means that they are more willing to accept advertising as a compromise for a free service.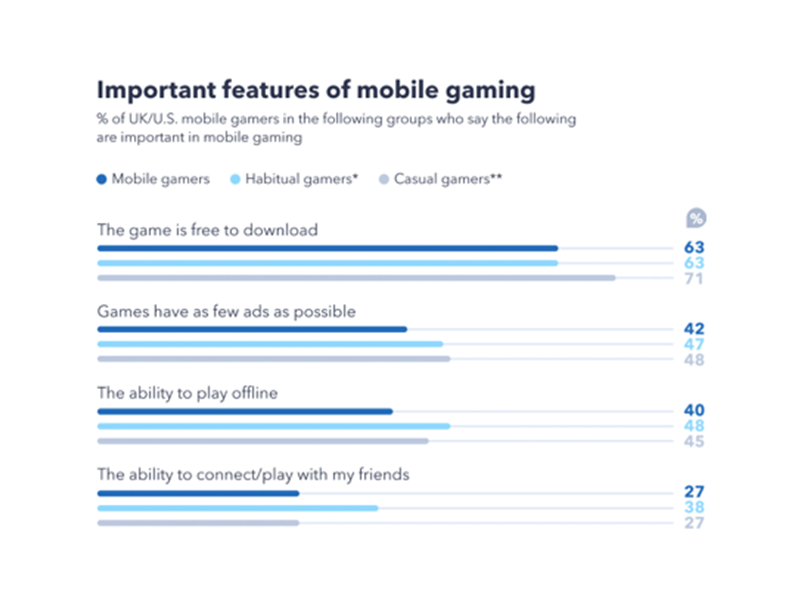 As we can see from the above data, players are not as reluctant to advertising as they might think.  As long as their space in the world of gaming is respected, marketers can even expect positive reactions to their actions.  Therefore, it is worth remembering that by disrupting our communication, what is important for the consumer, we can intensify their negative attitudes towards the brand.  This is a valuable tip for every marketer to always consider the needs of the target group first when creating advertising campaigns.